Product feature: Maxbrio BR35 vibrating ripper
---
DOW headed to the Far North to take a look at the Maxbrio BR35 vibrating ripper used by Valley Lime Ltd
Situated some 10km from central Kaitaia, Valley Lime Ltd has been using their Maxbrio BR35 vibrating ripper on a Caterpillar 330DL for just 12 months. Supplied by Robur Attachments, the unit was purchased to fill a critical link in the lime production process.
The Foster family-owned quarry produces graded aggregates, agricultural lime, and Di-Calcic Phosphate from a pit on their 1100 plus acre farm.
"The farm was originally owned by my father, and it has been extended over the years as adjacent blocks were purchased," Stephen Foster says.
Developing the lime quarry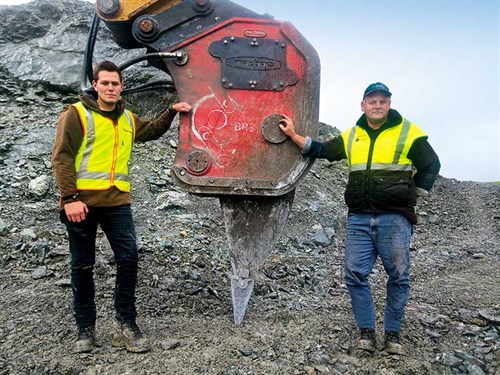 "We'd always known it contained quality lime but it was just a matter of waiting until the timing was right," he says. As it turned out, the right 'timing' was Stephen's son Braden took on the task of developing the quarry alongside his family.
To get the operation fully under way, resource consents were needed and it wasn't long before the proprietors found themselves knee-deep in it as consultants were engaged and work undertaken to mitigate effects from the quarry operation in order to satisfy regulatory requirements.
Using the right equipment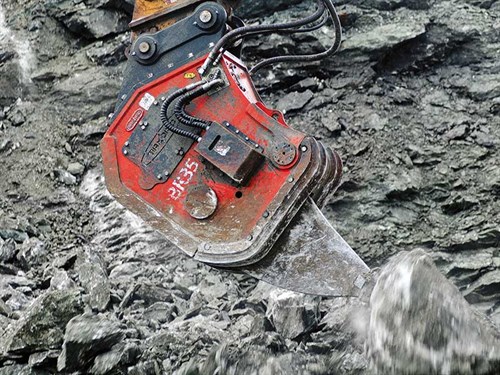 Once the quarry was up and running, it was a matter of putting equipment in place to process the product in a cost-effective manner; this being an area where the father and son team found the usual production methods not entirely suited to their business model.
"The companies blasting the rock for us wanted to extract larger quantities than what we could handle," Braden says.
"Obviously, the more they could blast, the better return it was for them, but we were finding it was incurring a lot of wastage."
As Stephen explains, the main problem of extracting large amounts of raw material from blasting was the amount of wastage that was being incurred once moisture got into the product.
"When rain gets into the lime, it becomes difficult to process through our impact crusher and this reduces production substantially. If your plant is normally producing 120 tonnes per hour, this could be reduced to 30 tonnes per hour if the raw product contained moisture," Stephen says.
Hand to mouth quarrying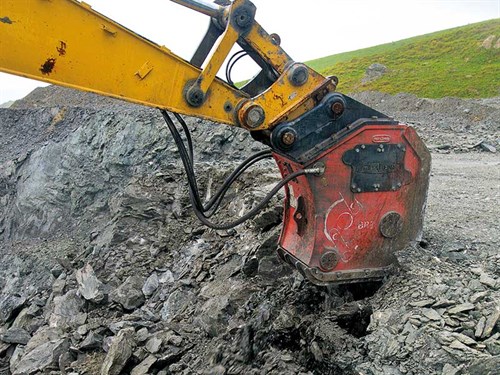 It doesn't take a mathematician to work out that the obvious solution is to only process dry product, and this would be an area Stephen and Braden would look long and hard at.
The quarry owners knew that if they had the ability to extract only the amount of dry lime required for processing each day, then they could establish a 'hand to mouth' operation and substantially reduce wastage.
The lime, as it sits in the ground, is densely compacted and contains seams of quartz, making it difficult to harvest for crushing.
"We tried a D8H, but all we could do was get smoke to come off the tip [of the ripper] and jack the machine up. It couldn't move it," Braden says.
"Most people would suggest a breaker, and this would work to a certain degree, but they still aren't efficient enough for an operation like this."
Maxbrio BR35 vibrating ripper in use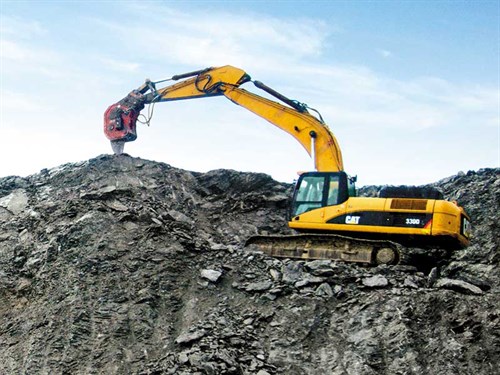 The pair searched for different solutions, but blasting still appeared to be the only practical solution to break out the heavily compacted lime. That was until their research led them to Robur Attachments Maxbrio vibrating ripper range.
Standing and watching Valley Lime Ltd's Maxbrio BR35 at work some 12 months since delivery, it certainly appears the missing link in the production chain has been found, as Braden easily extracts material from a quarry wall.
"The BR 35 has given us the versatility that we were lacking.
"We can now remove only as much product as necessary for processing, so everything else can remain intact and more importantly, stay dry," Braden says.
What is a vibrating ripper?
In this day and age, rippers do not feature on many contractors' asset lists. There was a time when static rippers were popular on excavators for extracting tree stumps and breaking in rural blocks, but generally, the only place rippers are seen today is attached to the back of a bulldozer on large earthworks sites where they are used to break ground for motor scrapers.
Essentially, a vibrating ripper is exactly what it says—it's a ripper that vibrates. The setup of a vibrating ripper is significantly different to a traditional breaker and, therefore, it requires a new skill set for operators.
Maxbrio capabilities
The unit's manufacturer says Maxbrio vibrating rippers are capable of working material up to 70MPa and operate at around 2500vpm (vibrations per minute), while producing 50% less noise than a traditional rock breaker.
"A breaker has a 'bang-bang-bang' type of operation, which is more like compressed pounding action. If you watch a vibrating ripper working, it has more of a hum when it works and loosens the material, while having the added advantage of being able to haul the material out as it frees up," Stephen says.
Benefits of a vibrating ripper
Some other usage benefits are that the Maxbrio vibrating ripper can be used underwater and will not suffer damage from blank firing when used continuously, its manufacturer says.
An advantage the pair has found with the Maxbrio vibrating ripper in addition to its low noise output is the extended maintenance periods.
Maxbrio has taken the static ripper, given it a dose of steroids in the form of a vibrating mechanism, and the result is a completely new attachment for a multitude of uses, not just lime quarries. These units have the potential to substantially change production processes in businesses, in turn improving efficiency and profitability.
Robur Attachments says they have MaxBrio vibrating rippers available for excavators up to 50 tonnes.
For more information, contact Robur Attachments on 0800 407 500 or visit robur.co.nz.
Keep up to date in the industry by signing up to Deals on Wheels' free newsletter or liking us on Facebook.