Product feature: Doosan DX235LCR excavator
---
The Doosan DX235LCR excavator is commended for its outstanding rate of production and can move dirt around like nobody's business
Kieran Quinn of Auckland-based contractor Quinn and Connolly Drainage Ltd, should know first-hand of Doosan DX235LCR effectiveness as Kieran and his partner, Chris Connolly, have been around Doosan machinery for years, dating right back to the day when it was branded Daewoo.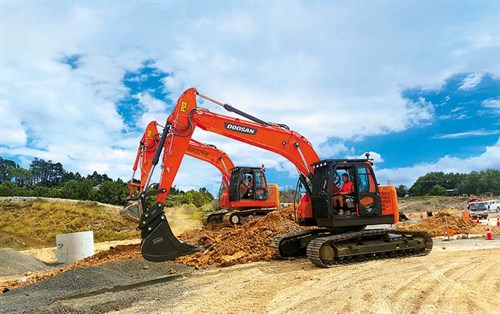 He and Chris are second-generation owners of the company that was originally set up more than 30 years ago by Kieran and Chris' father.
As such, they have continued the tradition of purchasing a product that not only suits their needs but also has been good value for money.
Their first excavators did not come with today's technology, so about six years ago and out of necessity for a zero tail swing excavator, Kieran and Chris purchased their first Doosan DX235LCR. "We've been sold on this particular model ever since," Kieran says.
"The 235LCR opens up a lot of ground for us easily and efficiently. The recent arrival of a new 235 with another one on order for delivery in September will bring the fleet to four along with a Doosan DX140LCR machine."
The family tradition also continues with Chris' brother, Marty Connolly, who, for his usiness, Connolly Contractors (2005) Ltd, has recently purchased two DX235 excavators.
According to New Zealand distributor AB Equipment, the DX235LCR is designed to minimise the potential for damage, while the long carriage track design offers exceptional performance in all operating conditions.
"The lifting capacity of the Doosan DX235LCR is exceptional and the longer carriage is probably the reason why it is able to lift manhole covers with ease. An excellent gauge of how good a machine is," Kieran says.
He also notes how the DX235LCR has increased versatility, such as working on roadside and motorway jobs where in some cases space is limited.
In fact, the zero tail swing of the Doosan DX235LCR, unlike a standard counterweight 20-tonne machine that swings around, is safer for this type of work. It reduces the potential for damage and minimises traffic disturbance
"The cab design is also functional and it's easy to scroll through the menus on the instrument panels," Kieran says.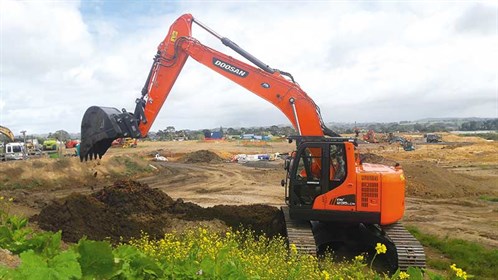 Other benefits he has noticed are its excellent visibility, the high-performance air onditioning, and the extra storage. There is also a multi-function LCD monitor that displays a variety of machine information and air suspension seats that come as standard.
Other features on the Doosan DX235LCR excavator include a high-pressure common rail fuel-injected engine and an Electronic Power Optimising System (EPOS) that delivers optimum power and fuel efficiency.
Smart Power Control (SPC) improves machine efficiency while maintaining productivity through variable speed and pump torque control. The auto shutdown associated with this helps save fuel when the machine isn't working.
"As far as aftersales service is concerned, we have no issues whatsoever. AB Equipment appreciates that as a small business, we need to be operational for the most part, so that is why the servicing is done when it is convenient to us. AB Equipment is flexible and is more than happy to accommodate us in this respect," Kieran says.
"For a small business, I can't emphasise enough what it means to our productivity to be able to buy new equipment. The Doosan DX235LCR has the features and benefits of the larger, more expensive brands, but without the price tag.
"AB Equipment has been supportive and has been only too happy to help us plan our fleet requirements with good terms and trades. That sort of relationship with a machinery supplier is important to us."
Keep up to date in the industry by signing up to Deals on Wheels' free newsletter or liking us on Facebook.