Product feature: Cat 323F L
---
The new Cat 323F L, with its leading Grade Control technology, more than fits the bill for Hawke's Bay-headquartered Gair Contracting
There are two sides to the Gair Contracting operation; both equally busy and both reliant on world-class reliability from their respective machine fleets.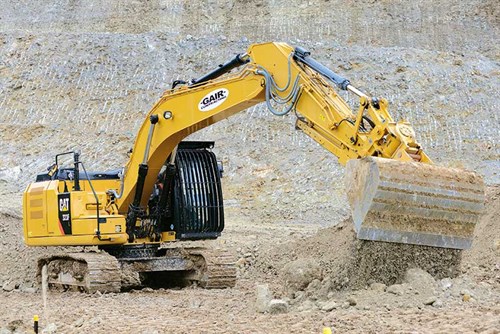 While the forestry and road-building side of the business moves ahead apace, Bailey Gair says the company's latest acquisition—a Cat 323F L excavator—has gone straight out on the job with the civil construction division.
"We've been a customer of Goughs for some time now and the new Cat 323F L represents the third 20-tonne machine we've purchased through Gough Cat in the last two years, although it's the first F-Series machine we've bought," she says.
"Bulk earthworks is a high numbers game, so when we were deciding on a new machine, we knew that it had to offer us solid performance right out of the box. Cat has always pushed forward a good mix of power and technology in its machines, and these new F-Series excavators build on this. The Cat 323FL has been a great addition to our fleet."
About Gair Contracting
In business for more than 40 years, the Gair Contracting team has worked on a variety of large-scale projects over the last 12 months, including the major Whakatu Bypass near Hastings, as well as a mix of subdivision work, environmental water control project work, stop bank construction, and flood protection.
Between the two divisions, Gair Contracting boasts 30 staff and currently has manpower and machinery deployed throughout Hawke's Bay, as well as along State Highway 5 towards Taupo.
"The big differences we noted immediately with the new Cat 323F L are based around the finishing finesse it offers our operators. The Cat Grade Control system helps step things up in terms of what our team can achieve in a fast and efficient manner," Bailey says.
Cat 323F L technology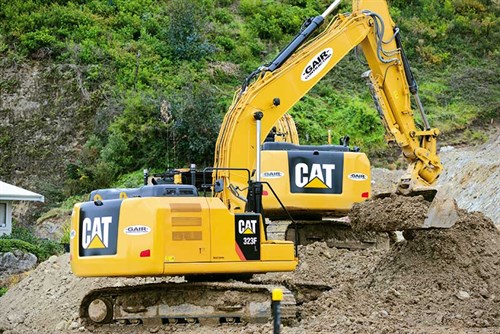 A new advent for Cat and a standard part of the Cat 323F L's feature set, Cat Grade Control Depth and Slope helps ensure absolute precision when constructing planes and slopes by offering 2D bucket elevation guidance in real-time.
Thanks to information on the in-cab monitor, the operator gets precise elevation data describing how much to cut or fill, with fast response sensors giving immediate feedback.
Built-in alerts can be set in order to warn the operator if the linkage or bucket is encroaching on predefined elevations, which is particularly handy when working in areas with low ceilings or close to underground services.
The idea behind the technology is to ensure consistent grade construction across the entire length of a project. Mitigating the need for continual checks also means fewer field staff around the mobile plant, which enables companies such as Gair Contracting to work both faster and safer.
While 2D orientation is standard with the Cat 323F L, an optional upgraded 3D system—indispensable when constructing more complex cuts and contours—is also available.
When it comes to standard features, Bailey says she is always impressed with the technology Cat equipment boasts straight out of the box.
"We took into account the low emissions from the engines of the F-Series machines when we were looking at adding to the fleet," she continues.
"Environmental responsibility is a big part of what customers now look for when engaging contractors, so more than just how much throughput a particular machine enables, we also need to be mindful of how cleanly our machinery performs."
Other notable Cat 323F L features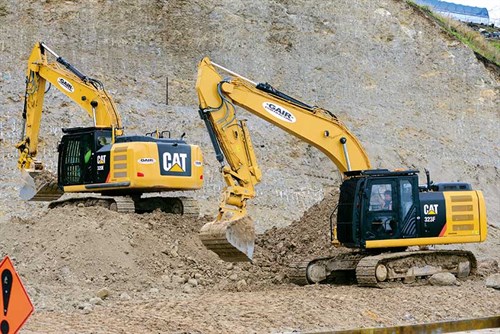 Along with a maintenance-free diesel particulate filter, the Cat 323F consumes up to 10% less fuel than its series predecessor, thanks to automatic engine speed control, which lowers engine rpm when the machine doesn't need it for work.
Additionally, automatic engine idle shutdown turns the engine off when it's been idling for more than a modifiable amount of time. There are also three power modes that suit differing working environments and tasks: high power, standard power, and eco mode.
The Cat 323F L is powered by a fuel-efficient, EU Stage IV emissions-compliant 120kW/161hp high-pressure common rail diesel engine.
The power unit's Cat engineered electronics and fuel and air management systems are also top-notch, with Cat's electronic injection system working to improve precision and control, reduce soot, and boost engine performance.
Along with a heavy-duty cab featuring reinforcing around key areas, the 323F L undercarriage is well-regarded for its stability and durability, with track shoes, links, rollers, idlers, and final drives all constructed from hard-wearing high-tensile strength steel.
The cab itself provides a safe and comfortable environment for Gair Contracting's operators, with fully adjustable seating and a powerful climate control air-conditioning system.
The left and right joysticks can be adjusted to improve comfort, while the LCD monitor is easily readable even in bright daylight, intuitive to use, and is also the operator's eyes on what's behind the machine, thanks to the Cat's reversing camera.
The cabin also features plenty of storage for items as large as a toolbox or as small as a mobile phone.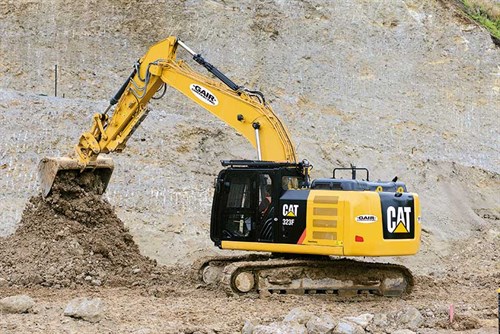 A lot of effort has been put in by the Caterpillar design team to provide a quieter working environment, too. The ROPS cab's reinforced frame is designed to limit vibration and it features the sort of sound-proofed lining usually associated with ute manufacturing.
With Gair Contracting personnel spread far and wide around the eastern and central North Island, comprehensive machine distributor backup is essential.
Bailey says Gough Cat is extremely responsive; having an extensive national network of branches with parts and servicing capabilities meaning that downtime is minimised whenever scheduled servicing is required or other technical issues arise.
"Goughs stand behind the Cat name. You can tell they're very proud to have such
a long history representing the brand here, and I think that counts for a lot from a customer point of view," Bailey says.
"Goughs back the brand and that's great for our peace of mind when making a purchase decision. We have a great relationship with them and we trust Cat machinery."
Keep up to date in the industry by signing up to Deals on Wheels' free newsletter or liking us on Facebook.