New range of Cat F Series excavators
---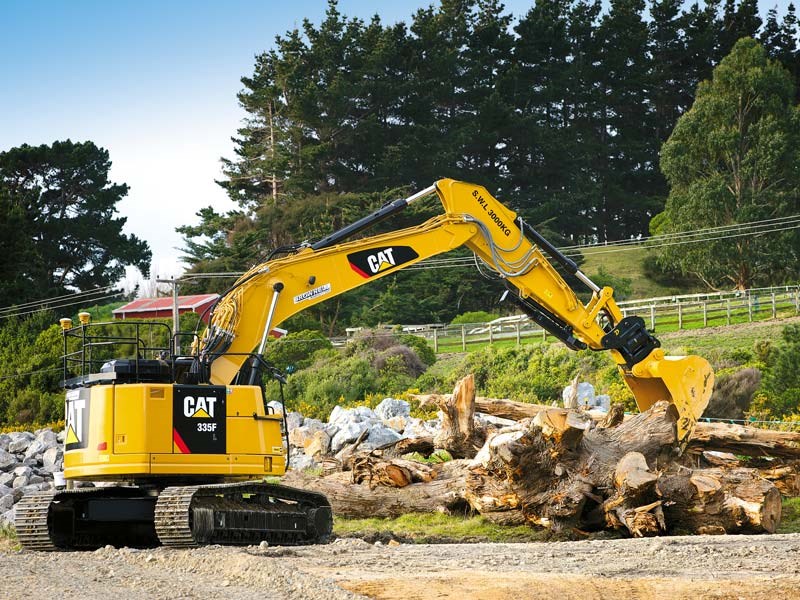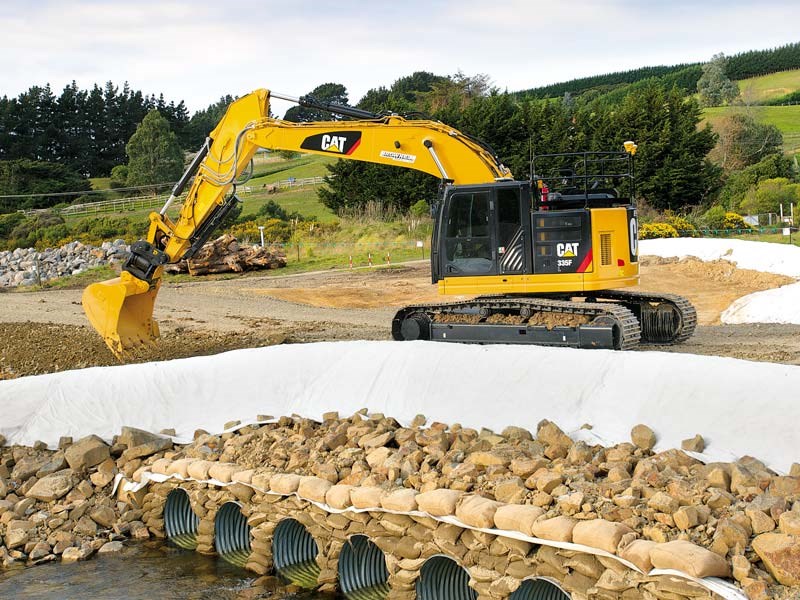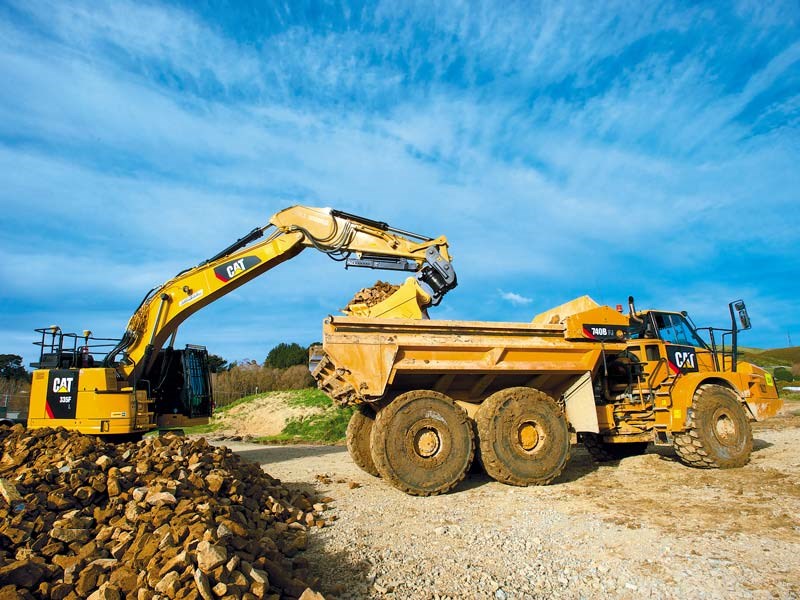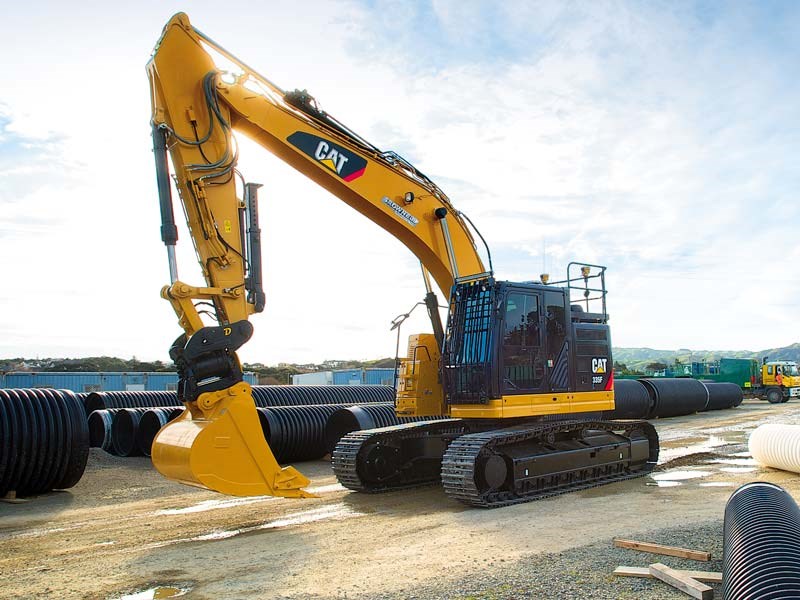 If your business calls for a machine that can take on several tight-quarter tasks like loading trucks without swinging into traffic, or picking and placing heavy materials, you need the versatile new Cat 335FL in your fleet.
Get more work done at the lowest possible cost and keep winning more work with the new range of Cat F Series Excavators.
New Cat F Series excavators from Gough Cat offer innovations in power and performance to help shrink fuel costs and boost productivity. And with integrated Cat Connect technologies, you can minimise rework and maximise efficiency—so you can protect and grow your bottom line.
The demand for excavators capable of working in tight quarters continues to grow, and Caterpillar is meeting the need – from the mini 301.7D CR all the way up to the new Cat 335FL. The market's largest compact radius machine will help New Zealand contractors take on some of the heaviest up-close work with confidence knowing they won't hit a wall or an oncoming vehicle when the excavator swings because it has only six inches of overhang.
The first Cat 335FL Excavator to be put to work in New Zealand has just arrived at Waikanae-based Brownell Earthmoving. Owner Shane Brownell explains that he approached Carl Southee from Goughs last year about ordering the Cat 335F.
"The machine is the first of its kind in New Zealand, and I'm really looking forward putting it through its paces," he says.
Shane says one of the key reasons behind the purchase of the 335FL was around fuel economy. "The decision to outlay capital on a new machine is always a big one," he says. "But in this case, I'm expecting the cost to be quickly offset with increased productivity and fuel savings."
Automatic engine speed control, automatic engine idle shutdown and a choice of three power modes all add up to lower fuel consumption, less exhaust and sound emissions, reduced repair and maintenance costs, and increased engine life.
John Russel, Gough Cat's general construction industries manager says the Cat Tier 4 engine electronics are more powerful and robust than ever. "The 335FL's injection timing precisely controls the fuel injection process, which provides more control of combustion for the cleanest, most efficient burn," he says.
The 335FL is among the range of models available in the Cat F Series excavator class, and is built to keep productivity high and owning and operating costs low.
The 192 hp (143 kW) C7.1 ACERT engine not only meets Tier 4 Final emission standards, but it does so with all the power, fuel efficiency, and reliability you need to be successful.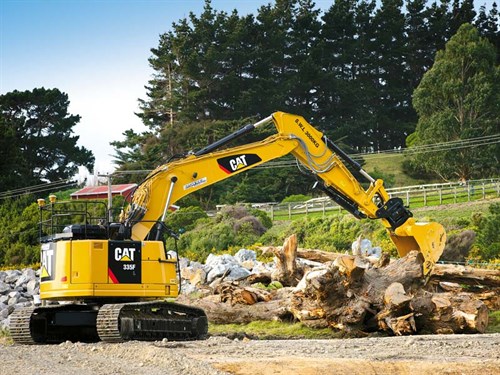 "Another bonus for the 335FL is that it's one of the first excavators to use DEF (Diesel Exhaust Fluid)," says Shane.
The Cat C7.1 ACERT engine is equipped with an SCR system which reduces harmful NOx emissions. The engine can also run on up to B20 biodiesel, offering even more potential fuel saving flexibility whilst caring for the environment.
Established in 2004, Brownell Earthmoving has built a strong reputation in roading, rail and bulk earthworks projects. After spending three years in Australia from 2011 until 2014, Shane returned to New Zealand when the opportunity arose to work on the Mackays to Peka Peka Expressway and Transmission Gully projects.
"When I moved back to New Zealand I was subcontracting for Goodman Contractors; a really good family-run company," say Shane.
"At this time I purchased a new Cat 320ELRR through Gough Cat. This machine is just over two years old with 4500 hours and has been operating really well."
Shane explains that the purchase of the new Cat 335F is for Transmission Gully. "There are some big cuts to get started off and being zero turn the machine is ideal," he says. "This will make it easier to be more proactive loading the large dump trucks," says Shane. "The machine can also handle large buckets which means greater efficiency and productivity."
Another key benefit for Shane is the fact that the 335FL utilises the long, heavy-duty undercarriage from the larger 336F excavator. This platform provides much greater stability when lifting heavy objects, which leads to greater overall productivity. And with increased hydraulic pressure and flow, the machine delivers greater lift capacity out front and over the side than its predecessor.
Controllability is another of the attributes of the Cat excavators, and one of the main contributors to this is the main control valve. The valve opens slowly when the joystick lever movement is small, and opens rapidly when movement is high. It directs flow where you need it, when you need it, which leads to smoother operation, greater efficiency and lower fuel consumption.
"To top it all off, the machine is very smart looking," says Shane.
The 335FL is designed to provide a long service life. The upper frame has mountings made specifically to support the heavy-duty cab. It is also reinforced around key areas that take on stress like the boom foot and skirt.
Where the real power comes in is through Caterpillar's unparalleled systems integration and state-of-the-art hydraulic system. You can quite easily move tonnes of material all day long with tremendous speed and precision.
Add to that a quiet operator environment, easy-to-reach service points and multiple Cat work tools that help one machine complete a variety of tasks, and you'll be hard put to find a more efficient 35 tonne excavator.
Keep up to date in the industry by signing up to Deals on Wheels' free newsletter or liking us on Facebook.