Business profile: KJ's Bobcats Diggers and Haulage
---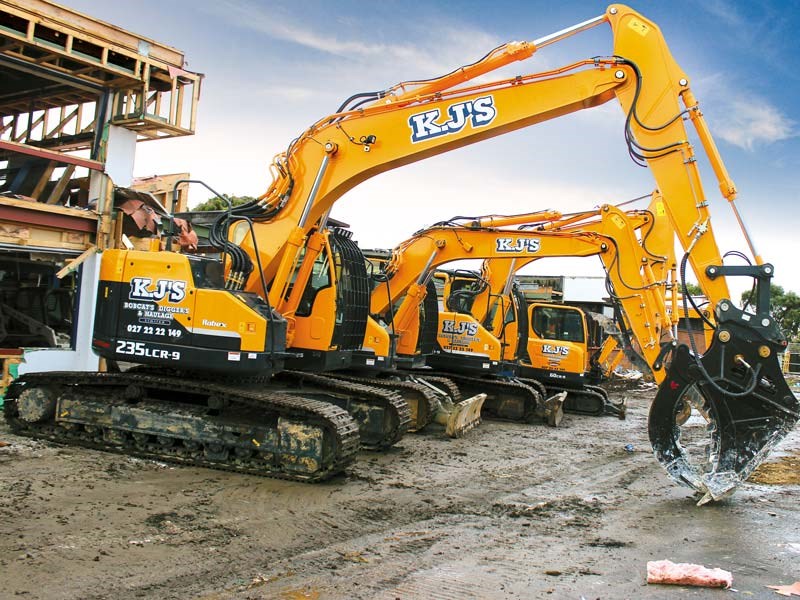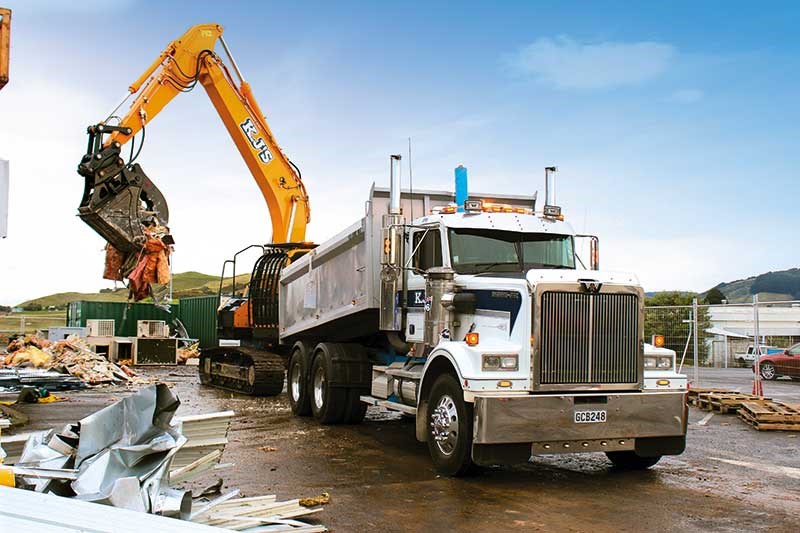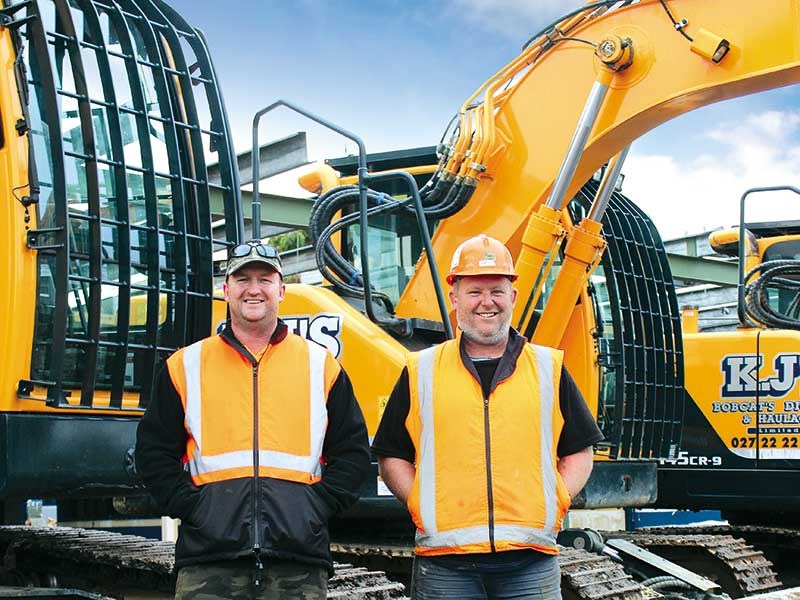 Aaron Jones from KJ's Bobcats, Diggers and Haulage Limited has invested in three new Hyundai excavators this year, bringing his tracked crawler excavator fleet up-to-date and ready for anything in Tauranga's busy construction environment.
Things are moving at a fast pace for Aaron Jones from KJ's Bobcats, Diggers and Haulage Limited. Mind you, it comes with the territory, what with this family firm being headquartered in bustling Tauranga, where Aaron reckons the summer contracting season ahead will be another busy one with plenty of work to go 'round.
KJ's has been operating for nearly 25 years now, specialising in a variety of civil, demolition, residential and bulk cartage disciplines. The company was founded by Kevin Jones and remains a family affair; in addition to Kevin's son Aaron managing day-to-day activities, Kevin's other son Paul helps out within KJ's haulage division too.
I'm visiting a demolition site near Baypark Stadium which is where Aaron himself – and his fleet of recently purchased Hyundai excavators – come in.
In the 15 years that Aaron has been running this side of the business, he's been involved in a host of demolition projects. This one – bringing down some old commercial premises to make way for a new development – rates as a decent sized job for him and his team, although even with asbestos removal work stalling the schedule a bit, Aaron reckons they'll be done and dusted inside six weeks.
A big job then and it has also been a big year for investing in new gear for Aaron, who has swapped out all but one of his excavators in the past eight months.
"We kept one of our Hyundai R145CRD-9 diggers because it still has pretty low hours and will be a good back-up machine for us," says Aaron.
"Other than that though, we have new machines throughout the fleet. I tend to on-sell my gear after the warranty expires; every three years or so I will change out the old for the new.
"I spend a bit of revenue on plant but I think it's really important to maintain a good uniform look to the fleet. It's also good to have gear that complies with health and safety regulations, features a comfortable operator environment and that my guys can trust to work when it's needed most."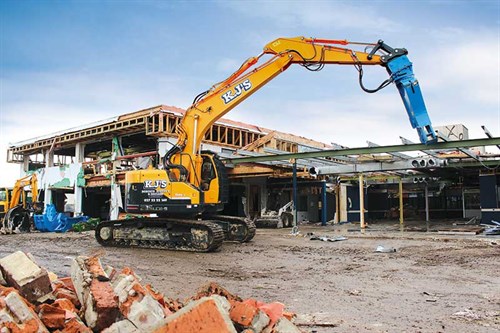 In addition to the 14-tonner Aaron has retained, he is also running an additional (new) Hyundai R145CRD-9, a Hyundai R60CR-9 mini-excavator to tackle a lot of the residential work the company undertakes, and a bigger Hyundai R235LCR-9 which has just joined the fleet in the days before I catch up with him.
Aaron says the new 24-tonner is ideal for the sort of heavy-duty demolition work the company is engaged in on this particular site. In addition to the machine itself, he has purchased an assortment of new breaker and shear attachments that require plenty of grunt to run.
"I'm looking to pulverise the concrete for roading material, so I need a gutsy machine to do that. Having the horsepower that the 235 does means it's easier to pull buildings apart, which means we can work faster and cleaner.
"This is a top-level machine for us and we'll be getting our money's worth out of it over the next couple of years, that's for sure."
All told, KJ's Bobcats, Diggers and Haulage Limited has 15 full-time staff, with a few more casual workers on the books besides. Ideally the company would like another four or five full-timers; a goal Aaron believes will be easily fulfilled throughout the busy summer season, what with a lot of construction professionals – especially machine operators – heading back north as the Christchurch rebuild shifts gear.
Aaron bought his first Hyundai back in 2004, so has relied on the manufacturer's engineering nous and burgeoning technology for many years. In tandem, he's also relied on the back-up service Hyundai distributor Porter Equipment provides him and his crew.
"Porters have been great to deal with since day dot," he says.
"What with all the aspects of our business working together like they do, I think of us as a one-stop-shop for clients. And I guess that's how I think of Porter Equipment too.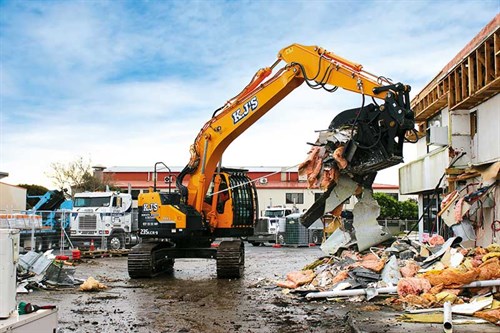 "We don't have to travel to see them – in fact their offices are just a couple of kilometres down the road from our yard in Tauriko.
"They come to us for scheduled servicing, which works well for us and, what with our machines being from the same manufacturer, we know that there are plenty of parts available if they're ever needed."
You recall how I mentioned things move at a rapid pace around these parts? Aaron himself is hard to keep up with.
In addition to the various KJ's Bobcats, Diggers and Haulage Limited activities, he also owns a top soil supply company, runs a fishing charter business ("I can never get on the damn boat myself – it's always booked out!") and also imports mechanical equipment out of the United States.
"Well, you're only here once right?" he laughs.
His entrepreneurial spirit – backed by plenty of years' experience – seems well-suited to his hometown though.
"Tauranga is a city, but it's a small city," he concludes.
"We have good relationships not only with a variety of clients here, but with other operators who've been working in the region for many years too. There's a bit of a sense of community about the place which is great; there are like-minded contracting companies out there that we work alongside.
"We're fortunate that the city is enjoying such good growth at the moment. But we work hard for our share and we stand behind our skills.
"And that's where investing in good quality machinery like the Hyundai diggers we have really pays off."
Keep up to date in the industry by signing up to Deals on Wheels' free newsletter or liking us on Facebook.