Health and safety leading to more purpose built forestry machinery
---
An increasing awareness around health and safety and the drive to full mechanisation has seen the forestry industry move toward purpose-built machinery over the last few years.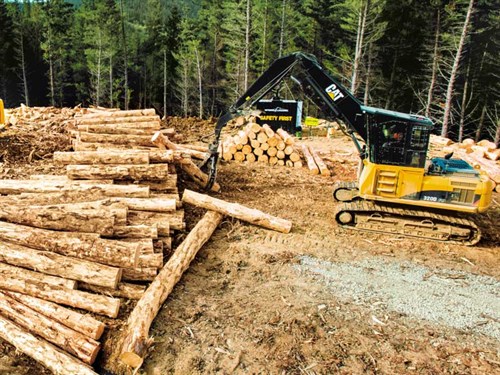 CAT purpose-built forest products are designed to provide a safe, operator-friendly environment, whilst maintaining a very productive machine.
Manufactured from the ground up at the Caterpillar facility in Georgia, USA, the machines come straight from the factory, compliance ready. "Safety is at the forefront of all decision making processes for contractors," says Wayne Baker, Gough forestry industry sales manager. "As anyone in the industry knows, forestry work often requires operators to spend long hours each day in their machines, in some cases with steep slope operation," says Baker.
"It's a very demanding job on the operator. They also work in remote locations in rough ground conditions and in all elements. CAT purpose-built forest machines offer a safer working environment, with greater focus on operator comfort thanks to industry leading purpose-built cabs."
Established in 1929, Goughs has been the Caterpillar dealer in New Zealand for more than 80 years. In that time, CAT equipment has become the industry benchmark in New Zealand for productivity, efficiency, and cost-effectiveness.
Caterpillar's tradition of machine strength and quality has endured in New Zealand throughout the years, and the latest range of CAT purpose-built forest equipment continues that legacy for the next generation.
Blake Speirs, owner of Speirs Logging says he chose CAT purpose-built forest machines because they're built to provide a lifetime of excellent performance in the forest. "As well as having heaps of grunt, our new CAT 568LL features the high visibility, long reach and fuel efficiency gains that ensure the high productivity my business demands," he says.
The 568 features increased horsepower, more efficient hydraulics, longer track frames for more stability, and ground-level accessibility for maintenance. It is available in a general forestry configuration for road building, site prep and processing; and in a log loader version for log loading, shovelling, butt-n-top loading and mill-yard applications.
Backed by a national and global support network which is second-to-none, Caterpillar and its dealer networks have earned a strong reputation over many years. "Gough CAT offers many different options from regular machine servicing to full cost per hour options," says Baker.
"We have built our business on aftersales service options and can tailor our service to meet the needs of our customers," he says.
Keep up to date in the industry by signing up to Deals on Wheels' free newsletter or liking us on Facebook.