Sustainable quarrying: Southern Screenworks
---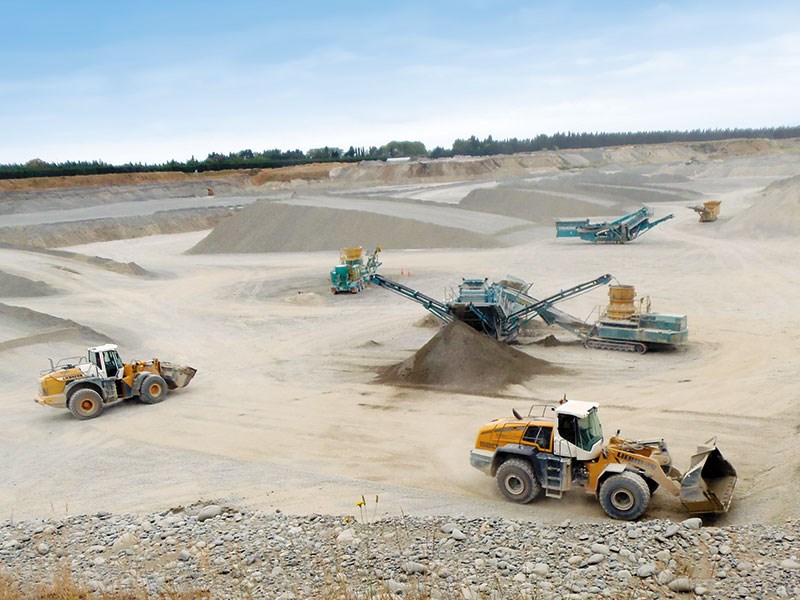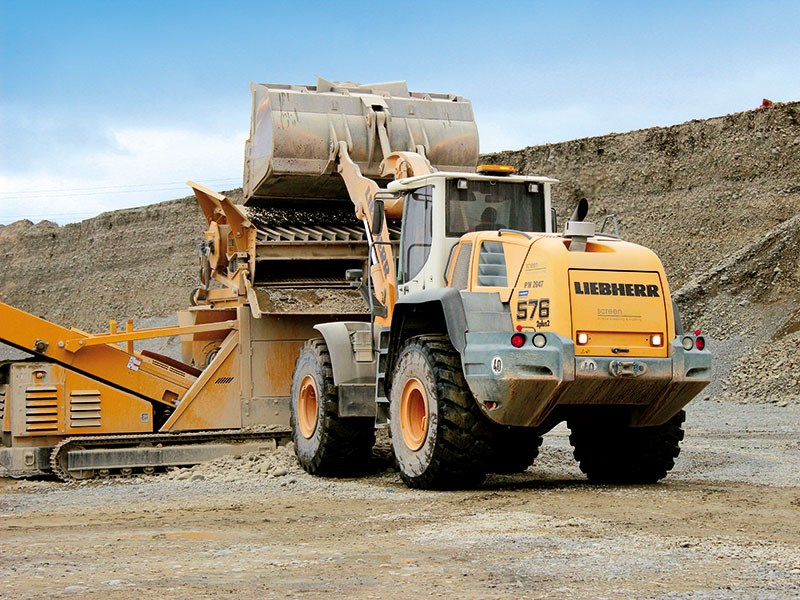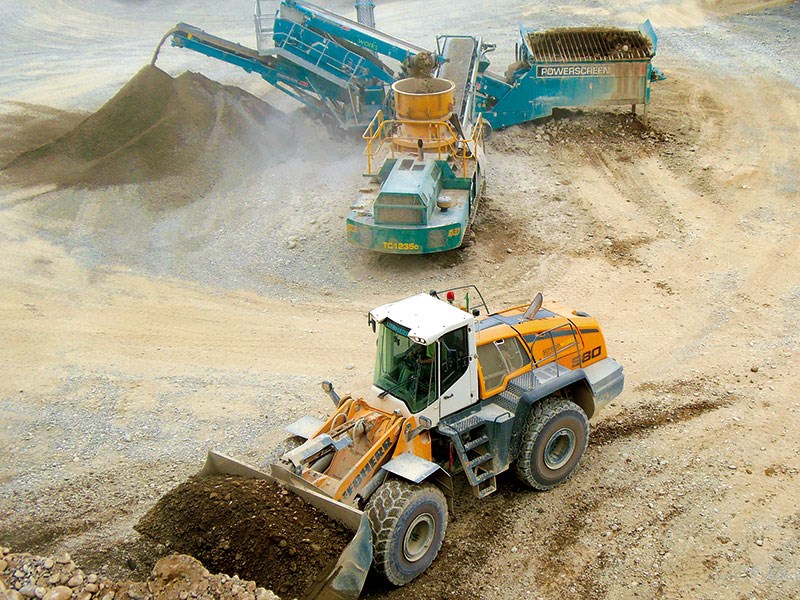 Southern Screenworks offers more than 20 years of experience in New Zealand's quarrying industry. As provider of various quarry operations, the company relies on Liebherr wheel loaders to deliver highest quality workmanship.
The directors Brett Swain and Alan King appreciate their Liebherr machines for several reasons; for example the wheel loaders consume less fuel than machines from competitors, saving the company money and helping to keep New Zealand's environment green.
Swain and King can look back on a remarkable track record. Southern Screenworks was founded in Christchurch, Canterbury, in 1994. The company started with only one screening plant. Four years later, in 1998, they bought their first crushing plant. Today, Swain and King have a work shop at Aylesbury with a quarry attached to the site. Together with 29 employees, they are running ten mobile plants, offering mobile screening and crushing services of various materials to all commercial, government, developers, industrial and agricultural sectors across New Zealand.
In 2007, Swain and King purchased their first Liebherr wheel loader. "We decided to buy a Liebherr wheel loader, because we wanted to be different in the market. The cost of the machine was an incentive and the machine turned out to be satisfying in terms of capacity and economy," says Swain.
Southern Screenworks continued to invest in its machinery. Due to the good experiences with the first Liebherr machine, another three Liebherr wheel loaders were purchased. Today, a fleet consisting of four wheel loaders, L 564, L 566, L 576 and L 580, is loading crushing plants and carrying and stockpiling processed materials in the quarry.
Combining social responsibility and economic efficiency
Quarrying is seen as an industry that creates noise and causes pollution. Thus, despite contributing noticeably to New Zealand's economy, the quarrying industry is perceived as environmentally challenging – especially in a country like New Zealand, where environmental compatibility is ranked high on the agenda. Southern Screenworks is aware of its social responsibility; the directors put a lot of effort in keeping the environmental impact as low as possible. For that purpose, focussing on fuel economy is a first step.
Southern Screenwork's strategy matches with the strategy of Liebherr. Liebherr has been driving forward the development of wheel loaders with low fuel consumption for decades. Liebherr's hydrostatic drive is a key success factor: On average Liebherr wheel loaders require up to 25 percent less diesel compared with other wheel loaders of the same size.
This reduction in fuel consumption removes a massive amount of pollution from the environment. As a comparison, one litre of fuel produces up to three kilograms of carbon dioxide (CO2). By saving up to five litres per operating hour, up to 15,000kg less CO2 is produced in 1000 operating hours.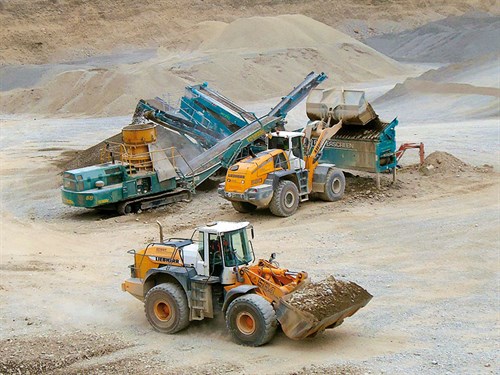 Southern Screenworks does not only operate more environmental-friendly with its Liebherr wheel loaders; the company also saves real money due to Liebherr's fuel economy. "There is no other brand in the market that gives us the fuel savings which we get from our Liebherr wheel loaders," says Swain. Above all the hydrostatic drive offers advantages for Southern Screenworks.
"Besides the remarkable fuel savings, there is hardly any brake wear due to the hydraulic braking action of the driveline. And the tyres last longer due to the continuous traction control. All in all, we have less running expenses with our Liebherr wheel loaders," says Swain.
Southern Screenworks appreciates reliable Liebherr service
The quarrying industry is highly competitive and especially smaller companies such as Southern Screenworks need to work efficiently in order to remain in the market. In this context, Swain highlights the essential role of machine availability. "For us, machine availability is crucial to ensure a continuous workflow. Our wheel loaders operate 12 hours per day at the quarry face. If they were down for just one hour, the consequences would be fatal. The whole business depends on our wheel loaders."
Accordingly, service quality significantly influences the purchasing decision in order to reduce down time. In terms of service, Southern Screenworks finds that Liebherr is one step ahead of its competitors.
"Liebherr machines are very durable; however, in case of emergency, the service team is well-approachable and quickly on-site. The spare parts supply has always worked smoothly. The Liebherr service team supports us and we are satisfied with it. The team is down-to-earth and a reliable partner," affirms Swain.
Capacity, comfort and price-performance ratio as further strengths of Liebherr
Before purchasing a new machine, Southern Screenworks carefully assesses its performance. "On average, our wheel loaders handle around 1500m³ material each day, which is equal to approximately 3000 tonnes. Therefore, we need efficient machines with high capacity. We compared several wheel loaders from different manufacturers side by side and when it came to capacity and economy, Liebherr wheel loaders could not be beaten by any other brand," says Swain.
Staff of Southern Screenworks appreciates the machines as well. "I am driving one of our Liebherr wheel loaders. It operates smoothly with its hydrostatic drive and the machine's digging power is impressive," says one of the drivers.
Swain confirms this experience. "Our drivers are satisfied with the machines, telling me that operating the wheel loaders is easy and comfortable. Comfort is a prerequisite for working efficiently – and we have to work with maximum efficiency in our industry."
The director of Southern Screenworks emphasises the price-performance ratio of Liebherr wheel loaders. "Compared to similar-sized wheel loaders, the Liebherr machines are well-priced; you get real value for your money. Thus, and due to the high service quality, Southern Screenworks will also be working with Liebherr in the future."
For more information, please call (09) 579 4999.
For the latest news, reviews and features, subscribe to Deals On Wheels magazine here.
Keep up to date in the industry by signing up to Deals on Wheels' free newsletter or liking us on Facebook.