Porter Press Extra: Rainbow Mountain Quarry
---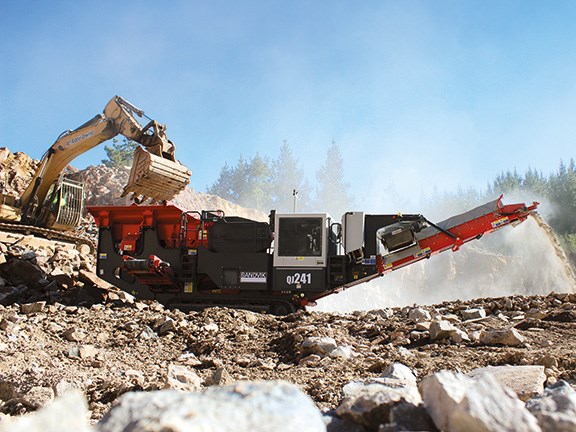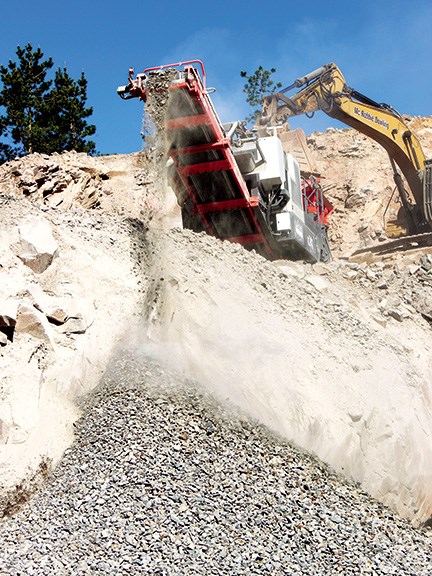 Porter Equipment enjoys partnering with customers to enjoy an on-going business relationship.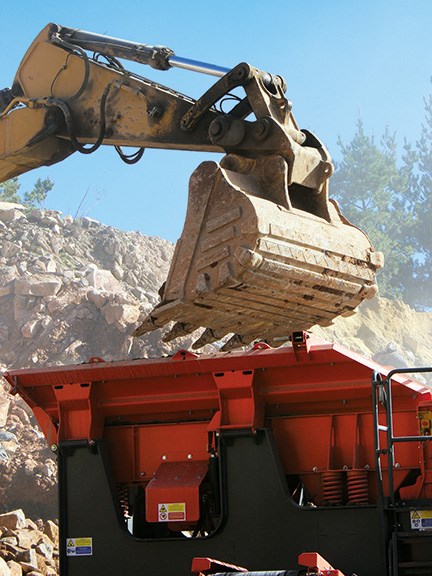 The 1000mm x 650mm reversible crushing jaw features a level sensor to control feed rate.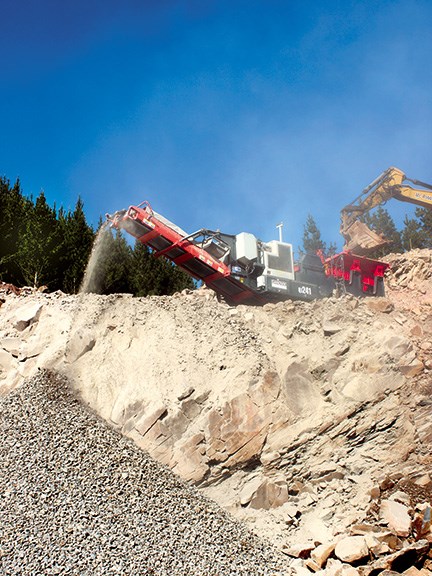 A brand new Sandvik jaw crusher at Rotorua's Rainbow Mountain Quarry helps ensure production meets demand, even when demand is sky high.
Okay, maybe more gold dust than gold specifically, but McRobbie Dowling's quarry operation, 20 minutes south of Rotorua on Rainbow Mountain, is doing very well regardless, thanks in part to the brand new Sandvik QJ241 mobile jaw crusher on site.
"Demand is high at present, so we're all working hard to ensure our customer expectations are met," confirms McRobbie Dowling general manager John Meekin.
"This new machine is our introduction to the Sandvik brand and it's only been here a short time, but early indications are it's going to do exactly what we need it to. It's the perfect machine for a quarry of this size."
I learn from Meekin that both the quarry itself and the new Sandvik are at the smaller end of their respective scales.
The jaw crusher — part of a comprehensive range spanning three models that vary between 33,500kg and 50,380kg — still chomps its way through rock measuring in at some pretty hefty dimensions, while we stand watching an excavator feed it in.
Rainbow Mountain
The Rainbow Mountain quarry itself might be small, but it's rather unique in the North Island's Central Plateau, offering up a bountiful but rare source of quarryable volcanic rock (andesite) in a region covered predominantly with pumice and volcanic mud and ash from the Taupo crater's historic big bang.
It's easy to get a feel for the "rainbow" component of the mountain's name as soon as you arrive — the andesite lends a pink-ish hue to the sheer cliffs of the quarry walls, mixing in with yellows and greys and the lush green of the forest that surrounds the place.
"We operate at both large and small quarries, but regardless of size, for any quarry operation to succeed through-put still needs to be consistent," continues Meekin.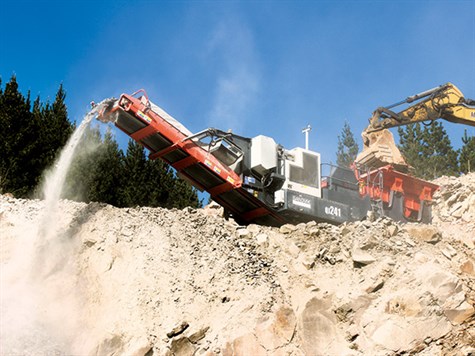 "These are early days for this machine and material in the stockpile is how we'll measure its performance, but I have to say early indicators are good.
"The quality of the build is very good — well-matched components and the way it's put together really impressed me as soon as I saw the Sandvik. A good measure of this is how well the crusher 'sits' under load and, aside from the independently suspended and reinforced hopper receiving rock, the crusher exhibits barely a shimmer on the sheet metal.
The heavy-duty jaw crusher features an impressive selection of standard kit, including a large capacity variable speed stepped feeder, with an improved load control system to ensure continuous and uninterrupted crushing. The 1000mm x 650mm reversible crushing jaw itself also features a level sensor which helps to control the feed rate into the crusher.
The 168kW (225hp) QJ241 is remote driven (an intuitive, full colour remote controller comes as standard) and extremely manoeuvrable, even on confined ledges such as at Rainbow Mountain, thanks to the 20-inch wide tracks and proportional tracking for extra precise control.
There's also a standard 650mm-wide natural fines conveyor supplementing the hydraulically-operated 800mm-wide main conveyor, which features an 11-foot, 4-inch discharge height and built-in dust suppression spray bars.
Back-up support
Meekin says that ideally the crusher should be pulling eight-hour days, four-and-a-half days a week for McRobbie Dowling.
"We'd expect 15,000 to 16,000 hours out of the unit before we think about replacing it. We'll have factored in a rebuild by that stage, but there's no reason we shouldn't get there relatively smoothly.
"And related to that, the other aspect of the Sandvik purchase that we think will pay dividends is Porter Equipment's back-up support."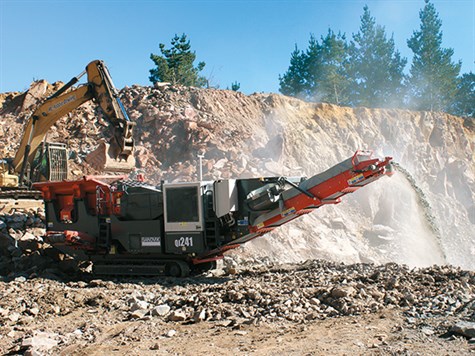 Regardless of the machine's attributes, Meekin is adamant that all the technology in the world counts for nothing if you don't have adequate after-sales support.
"You always need warm bodies in an emergency and Porter Equipment enjoys a very good reputation in the industry for providing that sort of quick-response backup.
"Porter Equipment's Chris Goodall was very proactive during the buying process and we are condifent the follow up from the customer support team will be strong."
Goodall furthers the idea that it's what happens after the machinery is purchased and delivered that really counts.
"Sure, it's probably easy to sell a machine to someone then drop it and run. That happens a lot. But that isn't our philosophy. We like the idea of partnering with clients because we want to enjoy an on-going business relationship with them.
"Part of helping our customers maintain their productivity is offering a robust back-up service. In my experience, it's not about the price paid for the plant in the first place, it's the on-going interaction that really counts over time," says Goodall.
Goodall believes it doesn't matter whether it's straightforward technical assistance or getting a replacement part out on site in a hurry — keeping downtime to a minimum is as much a Porter Equipment goal as it is for the clients themselves.
"That level of support is what we're known for," he concludes. "In my opinion, crushing is an art form, so we pride ourselves on offering total support to the artisans, big and small."
For the latest news and reviews, subscribe to Deals On Wheels magazine here.
Keep up to date in the industry by signing up to Deals on Wheels' free newsletter or liking us on Facebook.