Contractor profile: Brian Hoffmann Ltd
---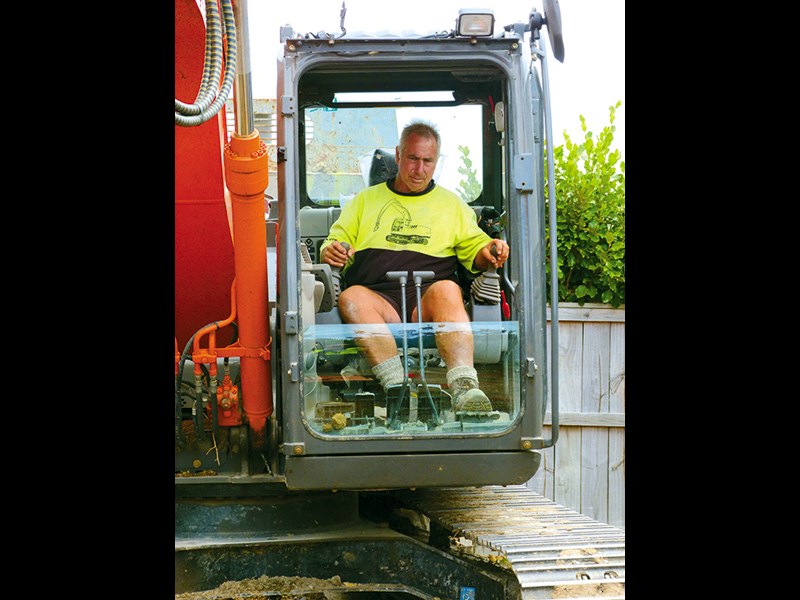 Brian Hoffman in the cab of his Hitachi ZX135 US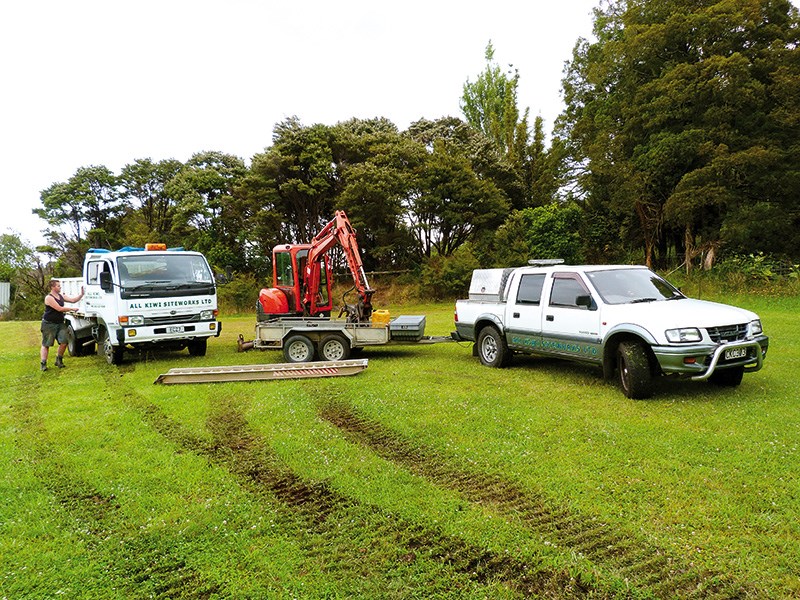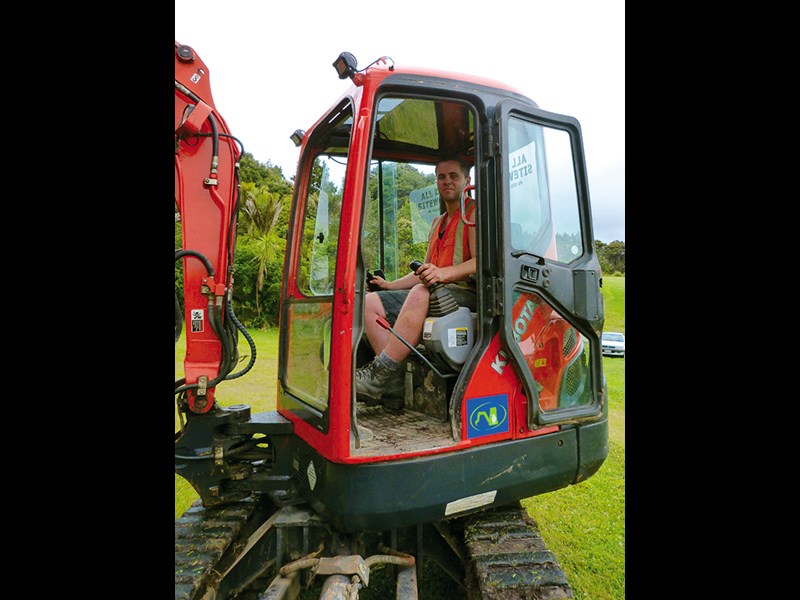 Josh Simpson at the controls of a Kubota KX91-3SS

DOW catches up with an iconic machine operator with 40 years' experience under his belt and also takes a look at a rising star in the industry.
Anybody who operates, sells, or is simply fascinated by earthmoving equipment knows Brian Hoffmann as somewhat of a legend in the world of excavation.
Hoffy, as he's known by most people, has been operating diggers since 1972, back in a time when contractors were reluctant (you could even go so far as to say hostile) towards anyone who turned up on site with one of these new-fangled pieces of machinery.
Anybody who is old enough to remember the International BTD 6 fitted with a Drott skid shovel will remember what a departure from the norm these totally new, differently configured diggers were.
Brian Hoffmann cut his teeth on some of the first Hitachi machines to be operated in New Zealand, back in the days when he worked for West Auckland contractor, the late Trevor Boag.
He told DOW that the first excavator he owned in 1976, a Hitachi UHO 3/3 was chain driven and had only basic controls, a lever on the left to slew, one on the right for boom up and down and two foot pedals for dipper arm and bucket control.
Essentially they weren't all that more advanced than the old Ruston 10RB draglines used in quarrying and the likes, which were based on a 1920s design.
Hoffy told DOW that it was a different market back in the 70s and 80s where if you turned up to quote a job in a new Hilux, you probably wouldn't get the work because you'd look like you were making too much money.
He went on to say he won more contracts when he turned up in his old K Bedford, as that was the expectation of the day.
Now it's quite the opposite, he says. It's all about portraying a professional image and if you turned up to quote a job in a scruffy old ute, you'd be looked at sideways in today's environment.
He says technological advancements have played a big part in the way he operates a machine these days, one such example being the tilt bucket, an innovation he always felt he could easily do without.
Hoffy grins as he relates a story of being told in very impolite terms that he wasn't going to be allowed on one site about eight or nine years ago with a machine that wasn't fitted with a tilt bucket.
The contractor in question evidently was unaware of the iconic digger operator's pedigree and had assumed it would be impossible to form the required batters without the aid of what was at the time, a relatively new innovation.
Unfazed by the unexpected rejection, Hoffy shrugged his shoulders, loaded his machine back on the transporter and headed off to the next job.
While Hoffy's company, Brian Hoffmann Ltd currently operates seven diggers, six trucks and employs seven staff, the machine he spends most of his time operating is a 13.5-tonne Hitachi ZX135 US with heavy-duty counterweight.
Hoffy purchased the machine new a couple of years ago and as one would expect of a 2012 model machine, it came with a tilt-bucket as standard equipment.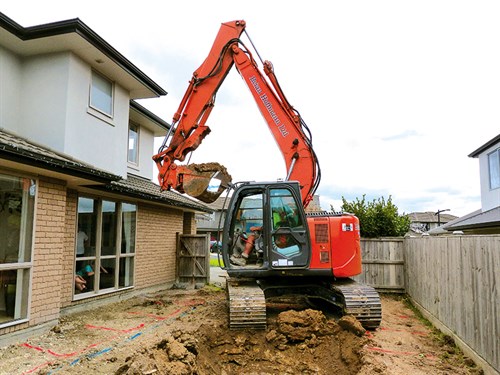 As we all know, any excavator operator worth his salt doesn't need a tilt bucket to do a good job, just as any decent sort of mechanic doesn't need a set of ratchet ring spanners, so it goes without saying that the auxiliary hydraulics on one particular ZX135 didn't get a lot of use in the first few months of Hoffmann's ownership.
However, inevitably there comes a day when old-school mechanics find that that really difficult nut would come off a lot easier with one of those new-fangled 'ratchet rings'.
Likewise the same principle applies to digger ops and there was this one day when a certain veteran operator figured that he would get the job done a whole lot quicker if he'd just push that – "where is it – ah yes, there it is – pedal" and he's been using the tilt bucket function ever since.
Hoffman has won more trophies [Hoffmann is the current New Zealand Excavator Operator Champion and was also the winner in 2008- Ed] over the past ten years than he can count but says that he enjoys competing in competitions as much as he enjoys seeing a job completed.
The old and the new...
One might expect the attitudes and philosophies of an earthmoving contractor like Brian Hoffmann with his forty-odd years of experience and a young chap who's been in business for just two years, to be totally juxtaposed, enter Josh Simpson of All Kiwi Siteworks.
At 23 years of age, Simpson has an innate ability to learn from people many years his senior. He told DOW that ever since he was a kid he's been fascinated by hydraulic excavators.
Although also having an underlying-desire to become a policeman, Simpson had worked with his dad on several building projects as a teenager, at which time he talked his father into buying a 1.7-tonne digger.
The machine served him well for honing the skills he's developed on the 3.5-tonne machine he currently owns and operates.
Originally intending to do a building apprenticeship, he found himself leaning more towards operating a machine, so off he went and enrolled himself on a course at the Tai Poutini Polytechnic Auckland Digger School.
While on the course he was mentored by an old-school digger operator who shared the same sentiments as Brian Hoffmann as far as tilt buckets were concerned and emerged out the other side, well-schooled in doing a decent job without the benefit of the most up-to-date equipment.
The set of questions above which were asked of both the elder statesman Hoffmann and his younger counterpart Simpson may give an insight into the way both generations think and operate.
Brian Hoffmann, who has owned more hydraulic diggers than you can shake a joystick at, says these days the majority of his excavation work is carried out as part of the installation of the swimming pools he sells through his company, Aqua Technics Pools.
However he says his cell phone is constantly at his ear, receiving calls from people wanting other types of sitework carried out.
Brian Hoffmann Ltd currently operates Hitachi equipment ranging from the 13.5-tonne ZX135 US featured, down to a 1.8-tonne, six trucks and employs seven staff.
Josh Simpson's All Kiwi Siteworks business is thriving with the one truck, ably assisted by the trusty Holden Rodeo which tows the trailer and attachments that go on the Kubota KX91- 3SS which is all pretty impressive for a young bloke of 23.
Let's face it, young Simpson has got a long way to go to catch up on Brian Hoffmann's long career, one thing stood out when talking to both men though.
Hoffmann and Simpson both work really hard and both men love what they do, but in spite of their difference in age, both operators agree that you don't need a tilt bucket to do the job properly.
For more information, contact Brian Hoffmann on 021 921 949 or Josh Simpson on 021 127 8188
For the latest news, reviews and features, subscribe to Deals On Wheels magazine here.
Keep up to date in the industry by signing up to Deals on Wheels' free newsletter or liking us on Facebook.