Yuchai YC230-8LC excavator
---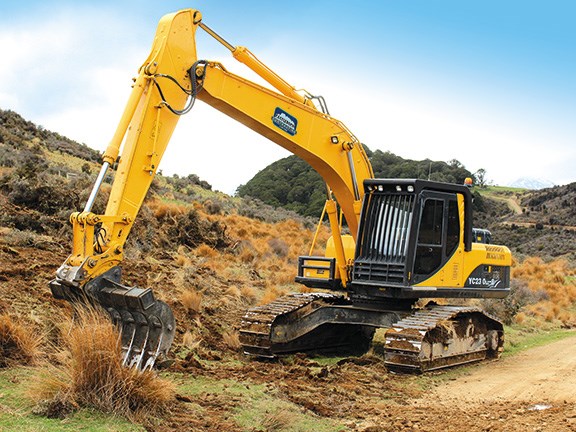 The Yuchai YC230-8LC is powered by a 112kW Cummins engine.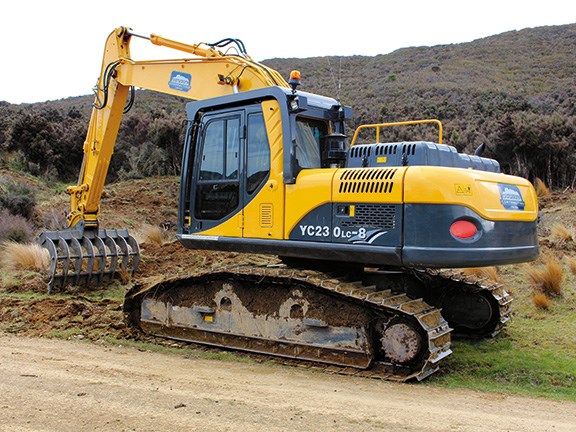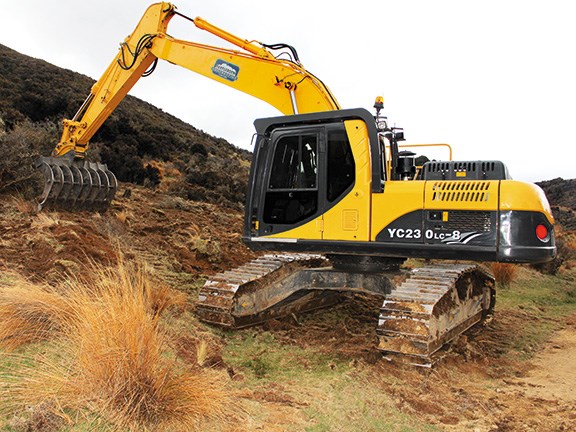 Deals on Wheels visits a contractor in Lumsden that uses a Yuchai YC230-8LC excavator.
Castlerock Contracting is based in Lumsden, Northern Southland and is a family-owned, one-stop shop for farm development and silage. They undertake a wide range of agricultural work including dairy farm development; lanes and effluent ponds; farm silage operations; earthworks; and forestry work.
Stalker and operator Tim Rossiter went to Diggalink in Rolleston to test and inspect the excavator, and realised it ticked all of their boxes. "The machine had to be built tough as the YC230-8LC would be used in rough, steep terrain from Central/Western Southland, at times root-raking on previously logged forestry land, and cleaning steep hillsides for good old sheep and beef farmers," says Stalker.
Diggalink specialises in customising machinery with full in-house engineering, mechanical services and attachment supply. The Yuchai YC230-8LC was specified to be mounted on a high and wide track frame, and fitted with dozer-type track plates for stability and grip. A factor critical in the decision making was that even though the Yuchai brand was new to Castlerock, the components – Cummins engine, and KYB and Kawasaki hydraulics – were very familiar. Another factor in the decision was the Yuchai's simplicity, it has no computer or engine ECU, meaning it will still work in remote locations.
Rossiter has been operating diggers for 13 years and is amazed at how smooth the Yuchai is to operate, and how stable the YC230-8LC is with the high and wide tracks. "This terrain is tough on machinery and the YC230-8LC is an excellent, robust piece of equipment proving itself in the hardest of conditions for Castlerock. It is powerful and smooth in operation and backed with full machine warranty and after sales support."
Director of Diggalink, John Giltrap says Yuchai excavators are all made with common components – Cummins engines, Toshiba or KYB hydraulics, and Hydash travel motors.
"These are all well-known and trusted brands, and form the basis of the Yuchai machines. It means parts and servicing are not a problem.
"A great feature of the Yuchai excavators is that they are computer free. This can be a huge benefit if all you want is a simple machine that you can rely on to get a job done. This will have great appeal to people in the farming and forestry sectors in particular," he says.
For the latest reviews, subscribe to our Deals On Wheels magazine here.
Keep up to date in the industry by signing up to Deals on Wheels' free newsletter or liking us on Facebook.