Road test: Scania R620 towing a 50Max opticruiser
---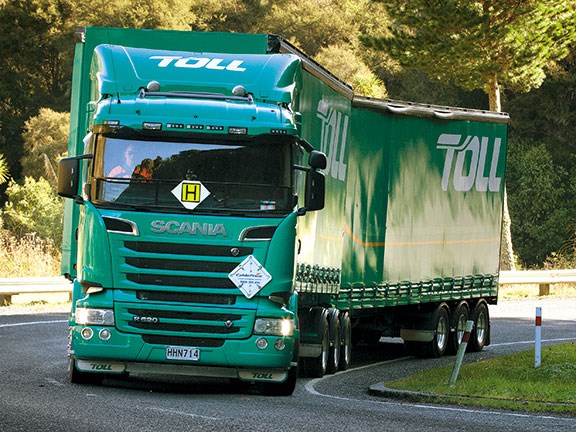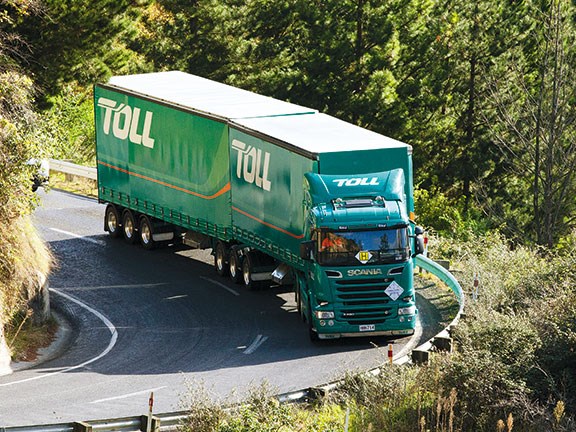 Purcell drives a tidy line up the notorious Devil's Elbow climb.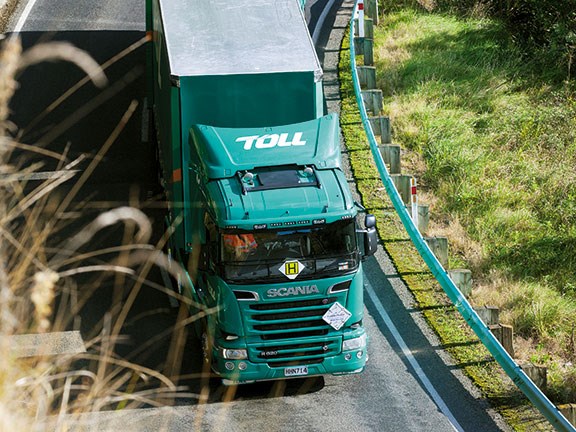 50max spec Roadmaster trailers track well behind the Scania.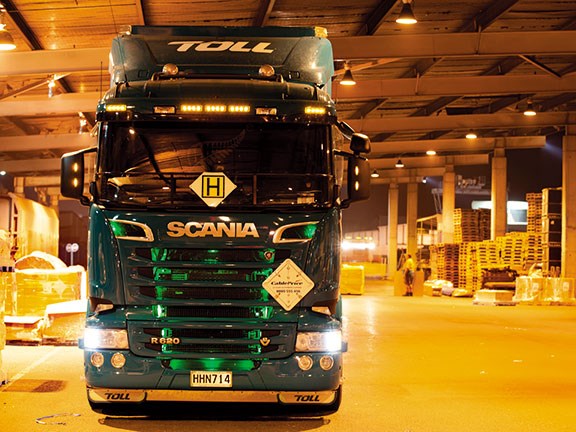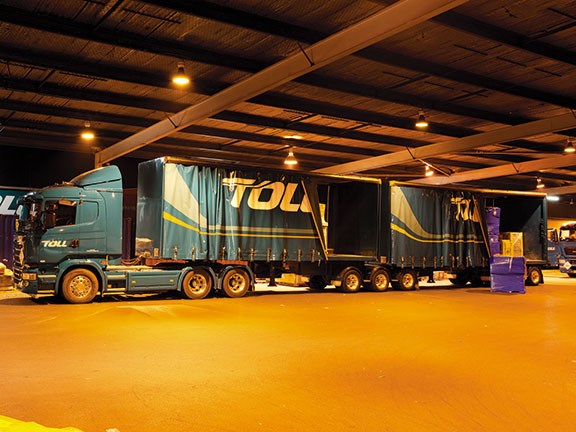 It's all go at Toll's busy Hastings depot.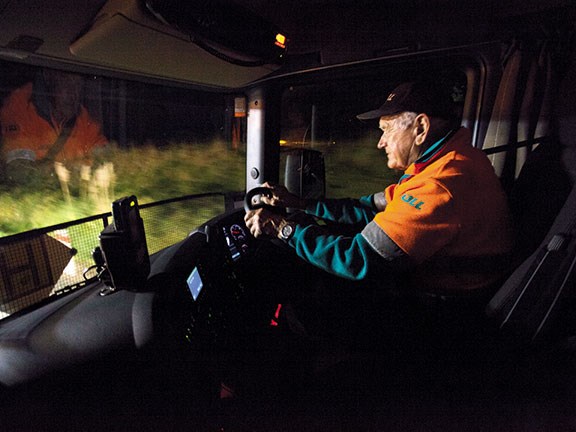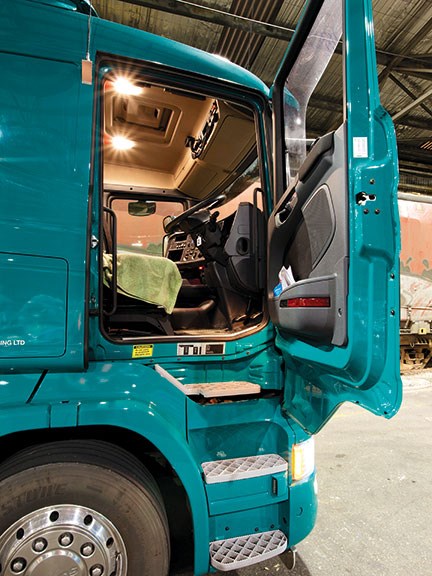 Deep steps and good grab handles make for safe, easy access.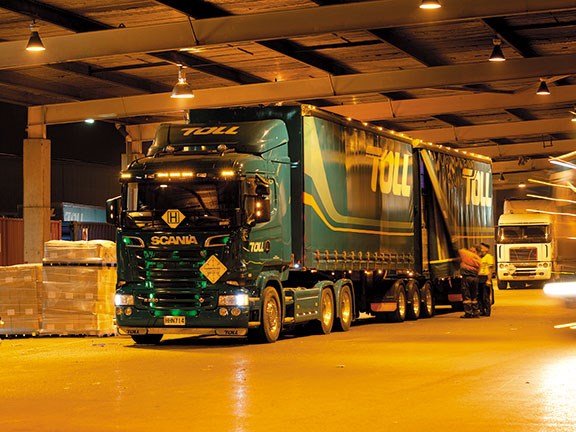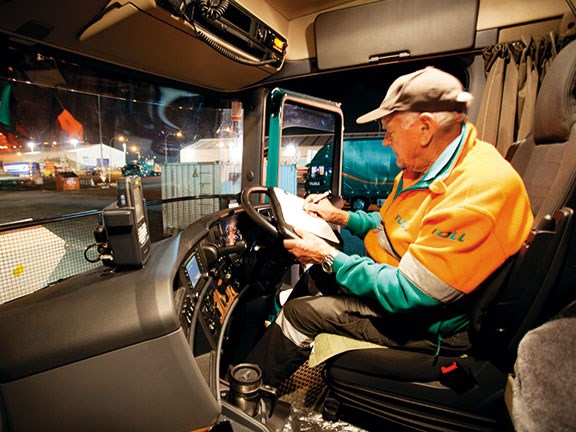 Tabb updates the paperwork under the bright Scania interior lights.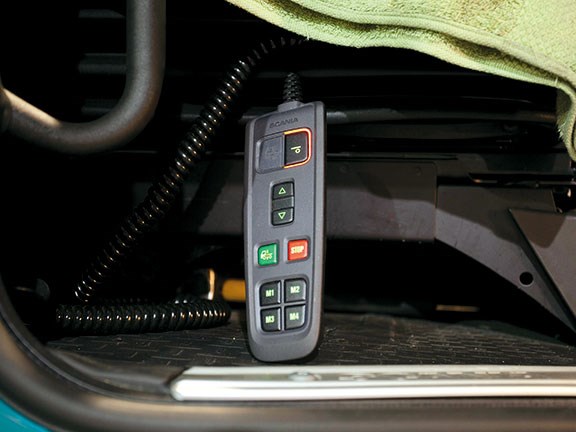 Remote airbag height adjuster makes trailer swaps easy.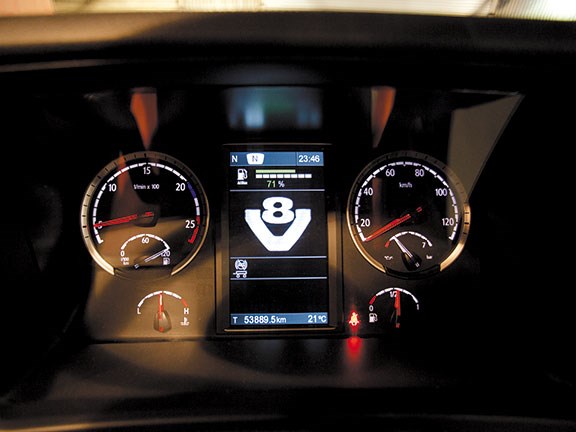 Typical Euro truck with a nice simple display.

Many operators dream of double-shifting their linehaul units, but the double take on revenue often comes with double the trouble. It takes a sharp operator with good gear, good staff, and the right contract and support to make it work. And making it work is what Hylton Tabb's Toll-contracted Scania R620 is all about.
Tabb started tallying the numbers about a year ago for the daily Gisborne-return run out of Toll Hastings, and a nightly depot trailer swap in Wellington. He worked out what he needed to reliably tow a 34-pallet HPMV 50Max spec trailer over the notorious SH2 route to Gisborne, while still maintaining fuel economy on the easier route to Wellington.
A respectable half century of experience building and driving the roads of New Zealand (more on that later) led Tabb to choose the Scania R620. Two suitable six-axle B-trains were acquired and modified with extra length in the right places to meet the 50Max criteria.
Tabb also runs a G400 8x4 Scania with a Patchell swinglifter doing containers. Driven by Steve Halstead, the combination works so well it runs itself, says Tabb.
Just as important as the truck, though, is the right driver for the job, who can do the job efficiently and safely, says Tabb. Observing the unit over the Wairoa Road for a photo-shoot, this attitude was reflected in the tidy lines and steady drive by day-shift driver Catherine Purcell. The six-axle Roadmaster B-train trailers track very well over the rough highway and its sharp bends.
Putting it to the test
With the truck already having clocked 50,000 kilometres in ten weeks on the road, it was time to take a night trip to Wellington with Tabb and learn more. Climbing into the R Series cab is an easy affair, with nice, deep steps and good grab handles. Leaving Toll's yard, the 23-metre rig negotiates a set of mini roundabouts with ease.
Loaded to several tonne shy of the 50Max limit, the rig climbed Te Aute hill well. The Opticruise transmission chose 10th gear, out of 12, and lugged up the hill just above 60kph — not bad when it's still not fully run in yet.
No stranger to Scania comfort levels, having done over a million kilometres in them myself (including 860,000km in one R580 unit), it was still refreshing to see just how luxurious the Scania cab is. Tabb's one seems well built, with not a squeak or rattle from any interior parts.
"It's the perfect truck for this job. You wouldn't want anything less, but you don't want or need anything more either," says Tabb. He rates the 12-speed Opticruise transmission highly.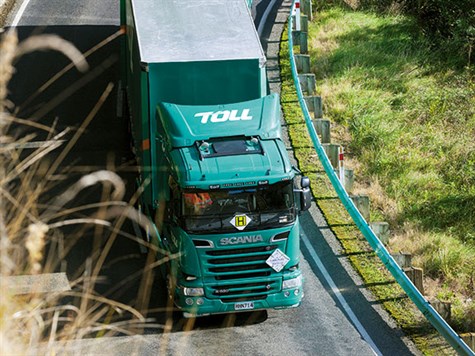 How it handles
The Opticruise is operated by a stalk on the steering column, with an easy flick of the fingers to change half a gear (split), or a whole shift. Very similar to the paddle style of Formula One cars, it's a setup that works well and feels very natural to use.
On steeper climbs he likes the engine working in the 1300rpm–1400rpm range and says, with the five-stage retarder and Scania engine brake, 1700rpm–1800rpm is the maximum revs you ever need for controlling the rig on descents.
The combination of Scania and Tabb made for an effortless journey to Wellington, and soon we're in the shadow of Westpac Stadium, at Toll's yard to drop off the trailer and pick up its identical sister unit.
Swapping trailers is an easy affair, thanks to the remote airbag height adjuster common to all Scanias. While checking the other load, Tabb leaves the lowered truck under the trailer for several minutes as good practice in case of a problem with trailer legs. The chance of failure is low, but little things like these separate professionals from amateurs and means your client's freight always gets through on time.
After a break, a little paperwork and a check of the ibright EDR RUC system, we're homeward bound again. It's been a quiet day for the Wellington yard, so the trailer is too light to mention, but even lightly loaded, the steep Ngauranga gorge still makes for enough of a climb to elicit a quiet growl from the Scania V8 as we climb a gear down from top.
The driver himself
As we negotiate the seemingly obligatory set of road works on an otherwise quiet highway it's a great time to hear of Tabb's immense working life experience.
Tabb started driving in 1954, although his real passion was for operating earth-moving equipment. In the early days, he also worked as a chainman for a surveyor on earthworks and roading projects. He credits this as a pivotal moment in understanding roads and the type of gear needed to build them and drive on them.
Tabb fondly remembers towing tractor-drawn scrapers behind a petrol-powered, two-axle Commer around some of Auckland's early projects. These included construction of Paremoremo prison and the motorway around the Manurewa area. In those days there was plenty of work and you could try your hand at anything, he says, including mastering twin engine scrapers and bulldozer work.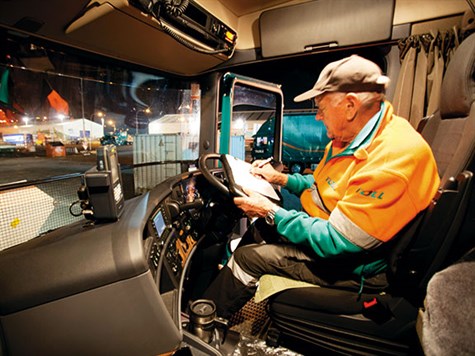 After ten years, Tabb managed to buy his first truck — a 1964 TS3 Commer doing tipping and general cartage. Later on there was a F1800 D International with Detroit V6 carting logs around Marlborough. Tabb says the five-speed main box with four-speed auxiliary would challenge some of today's new drivers.
Originally from Opotiki, some of his work in that area included the Matahina dam and associated new roads. One time explosive experts overdid their blasting for the dam and he had the job of benching a steep cliff face, being lowered down to work each day by rope to the D6 Bulldozer.
As if being an owner-driver wasn't enough of a challenge, Tabb also spent a few years as a publican, running the Tokomaru Bay pub, and then another in Hamilton.
The lure of the road is too much and Tabb ended up back in the owner-driver game with an ERF and a 43-foot flatdeck doing a variety of work, with moving urgent containers being a speciality.
Around 2003, after driving through many New Zealand towns, Tabb decided Hawke's Bay was the place to be.
A variety of work came his way before settling into the current routine running the double-shifted Scania 50Max B-train, as well as an 8x4 Scania with Patchell swinglifter.
I should explain, in case the dates have people wondering, that Tabb is nearly 78 — something he's not shy of mentioning either. And you wouldn't know unless told, Tabb still hauled the trailer curtains open and closed and spun the trailer's landing legs as good as any young bloke.
He has a word of advice for younger drivers — just listen and learn from those around them. And looking at what Tabb has achieved, his advice and outlook certainly achieves the results.
For the latest construction news and machinery reviews, subscribe to Deals On Wheels magazine here.
Keep up to date in the industry by signing up to Deals on Wheels' free newsletter or liking us on Facebook.