Test: Mack Cruiseliner
---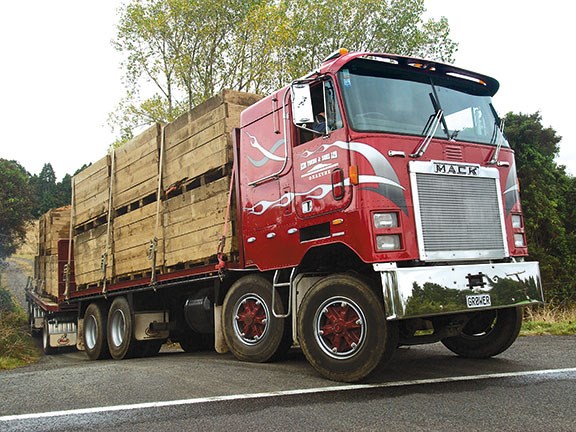 Cruiseliner hits the highway... and the hills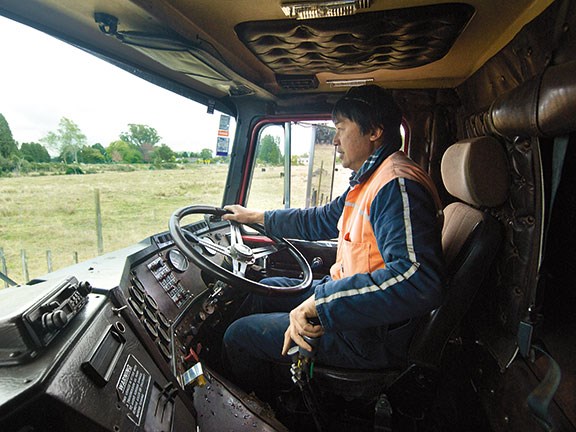 The Cruiseliner received an extensive refurb last year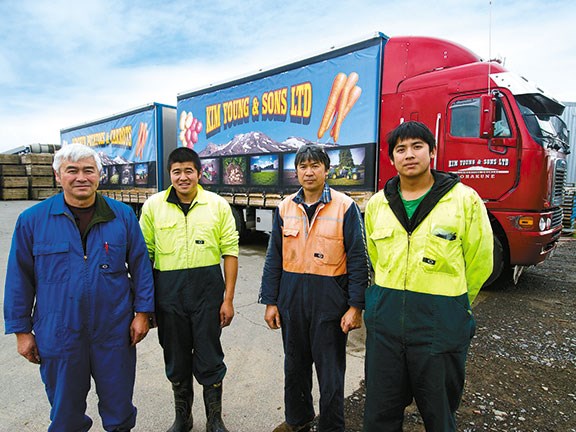 The Young team; (from left) Norman, Kim, Ivan and Scott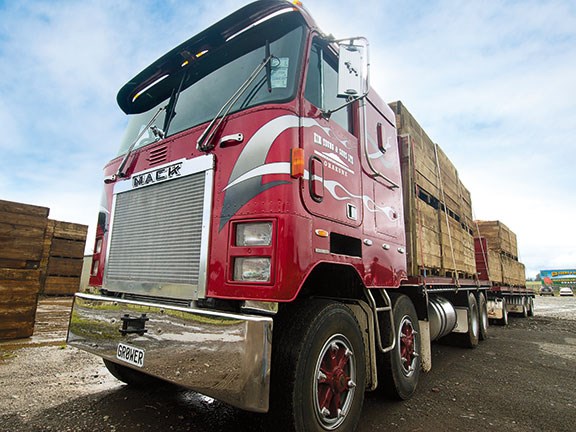 Back in March, I had the pleasure of meeting Ivan and Scott Young at the Transport and Heavy Equipment Expo at Mystery Creek, where their Mack Cruiseliner won the Supreme Award at the Show 'n' Shine competition.
The father and son duo had driven up from Ohakune to bring their 1984 rig to the show, and had just won the top show award a short time before I met them. Call me intuitive, but one of my first comments after hearing they were from Ohakune was something about them being carrot farmers, to which they quickly replied in the affirmative.
Our subsequent conversation quickly led me to mentally shift them up the Deals On Wheels story idea list; the green light for a story about their operation and how the Cruiseliner fits into it was a given.
One of the things I like about my job on this magazine is that I'm never sure where I'll find myself from story to story – a few weeks after the Transport and Heavy Equipment Expo, photographer Dave Lorimar and I found ourselves standing in the middle of an Ohakune field alongside the Cruiseliner and the Young's 2007 Kenworth K104B, watching carrots being harvested.
Young's – or Kim Young and Sons Ltd as it is officially known – was started by Kim Young and his wife May in 1958 and is now run by his three sons, Norman, Harvey and Ivan. As can be expected with a family operation such as this, there are also other close family members involved, along with Ivan and Norman's sons, Scott and Kim.
Their business specialises in growing carrots and potatoes, with around 400 acres being planted between September and December. Using a rotational crop strategy, the Young family also lease land and plant it out for two years, before moving onto fresh blocks while the used land regenerates.
Ivan says that the Ohakune region is a popular growing area for carrots and potatoes, as the ground is like a natural refrigerator. This means that the vegetables are able to stay fresh in the soil until orders are received, meaning Kim Young & Sons Ltd products arrive on store shelves usually within 24 hours of being harvested. This type of growing also gives Ohakune carrots their distinctive 'crack' when broken in half, and the potatoes a natural pale white colouring – all without the assistance of any genetic engineering.
So what about the Mack Cruiseliner's role in the business? Four to five nights each week, a truck and trailer loaded with produce is sent through to Auckland. These days the job is handled by a kick-butt Freightliner Argosy, and readers that ply the highways between Ohakune and Auckland will be familiar with this truck and its extensive curtainsider murals that depict the vegetable's path from ground to market – something that many young city dwellers may be unfamiliar with.
Ivan remembers plying this route once upon a time in a 1979 D-Series Ford: "The D1000 2418 truck was powered by a 504 V8 Cummins, through a six speed box and two speed diff," he remembers. "And it used to take six hours each way." [Google Maps gives an estimated trip time of just over four hours – Ed]
Ivan goes on to tell of a tragic accident he was involved in that saw the demise of a passenger in a car, when it ran head-on into the D Series in 1981 – something that anyone who is involved in such an incident must find quite difficult to come to terms with. Fortunately for Ivan the car struck the left hand side of the truck and he escaped serious injury.
Trip times sped up immensely when the family purchased the Mack Cruiseliner new in 1984, and the rig was to ply the road as the family's main attraction until mid-1996, when duties were handed over to an FLB Freightliner, being subsequently replaced in 2004 by the Argosy.
I'm told that the 440hp Cruiseliner was the first V8 twin steer rig supplied in New Zealand and was one of a handful of this model sold in the country. This must make the truck a rarity – being a one owner rig makes it even more unique.
With such an emotional attachment to the truck, it's no surprise that in 2012 the Young family decided to invest some time and money in refurbishing the Cruiseliner back to near original condition, along with some tasteful accent pieces, including a new fuel tank, mirrors and LED bullet lights from BiggSpecs Custom Trucks. The rebuild was finished off with a custom paint job by Total Truck Spray Ltd in Palmerston North.
With a truck as special as this, you would think that once the reconditioning work was completed, it would be stored in a shed with a nice cotton blanket covering it from the dust, but no: that's not the case as we found out while standing in the middle of the carrot field.
These days the truck is used to haul produce from the field to the pack house, a round trip of around 20km, depending on where the Young's are harvesting their crops. It usually works in unison with the immaculate K104B Kenworth, and on the day we visited the Cruiseliner was also hauling a three axle trailer.
Getting loaded is a fairly straightforward process and it doesn't take long for each two-tonne bin of carrots to be filled with the Young's custom built top-puller harvester. Hauling through the paddock soil and out onto the main highway sees a sizeable chunk of the rig's 440 horses doing their thing, as is evident by the non Ad-Blue exhaust discharge.
Hauling up the road fully loaded sees Ivan Young's left arm getting a good workout through the gears as the truck hauls uphill towards the pack house. The grade isn't too steep, with the Cruiseliner doing an admirable job. But it's a grind of a haul and it doesn't take too long before there is a trail of cars tagged along by a late model B-train, all itching to get past. As Ivan points out, the truck was one of the kings of the road in its day, but it's evident as the loaded B-train sees a passing opportunity (then thinks otherwise and pulls back in behind), that technology over the years since the Cruiseliner was built in '84 has moved engine design and power availability ahead in pretty big strides.
Shortly after pulling into the pack house the truck is quickly unloaded by operators and the carrots are put through a washing and sorting process that sees extensive use of large and very costly looking equipment. This whole well-orchestrated process is under the control of Ivan's brothers Norman and Harvey, sister-in-law Peggy and Norman's son Kim, ably assisted by a well-trained crew. Add to this mix a few more hours in the polishing machine, along with more quality control checks and soon afterwards the loaded Argosy will be highway bound.
All going well, these vegetables will be sitting on store shelves first thing tomorrow, ready for the whirring juicers of the health conscious population's morning juice fix. It's nice to know that a bit of classic trucking has had a hand in the final product.
Quick Specifications

Make:

Mack

Model:

Cruiseliner

Year:

1984

Engine:

V8 turbo/diesel

Power:

440 HP

Gearbox:

12 speed

Diffs:

38,000 lb, SS34C Mack
For the latest reviews, subscribe to our Deals On Wheels magazine here.
Keep up to date in the industry by signing up to Deals on Wheels' free newsletter or liking us on Facebook.