Test: Isuzu NPR 350
---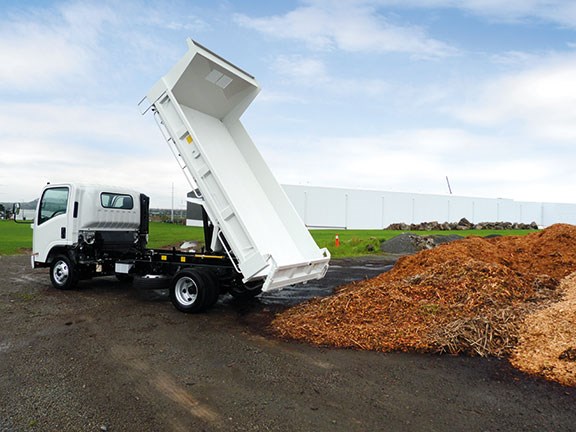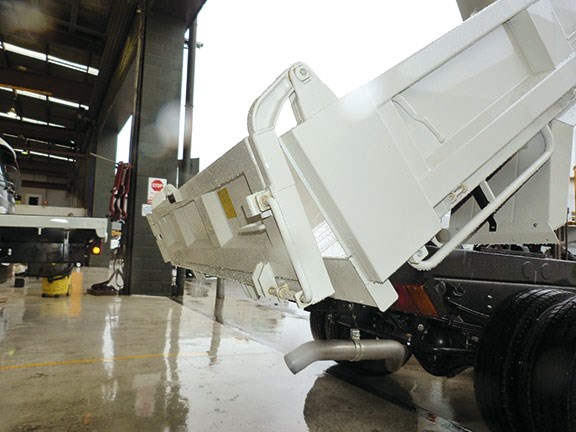 The Isuzu's 'business end' is just as impressive as its functional cab is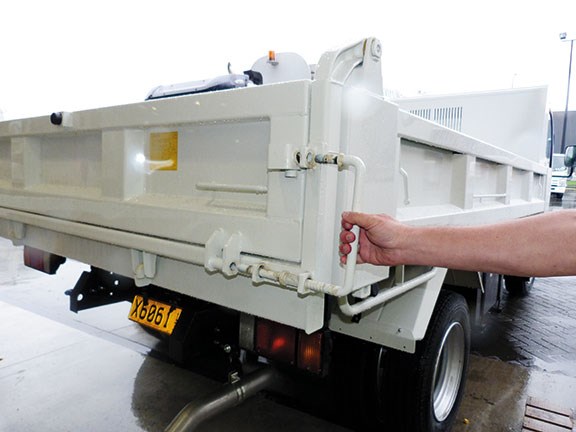 Drop-down sides and tailgate are all easily released when required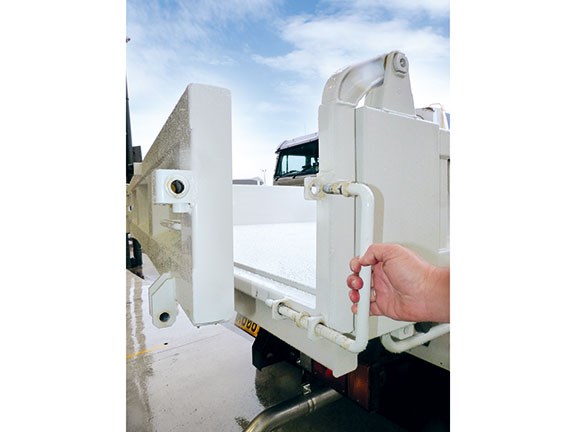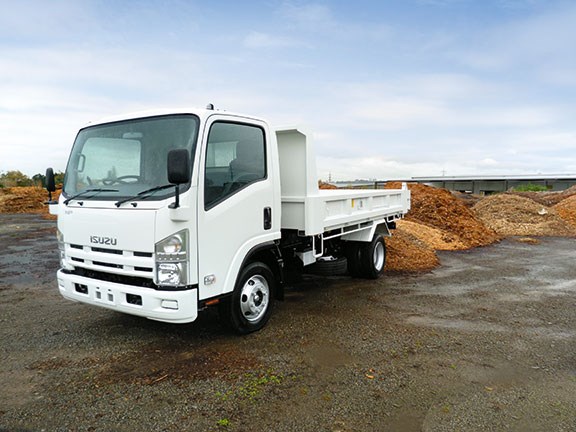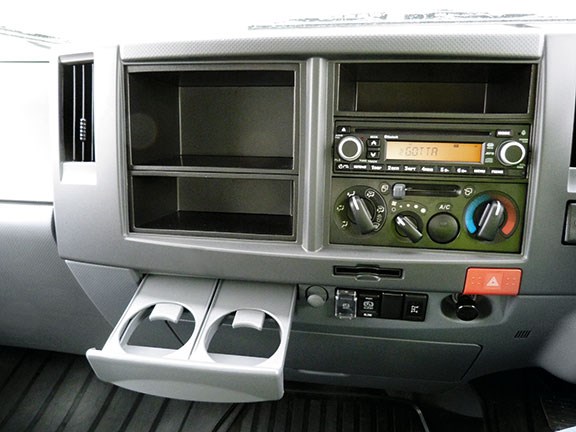 Optional touchscreen boasting GPS and a reversing camera is but a box-tick away

The latest factory-built, New Zealand new, steel-bodied tipper is on the road and ready for action
One of the best parts of writing for magazines is having the opportunity to get behind the wheel of something new and sparkly and putting it through its paces. Reviewing this little beauty for Deals on Wheels was no exception to the rule.
Until a surprisingly short time ago, if a New Zealand company wished to purchase a brand-spanking new truck with a tipping body, they needed to plan well in advance of their purchase in order to buy a cab and chassis, and arrange for someone to build a body on it. The process took weeks or, in some cases months, before the vehicle was certified and ready to be put to work.
However the pain of that process has been well and truly consigned to the annals of history, with the introduction of trucks like the comprehensively spec'd Isuzu NPR 350 factory-built steel-bodied tipper.
The truck is packed with features, like an integrated stereo system with CD player and easy-to-pair Bluetooth functionality, which even worked seamlessly for a technically-challenged and aging magazine contributor.
There is also an upgrade available at a little extra cost for operators wishing to have a touch-screen in-cab, with optional integrated GPS and reversing camera.
Colin Muir, Isuzu New Zealand sales and marketing manager, arranged for Deals on Wheels to take a look at an NPR at CAL Isuzu's East Tamaki branch.
It was evident that the Ed had pre-warned the team that the truck was to be reviewed by an aging writer, as the radio was already set to Coast FM and, ironically given the decidedly stormy weather across the Auckland region this particular day, the first song I heard being played was Neil Diamond's 1960s hit "Sunday Sun". The truck was unbelievably quiet to drive though – even on swishing wet roads – so the stereo system's volume control only needed to be set a few notches up the scale in order to be heard clearly.
Another feature that was immediately noticeable was the ease of access to the well-appointed cab. This was enhanced by the 90 degree-opening doors which are, of course, fitted with side impact beam reinforcement.
Another of the truck's features that one might hope would never be needed is the cab's fully-compliant ECE-R29 crash test rating. Mechanics and service people will appreciate the ease of access to the engine, by way of the torsion bar-assisted manual tilt operation that inclines the cab to a handy 45 degree angle.
Isuzu consider ECE-R29 to be a very important safety standard, and is applied to new Isuzu truck models sold in New Zealand. It is intended to provide a safer cab and improve occupant protection. The regulation requires the truck cab to pass three tests:
A Frontal Impact Pendulum Test, in which a plate with a specified mass strikes the cabin to simulate the impact of another vehicle or some stationary object.
A Roof Crush Test, in which the cab must support a specified load on its roof.
A Rear Cab Panel Strength Test which simulates a load or body striking the rear of the cab during an accident.
Comfort in the cab didn't end with the quietness though, as even while driving over rough terrain without a load in the back, the truck remained very comfortable, aided by the liquid-filled front and rear cab mounts.
As for storage compartments inside the cab, I counted twelve, including no less than five DIN sized compartments for extra communications and audio components.
Another nice feature that once was the sole reserve of the passenger car was the 'express-down' function on the driver's window. I must admit to thinking I would have liked it to have had express up for the window as well, but then again it's only a few years ago that power windows were a luxury on cars, let alone trucks.
The many creature comforts and safety features of the NPR 350 are, however, only a portion of the innovation of the entire package. I found it difficult to drag myself away from the pleasure of driving around in the vehicle and concentrating on the purpose for which this particular truck was built.
Strangely I'd almost forgotten that my brief was to review a factory-built steel sided tipper – the purpose of which is to carry bark, fill, aggregates and the like. When it came time to take a closer look at the portion of the truck sitting behind the cab, I quickly became as impressed with that as I was with the 'business end' of the vehicle.
While we weren't able to put a load of aggregate on the truck due to the fact that it was sitting pretty with an extra coat of polish on, ready to be used in a display at the upcoming Mystery Creek Fieldays, it was still plain to see that the tough-built steel body would definitely take any load that could be thrown at it.
The under-body hoist tilts the body to 55 degrees: enough of an incline to facilitate easy tipping of most loads a truck of this size would normally carry. The drop-down sides are easily released, as is the tailgate which is left-hung on the body.
The truck can be spec'd for Kiwi companies either as an NPR 325, which limits the truck to a GVM of 5995kg (and allowing the vehicle to be driven on a Class 1 licence), or in its full specification as an NPR 350, which allows for a GVM of 6500kg and a GCM of 10,000 for small or medium operators wishing to tow a trailer.
This little beauty's 5193cc electronically controlled variable-nozzle turbo-charged engine puts out 155HP (114kW) and is set up to easily handle its specified all-up weight of 10 tonnes. This makes it an ideal vehicle for a contractor looking for an all-in package that's capable of transporting equipment over varied distances and terrain.
Isuzu New Zealand has promised Deals on Wheels a second look at the truck in the months ahead, along with the opportunity of putting a load or two in the tray after it has come back from its stint at the all-important Fieldays event, so sit back, turn up the radio and watch this space.
For the latest reviews, subscribe to our Deals On Wheels magazine here.
Keep up to date in the industry by signing up to Deals on Wheels' free newsletter or liking us on Facebook.