Kenworth K104 Aerodyne
---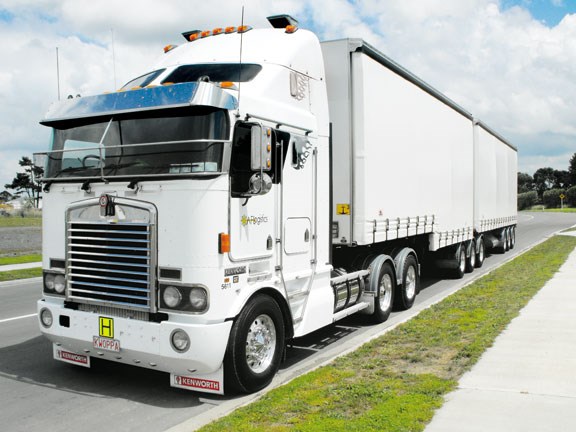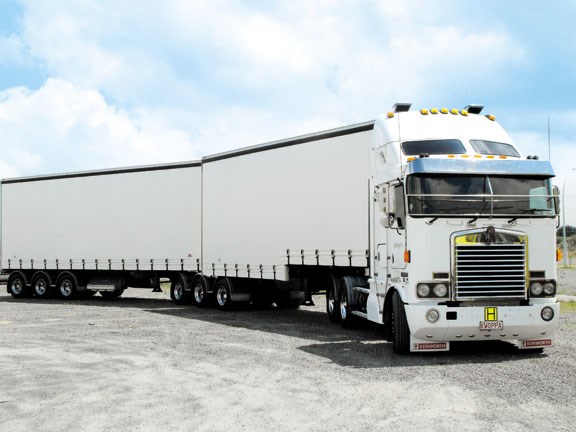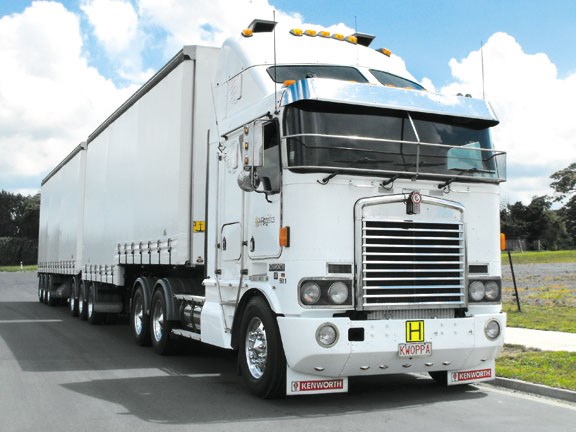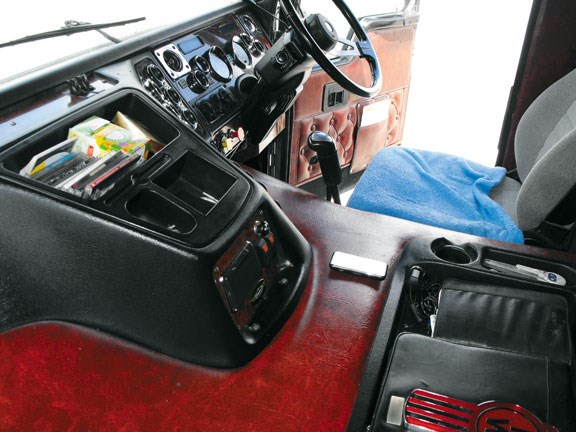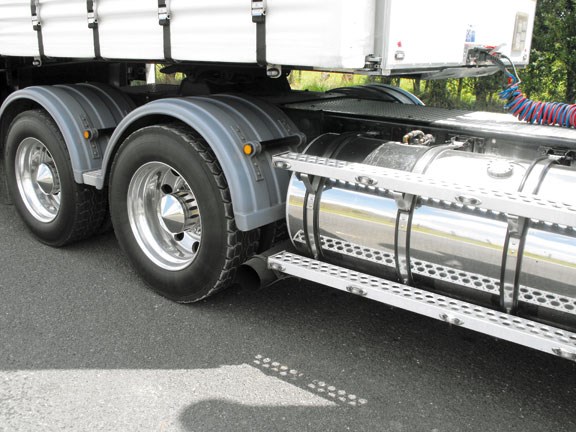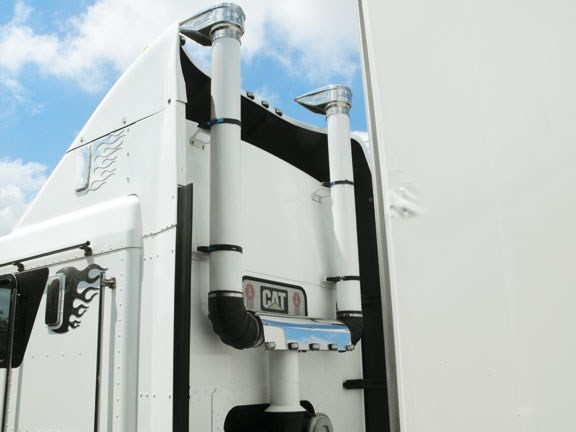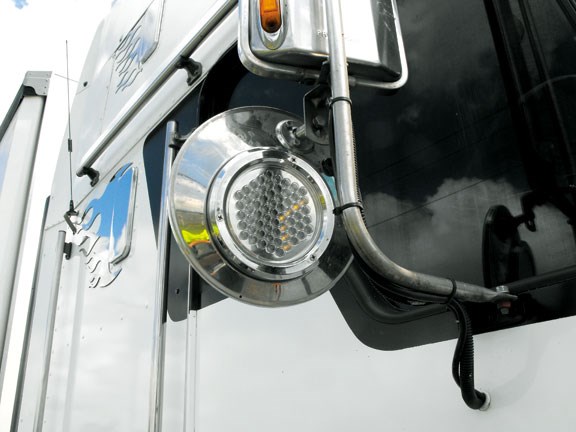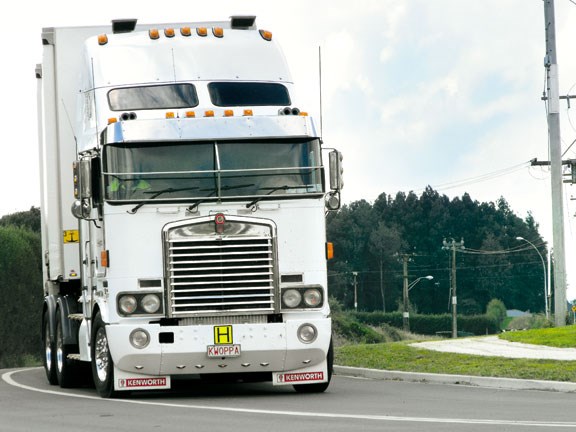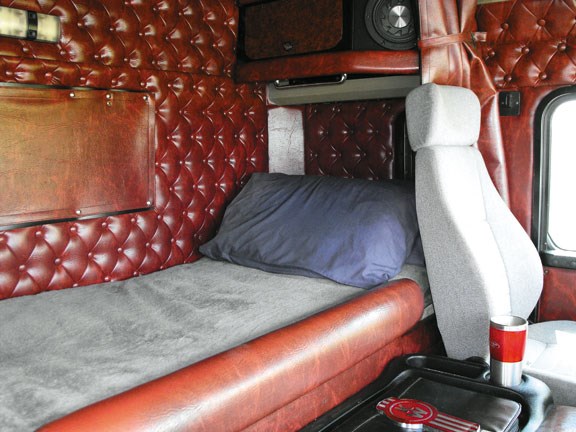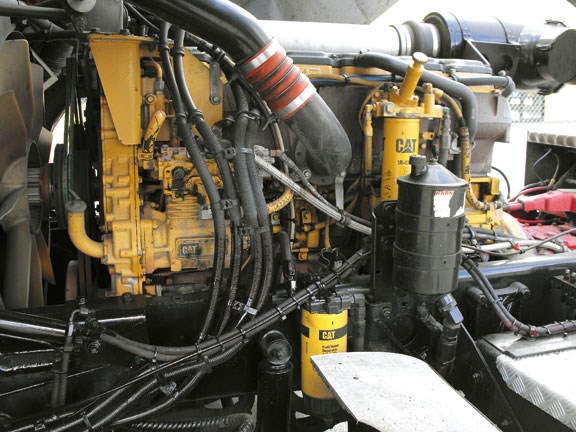 This 2003 Kenworth K104 Aerodyne is in pristine condition, even after a million kilometres on New Zealand roads
Classic Kenworth looks
Large sleeper offers plenty of storage space
Well laid out dash with leather trim
Positive feel on the road thanks to offset front steerers
Low maintenance
Eight-bag air suspension
This older truck and its owner both have well-used abbreviations of their names: The iconic Kenworth (KW) and the equally iconic driver, Trevor Harcourt (TH).
TH has been around trucks for 32 years, starting his driving career at the age of 16 by acquiring an under-age exemption. He now has a contract with AF Logistics, carting from Auckland to Wellington, with the occasional trip through Napier/Hastings or New Plymouth.
Trevor is one of those drivers who could be considered a true professional of the industry and has always been fastidious in keeping his gear to the highest standard. Over the years he has built up a reputation as an innovator in regards to extra bits and pieces on his trucks, such as marker lights, chrome and number plates.
The truck
This 2003 K104 Aerodyne, which has just ticked over 1.1 million kms, runs a C15 CAT engine rated at 475hp and is matched to an 18-speed RoadRanger gearbox. The power is transmitted to the road through a couple of Meritor 40.145 diffs.
It sports the big (H) on the front and rear, which means it has been specced as a High Productivity Vehicle, conforming to the new legislation recently introduced. This Kenworth runs at 22.3m long, giving it a 34-pallet deck spacing.
Outside TH has spent a lot of dollars on personalised finishing touches. The Kenworth has a new grill and twin air cleaners have been added with nice polished air intakes. TH also runs a light under the KW badge in the centre of the grill. Stainless flames help break up the space on the side of the sleeper cab, and he has had an extra fuel tank added. Both tanks are wrapped in stainless steel sheet, which makes keeping them shiny a lot easier. He has also fitted four very loud air horns alongside the fuel tank.
Another extra is the round mirror at the bottom of the wing mirrors, which has a flashing indicator light built into them. An arrow moves across the whole mirror as it flashes.
Adding even more shine is a nice big stainless sun visor, which adorns the top of the windscreen.
Inside the cab
Climbing up into the cab is certainly not an experience for the clumsy footed but TH has no trouble swinging up the outside ladder and beaming in on the driver's seat. This whole experience is certainly iconic Kenworth and I wouldn't change it for the world.
Once in the cab everything is very neat and tidy and spotlessly clean. Trevor has all the mandatory communication equipment like R/T, C/B and cell phone along with 22" TV and DVD player in the large sleeper. Storage is not a problem.
The dash is laid out in impressive fashion, with its button leather trim and plenty of gauges and switches for every occasion that give it a very "tough truck" feel. There are chrome bezels around the dash air vents and the gauges.
This truck still travels as good as a new one and the 9" offset front steerers make for a very positive feel through the steering wheel and give it a great footprint on the road.
Interestingly, Trevor says he was told not to buy this truck because of the high Ks but in his opinion TR Group was in the top 10 service providers in the country when it came to looking after gear so he felt it was the right option.
The 475hp CAT still pulls strongly, and Goughs records show this engine has only had a turbo at 450,000km in December '06 and a head gasket at 600,000km in July '08. I think any transport owner would be rapt to have a maintenance bill like that after a million kilometres. To quote from TH: "The ole bitch still runs like a clock and is averaging 2.07km/L with its fuel consumption".
This is well looked after by its Airglide 200 air suspension with its eight-bag airbags, which help sort the bumps out of our New Zealand roads. TH says it has no rattles, and cruise control and heated mirrors are part of the standard equipment that put this vehicle up there with its competitors in the used truck market.
Keeping in mind that this is a second-hand vehicle that is probably a third of the price of a new one, I would say it is hard to fault.
See a range of Kenworth trucks for sale.
Keep up to date in the industry by signing up to Deals on Wheels' free newsletter or liking us on Facebook.