Scania G 380 LB horse truck
---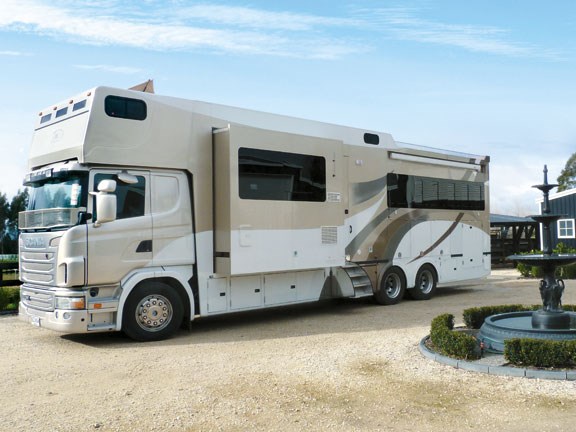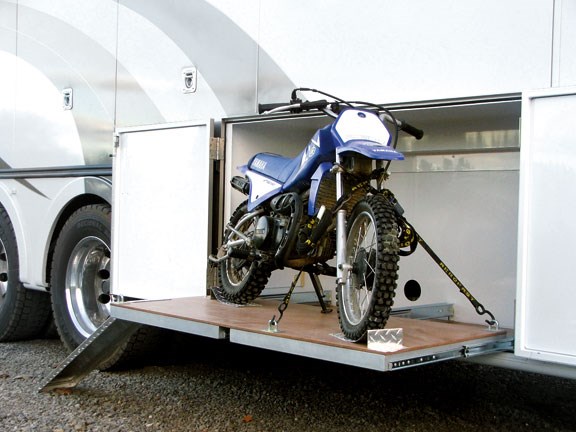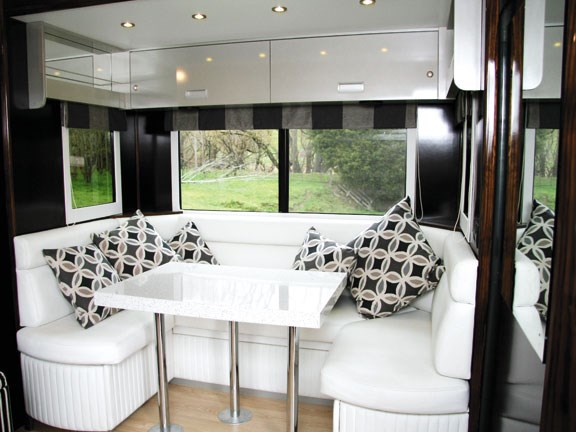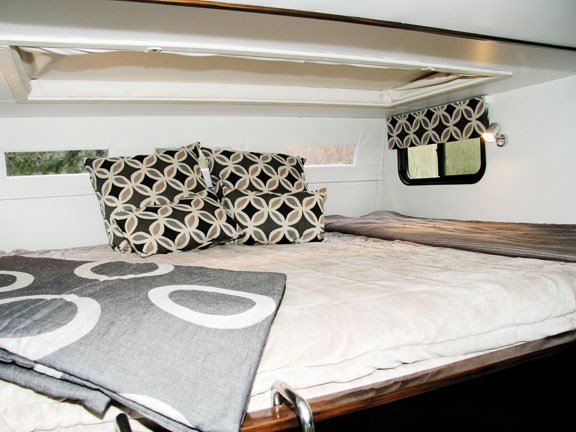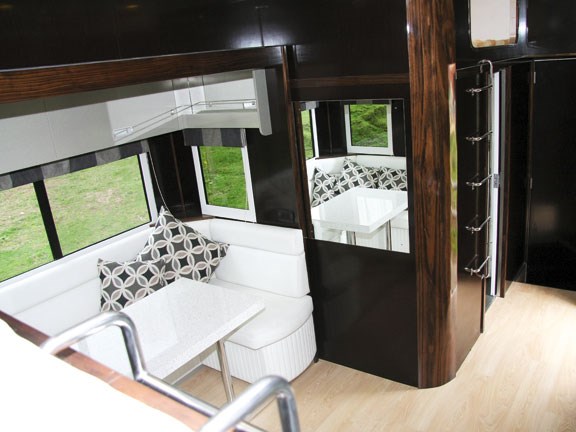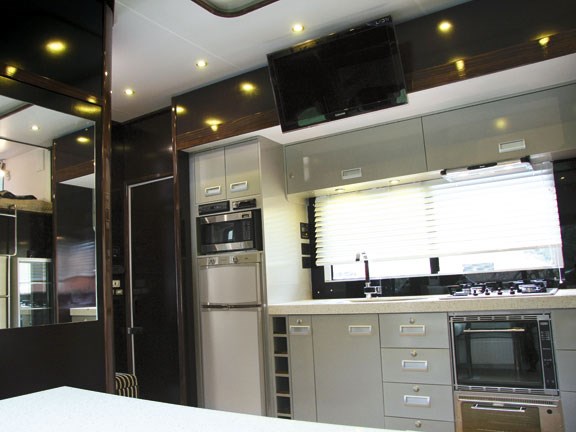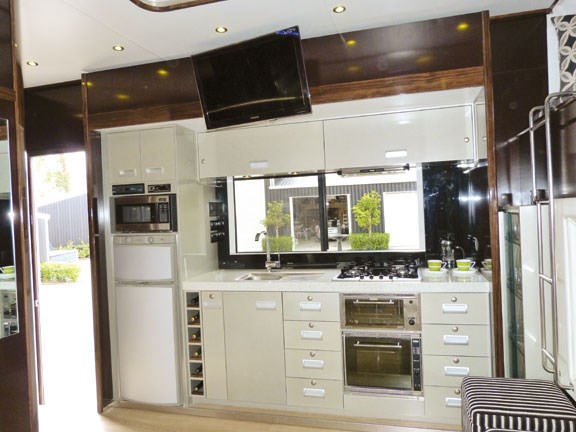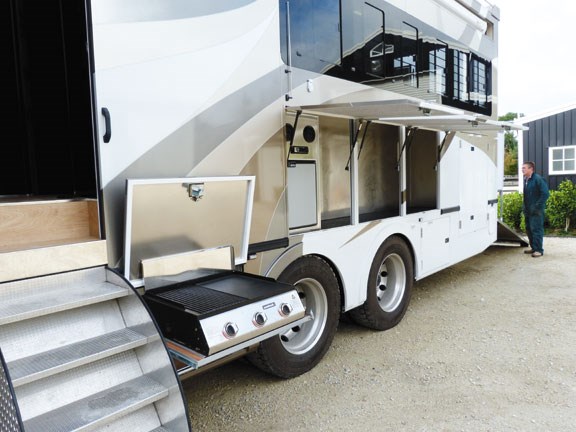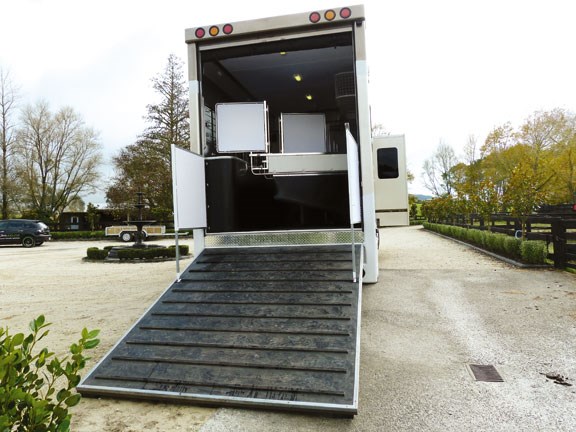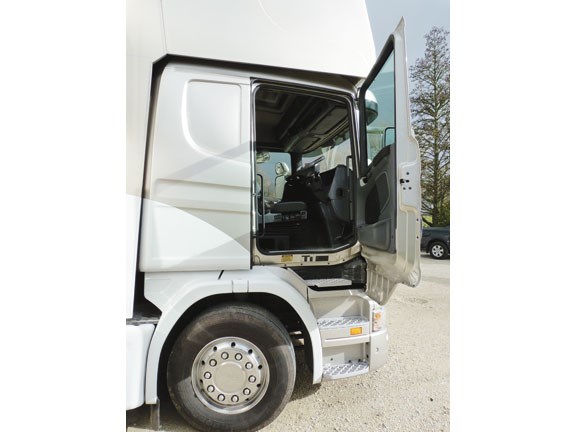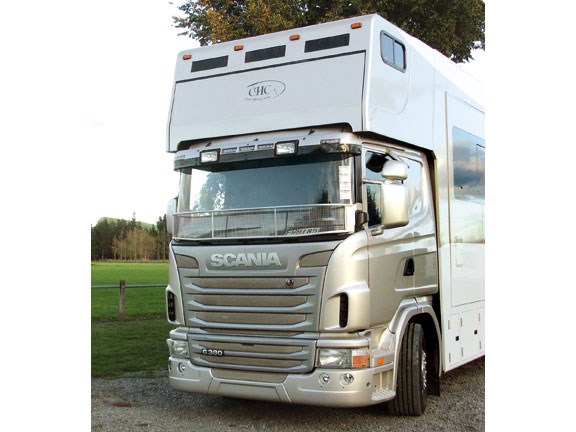 Many at the serious end of the horse business go for dedicated vehicles like the Scania G 380 LB.
Karen Burnett and her daughters Hannah and Briar attend up to 15 horse show jumping events each summer, all over New Zealand.
Until recently they had a Mitsubishi Fighter that could take five horses and had a comfortable accommodation area. Now Hannah and Briar have three horses each, so they decided it was time to get a bigger truck.
They considered lots of options, but as far as Karen was concerned she wanted a Scania.
"In the horse world Scania is the pinnacle; it's what you see at all the horse events in Europe and I found out you can get them with an auto, which is just perfect for me."
CablePrice's Napier salesman Paul Roche liaised with Andrew Wright at Classic Horse Coaches in Dannevirke, and the end result is this magnificent beast I tested in Taupo.
The base cab chassis is a Scania G 380 LB 6x2MNB with the CG19 sleeper cab. The truck was custom specified ex-factory to suit the role. Particular attention was paid to the suspension to make sure the ride was as plush as possible for both the humans and the horses. Paul specced air suspension for all axles, including the front steer axle, which allows Karen to separately adjust the ride height front and rear.
The 12-speed Opticruise automated transmission is mated to a Scania multi-stage hydraulic retarder. When these features are used in conjunction with the cruise control and downhill speed control there is not a lot left for the driver to do other than steer.
The truck is effortless to drive except for the fact it is so large - you need to keep your wits about you when manoeuvring around tight spaces. The rear view mirrors are excellent, with a wide field of view once you get used to their concave shape.
The cab interior has been fitted with leather multi-adjustable seats and has a monitor set above the windscreen that can remotely show the horse compartment, or the rear view for help with reversing. There's an access port/hatch set into the rear wall of the cab to allow free access to and from the living quarters. This has a seal that can move the cab independently of the truck body on its air suspension.
Moving down the left side, beside the entry door is a compartment that opens to reveal a BBQ that slides out, a small fridge, a sound system and several storage lockers. Above is a roll-out awning.
Around the other side are more lockers - there's even one specifically designed to take a small motorbike, which they use to get around events once the motorhome is set up on-site.
Out back the whole rear panel cantilevers down to make a ramp for the horses. A ladder attached to the back of the ramp gives access to roof storage, where they can carry up to 14 bales of hay. Up the ramp through the rear is secure accommodation for up to six horses. This is climate-controlled, has hot and cold running water and can be monitored via the in-cab rear view monitor.
Before entering the living area via the foldaway staircase, you extend the hydraulic slide-out compartments each side, giving an almost 4m wide living space inside.
"You can buy ready-built pop-out units from overseas that bolt right in, but for this job we custom made our own hydraulic system so that we could build Karen exactly what she wanted," Andy Wright from Classic Horse Coaches explains.
Inside you're confronted by a luxurious apartment suite. To your left is the open space offered by the two pop-out wall units. The left unit contains a stylish, modern kitchen with full-size fridge/freezer and large-screen TV above; the right pop-out unit contains a booth-type leather lounge area with table and stools. All furnishings and fittings are of the highest standard.
Ahead is the hatch to the cab interior. Above it, in the Luton, is a double bed with windows to the front and sides and a pop-up hatch that gives more space and light. There's room to sleep up to eight people in the motorhome. The wall panelling has a dark wood grain finish, which along with the Italian stainless steel fittings, shows a strong sense of quality.
Across from the entrance is the bathroom, which has a single bed above. It is easily as big as the en suites in some houses and has very high quality features and fittings.
"The water pressure is as good as, or better, than you'd get at home. We wanted the coach to be just like a holiday home - we are away most weekends each summer so we wanted to try and make this truck fit our needs as best we could," Karen explains.
The Scania horse truck's many clever design and engineering features - not to mention the highest quality furniture making and technology inside -combine to make it possibly the biggest and best built horse truck in the country.
Everyone involved should take a bow.
Custom specced Scania G 380 LB 6x2MNB
Air suspension on all axles
Automatic transmission used in conjunction with multi-stage hydraulic retarder and cruise control make it a breeze to drive
Plenty of visibility from driver seat
Apartment-like interior
Feel free to ask a question about this story or leave a comment on the Deals On Wheels
page.
For the latest reviews, subscribe to Deals On Wheels magazine here.
Keep up to date in the industry by signing up to Deals on Wheels' free newsletter or liking us on Facebook.