JAC HFC1061K light truck
---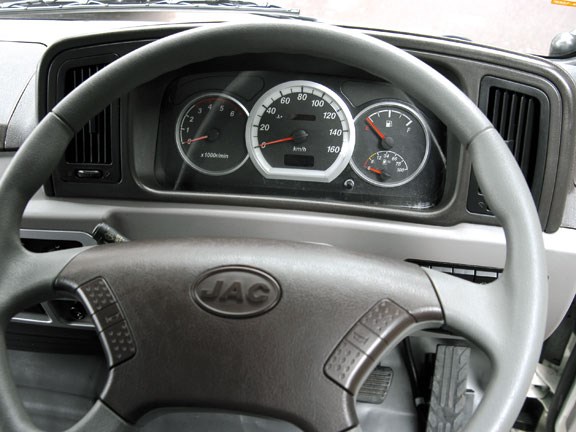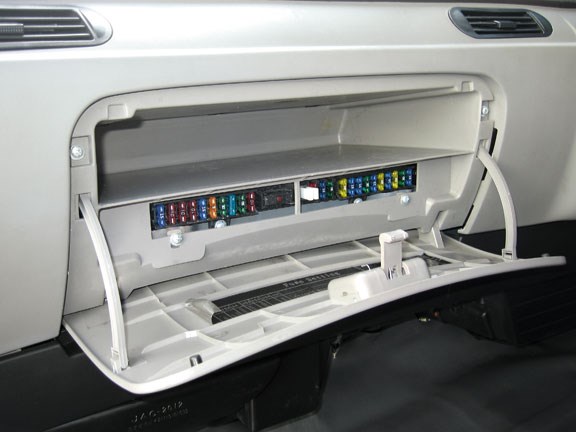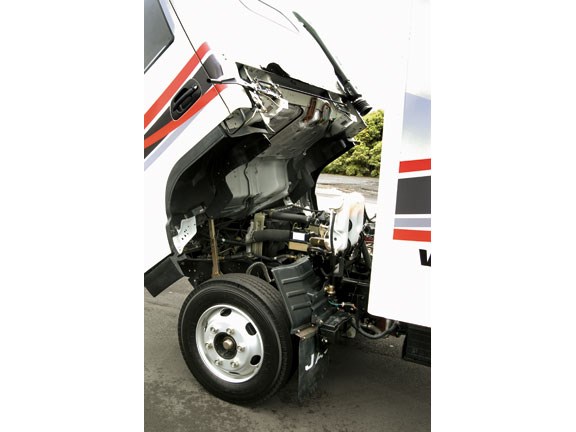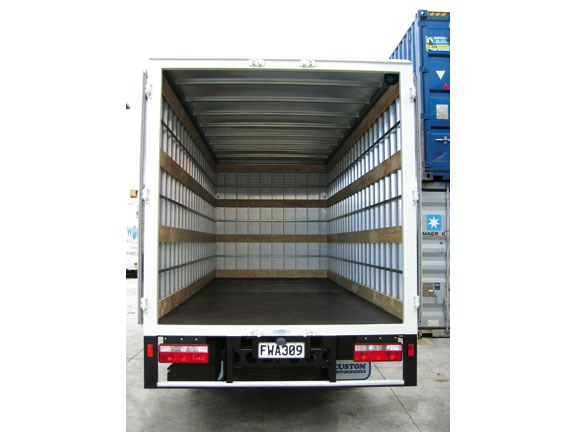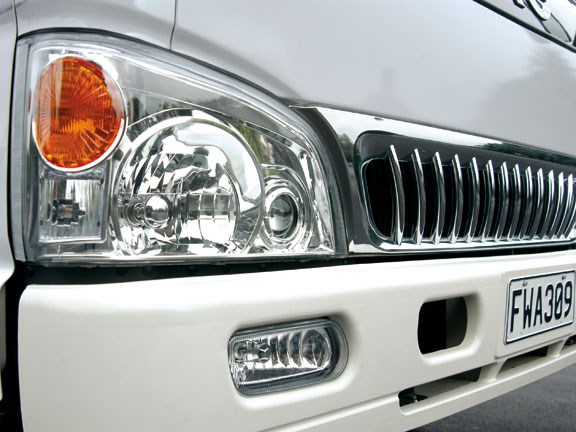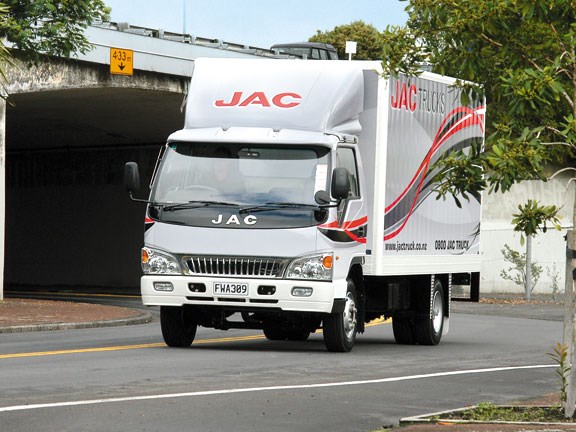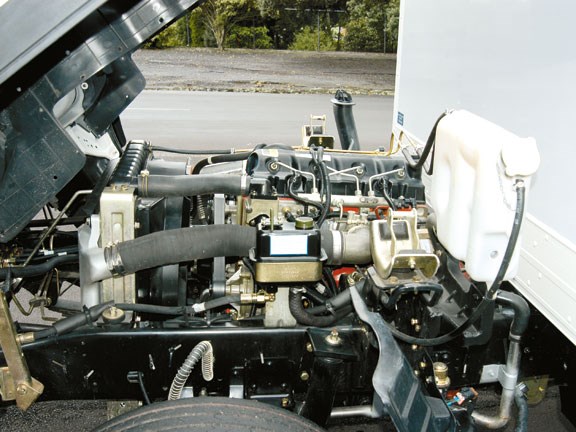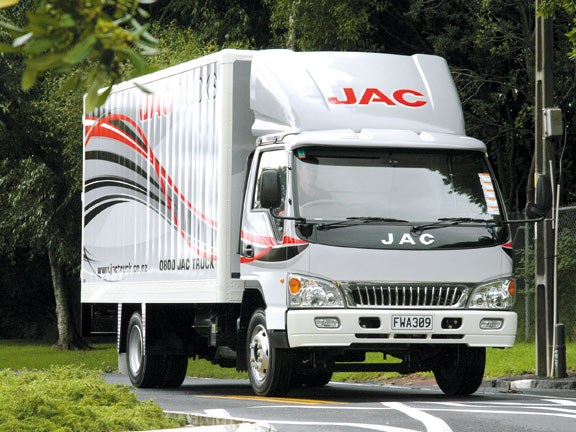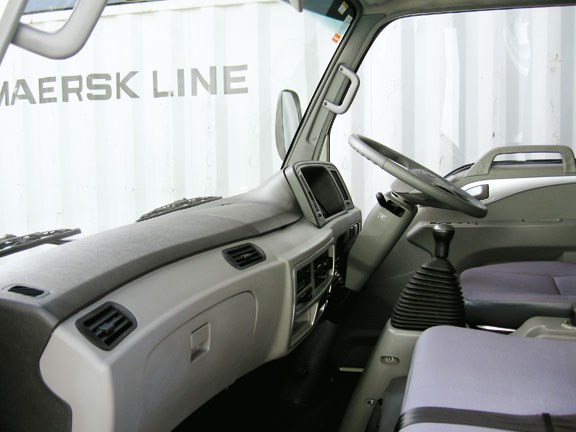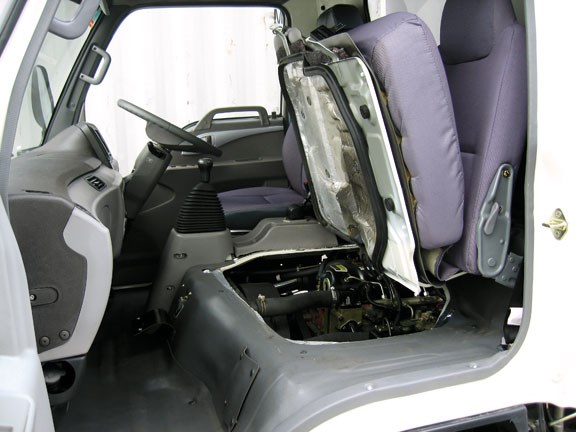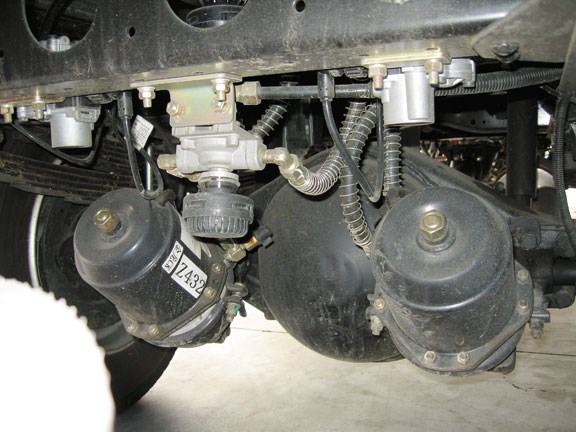 The Chinese-made JAC HFC1061K light truck was the first right-hand drive JAC to appear in New Zealand.
JAC light trucks have hit New Zealand's roads, and the world is watching as the Chinese trucks use our market as a test bed to fine tune their future global export offer. The JAC HFC1061K 7 was the first right-hand drive JAC truck to arrive here.
The first wave of JAC truck models that arrived in New Zealand covered the 4500kg Gross Vehicle Mass class, requiring only a car licence to drive, and the 5995kg GVM and 7995kg GVM ranges.
They compete with the Isuzu N series, Hino 300, Fuso Canter and Hyundai HT.
Chinese light trucks on new Zealand roads
For our truck road test we drove the JAC HFC1061K - a 7995kg GVM box body demonstrator. Local truck body builder Custom Motorbodies supplied the aluminium extruded box body, TCC Solutions applied a striking graphics scheme and Airplex supplied the sunvisor and roof-mounted aero kit - these all combine to make a great looking truck.
Inside the JAC has a modern, stylish dashboard layout, very clear and easy to read. The plastics look and feel a bit lightweight - I noticed the grey finish on some of it was scratching or rubbing off, leaving a tan colour underneath. I asked about this and was told the production trucks wouldn't have this issue.
The test truck had the optional driver seat upgrade, including a car-like back rest with substantial side bolsters, adjustable head rest and an adjustable mechanical suspension base.
I found the seat quite comfortable, but the seating position was a touch too high and the suspension base wasn't functioning. The steering wheel can be adjusted for height and reach so you can tailor your driving position. The indicator and wiper stalks are difficult to reach - they seem to be very small and delicate.
It is worth noting that these demonstrator trucks were both pre-production prototypes. Dean Hoverd of local JAC distributor White Motor Corporation (WMC) says: "We are learning from these demo trucks, and the production trucks that have recently landed here are better finished and sorted overall".
The first thing I noticed on my test drive was a vague-feeling steering that did not seem to centre. Apparently a steering box adjustment should have been done following the wheel alignment - WMC tells me it has since sorted the issue. When I drove the smaller truck I found the steering to be fine.
The six-speed shifter sits tall and proud, with a fairly large ball-shaped knob that falls easily to hand. I found you needed to treat the shifts a bit like an Eaton gearbox and take them slow and steady. If you try to rush them or drive it like a car, it becomes difficult to shift through the gates. You quickly become used to this, however, and once you do, the transmission shifts quite easily. The clutch is air-assisted and is comfortable and easy to use.
The 3.8-litre Cummins ISF diesel engine puts out 105kW (141hp), and its distinctive sound helps set these JAC trucks apart from their competitors. The engine meets the Euro 4 emissions rating and this is achieved through selective catalytic reduction (SCR) technology, a similar type of system to the one in the Volvo FH16. The compact SCR fluid tank is on the right side of the chassis.
The Cummins ISF family of engines has been designed specifically for light trucks, vans and buses. Being a global engine format, these can be found in light commercial vehicles all over the world. The Cummins service network fully supports these engines and has recently updated its staff training and parts supply to be ready for JAC sales in New Zealand.
The power output might be slightly lower than the competition, but the 450Nm of torque more than makes up for it. In practice this really showed. I loaded a concrete ballast block and a couple of medium weight pallets on the truck to simulate an average payload. Driving across town we had to climb several short, sharp hills, which the truck took it in its stride. Once I got to fourth gear the truck got down to business, held on and pulled up the hills without a hint of breaking a sweat - it was quite impressive.
This must be the smallest truck in the New Zealand marketplace that has full air drum brakes, with ABS in reserve - they worked exceptionally well and felt good. I did have one complaint about the brakes though; the treadle valve exhausts in or near the cab interior and is quite loud, which I found unusual. I am told some drivers prefer it that way as it sounds like a big truck, however if you are like me and prefer less noise, this can be easily fixed by running a hose from the valve to the outside, significantly reducing the air exhaust noise from the brake pedal.
The turbo produces quite a whistle and this might also appeal to those that like the "big truck" sounds. In cab noise while at cruising speed was reasonable, however there was a fair amount of wind noise. This could be attributed to several things such as the mirrors, sun visor, roof kit, and so on. The mirrors provide an excellent view down each side and stayed nice and steady.
Summary
The market for these trucks is varied - they can be set up in any number of ways to suit your type of work. Generally buyers of this type of truck like them to be simple, reliable and good value. This initial range of JAC trucks fit that requirement very well; they look to be good, honest, hard-working trucks.
One typical set-up would be a tip truck, and I can see the JAC becoming very popular in this type of work. The simple utilitarian nature of the truck and the very competitive pricing will ensure these trucks become a familiar site on our roads in the not too distant future.
How do they get their price so much lower than their competitors? Are they cutting corners? Are they cheap and nasty? I don't think they are. It's quite simple: volume. When you are manufacturing more than 450,000 vehicles a year, you can provide economies of scale not many can match. Utilising this level of buying power, you can reduce your build and distribution costs significantly. 
Modern and stylish interior
Excellent visibility from the cab
Euro 4 compliant Cummins engine
Impressive torque performance
Full air drum brakes with ABS reserve
High volume production means lower price
Feel free to ask a question about this story or leave a comment on the Deals On Wheels
page.
For the latest reviews, subscribe to Deals On Wheels magazine here.
Keep up to date in the industry by signing up to Deals on Wheels' free newsletter or liking us on Facebook.