Volvo FH16 B-train truck
---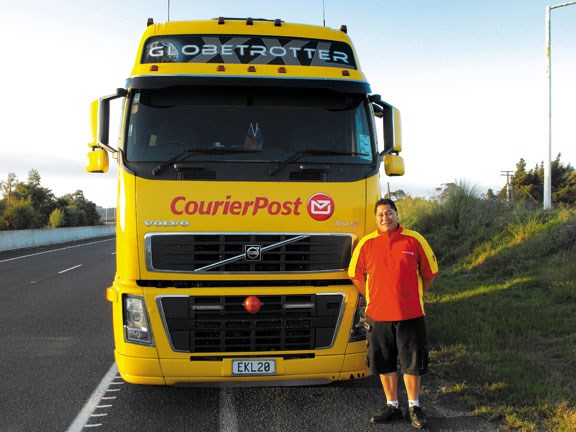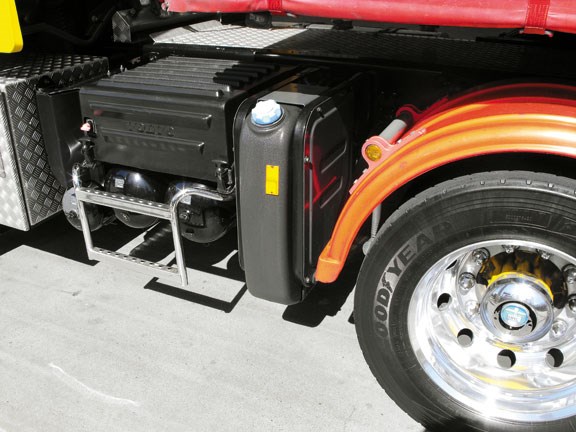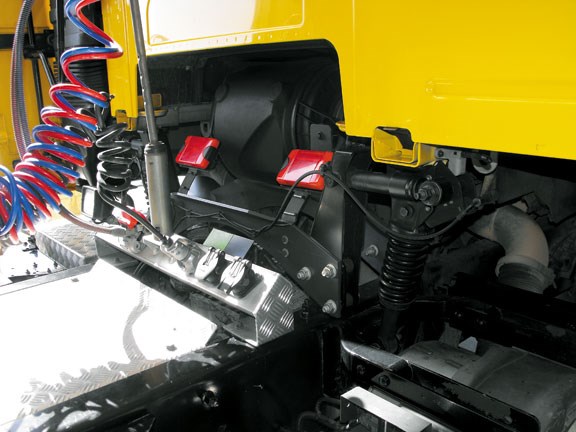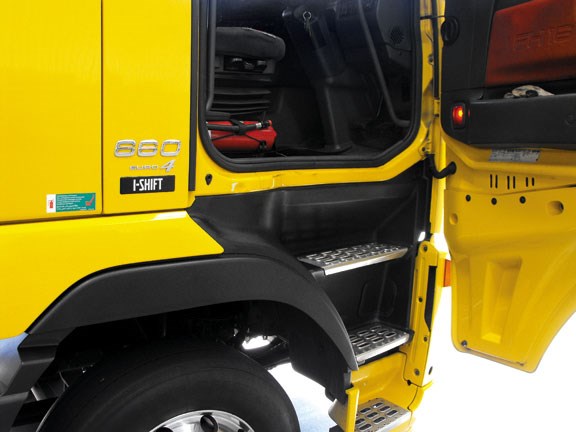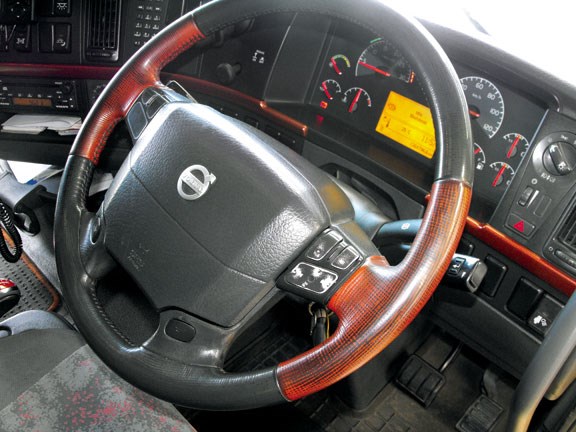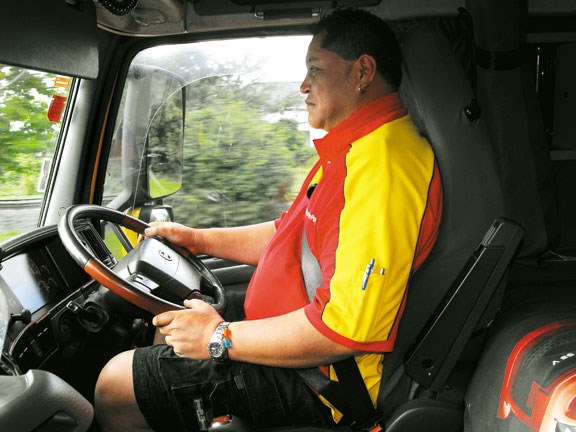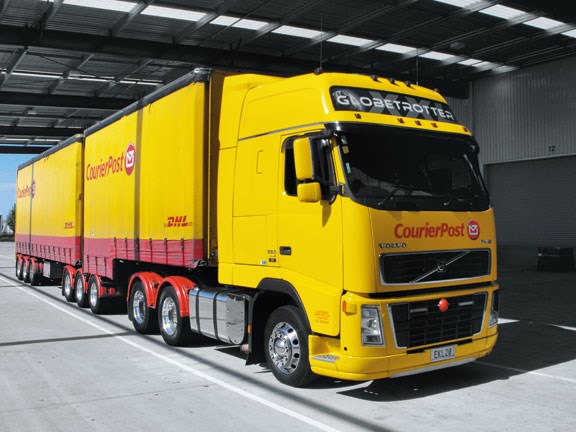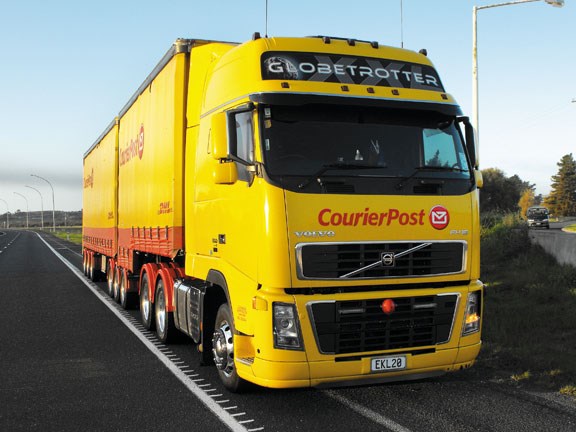 This Volvo FH16 B-train is still going strong after 1.3 million kilometres on the road.
We tested his Volvo FH16 B-Train with the (Globetrotter) XXL sleeper cab, which is propelled along by 660hp of Swedish grunt. The truck is owned by Craig Johnson, and he contracts this Volvo and a few others to Courier Post. Although young in years it has certainly earned its keep by covering 1.3 million kilometres in a short time.
The servicing for the big Volvo is done in Taupo by Truck Stops and the truck has a regular service every second week. The F16 has had two clutches. One replacement was due to a leaky seal in the internal slave cylinder, resulting in a new clutch being installed at the same time. So with 1.3 million kms under its belt and the only major being a couple of clutches, I would imagine Craig would be pretty happy with his return on the Volvo.
This tractor unit has the Volvo 12-speed I-Shift gearbox, and simply floats along the road aided by an 8-bag air suspension. Its grunty 660hp motor meets Euro 4 emission standards by running the Add Blue (SCR) additive, and all those horses are kept under control by an effective four-stage retarder that combines VEB (Volvo Engine Brake) and exhaust brake for super efficiency. Couple this with disc brakes all around and you have the best possible stopping options.
The cab
Getting in and out of the tractor's extra size cab is a dream, with three nicely placed steps and a large door opening that has two grab handles either side of the opening.
The seat comes with many adjustments for driving positions, along with a heated seat cushion and a built-in hands-free cellphone microphone.
Also attached to the driver's seat is the console on which the gear selection lever is mounted. This is an excellent idea on Volvo's part, because the air seat rises and falls as the driver is going over an uneven surface, the gear selection lever rises and falls with him. There is no risk of his hand being pulled away. Seatbelts are also integrated into the seat. These sorts of refinements make this truck safer and far more pleasant to drive.
From the driver's seat the vision is great, as is the placement of the wing mirrors which have big flat glass on the large top mirrors and convex on the bottom smaller ones. These are heated and electric.
The dash is woodgrain, and the instruments are clearly lit and easily seen. All mandatory switches are fitted with diff locks and crosslocks and a hill start button.
In true European style the Volvo has the tell-tale tachograph capability as well as extras like TV and DVD options, but Andy has not had any fitted.
The integrated cellphone key pad is part of the dash, which means there are no ugly screw-on brackets to be seen. Other standard communication equipment is GPS and CB.
Storage is not an issue. Inside there are lockers galore and space is plentiful; outside two very large lockers sit under the sleeper part on either side of the cab and can be accessed externally.
I like the flat floor arrangement, which is becoming standard in nearly all models of sleeper cab versions. It still gives you 1.93m of headroom even when standing on the engine cover. All this certainly makes access to the bed very easy while giving the driver a good feeling of spaciousness.
My drive
From the time we started it felt like I was riding on a high-class tour bus designed expressly for the comfort of its paying passengers. The ride is so smooth the big cab just seems to float - not a bump or jolt to be felt. Even getting used to not having a clutch pedal was easy.
The gear changes were very smooth and handled the selection decisions very well. At approximately 38-tonne the 660 Volvo B-train slips along easily.
As I headed along the motorway I found that the gearbox selected neutral whenever I eased off to let the B-train run under its own momentum. At first it felt quite unnerving, as being in neutral while coasting at 85km just seemed wrong. Andy informed me it was Volvo's Eco-roll fuel-saver, which activates every time there is no load placed on the engine.
We cruised into the foot of the Bombays at 92kph and without too much surprise we maintained 90kph to the top, staying in top gear at 1400 revs. Down the southern side the retarder handled its job well and without even a tap on the foot pedal the Volvo checked the 38-tonner without even raising a sweat.
This unit is effortless to drive and is super quiet. It has very good road feel through the steering wheel and handles extremely well. The only thing that I have a personal reservation about is the "floaty feeling" of the cab. My personal preference is to have a cab a little more rigid, but that's just me.
Smooth ride with 8-bag air suspension
Excellent retardation
12-speed I-shift auto gearbox
Adblue selective catalytic reduction unit meets Euro 4 emission standards
Easy access to spacious cab
Feel free to ask a question about this story or leave a comment on the Deals On Wheels
page.
For the latest reviews, subscribe to Deals On Wheels magazine here.
Keep up to date in the industry by signing up to Deals on Wheels' free newsletter or liking us on Facebook.