DAF XF 105 truck
---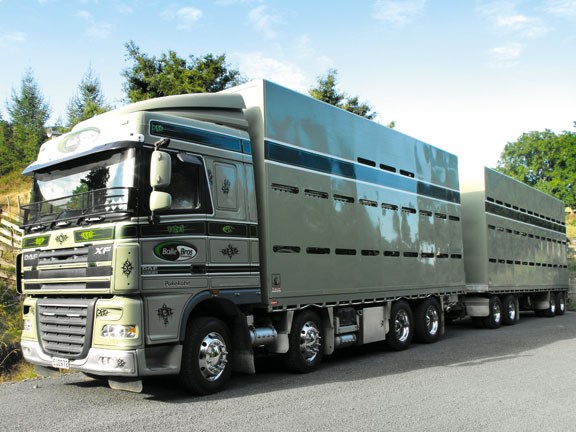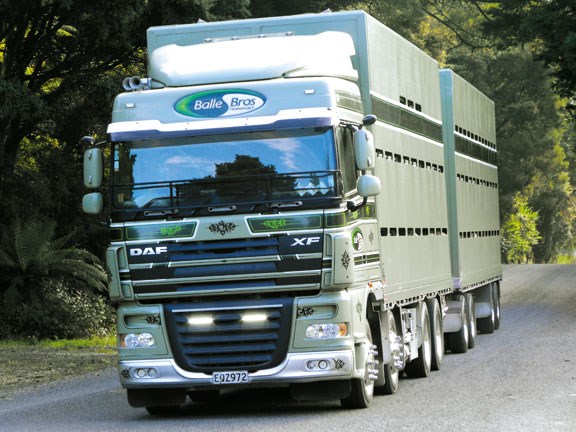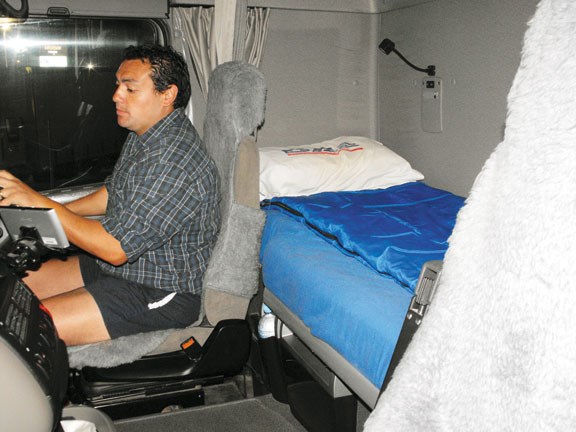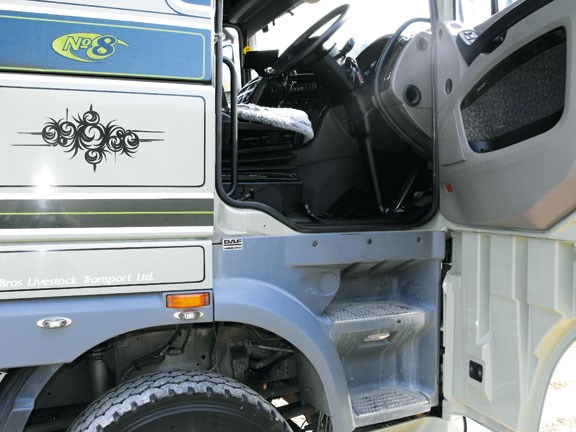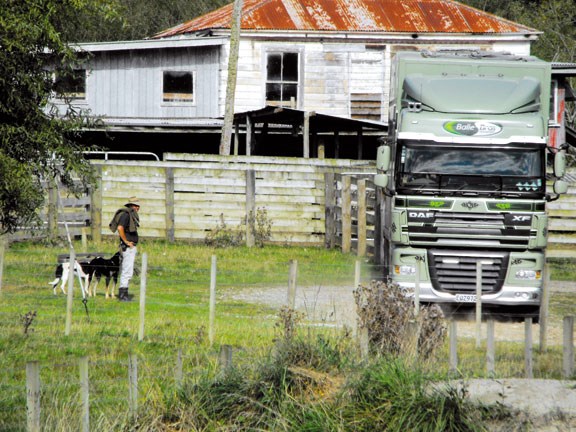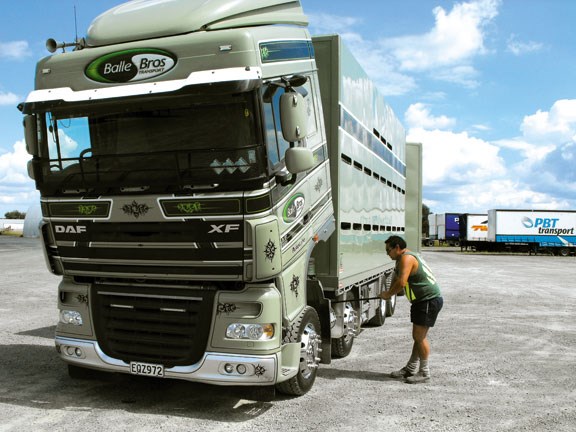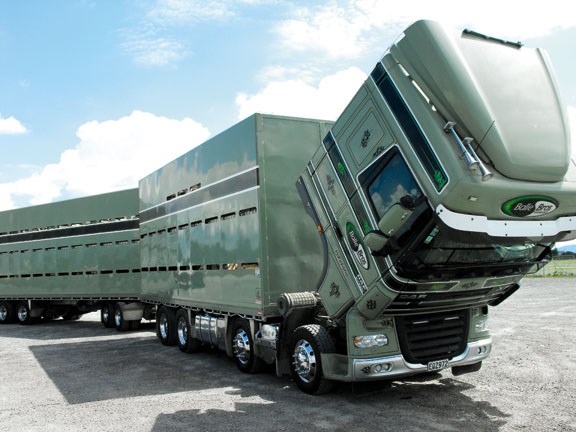 The European-made DAF XF 105 truck offers a smooth and comfortable ride with plenty of power.
This DAF XF 105 works as a stock truck for Balle Bros in Hamilton, spending its days scratching its way up metal roads in remote places like sheep stations or stock farms all over New Zealand.
Modern trucks, with their computer technology, are a wonderful thing when it comes to the mandatory checks of oil and water. The DAF XF 105, with its 510hp Paccar engine, is no exception and these checks are done from inside the cab by gauges and lights. Its driver Eddie Clark still routinely does outside checks of lights, tyres, tow coupling and a walk around inspection.
Eddie is happy with the DAF lighting; he likes the way it gives a wide angle of light. This he finds especially helpful with stock work, as often when he is driving along back country roads there is wandering stock on the side.
The DAF pull-down sun visor is like a blind and runs the full width of the windscreen.
The ride is very smooth and cab noise is so quiet that we can hold a conversation in a normal pitch of voice on opposite sides of the cab.
The seats are my favourite ISRI seats, designed ergonomically with the driver's comfort first and foremost.
The drive
The vision supplied by the large wing mirrors, which are all heated and electric, is good, with the big, slightly convex mirror in the top and a smaller more convex mirror in the bottom giving good peripheral vision.
The 8 x 4 DAF, which has 350,000km under its belt, pulls the four-axle Domett trailer rather well. Eddie says he finds the Paccar engine pulls fairly consistently whether it has 32-tonne or 44-tonne. When it comes to compliance for emission requirements this DAF runs the SCR (Add Blue) set-up.
I find the gear changes from the 16-speed AS Tronic gearbox are very smooth and change at just the right times. It appears that the programming of the revs to road speed ratio gives it an intelligent shift choice that suits New Zealand roads.
Retardation comes by way of the ZF Intarder, which is set up in the gearbox and integrated with the exhaust brake. This works extremely well and I found that by using the retarder as we made our way along the twisting back road I had no need to touch the foot brake at all (brake saver at its best). Part of the DAF safety initiative is that under heavy brake application the retarder self actuates to give maximum stopping power, which is definitely a plus.
The interior is nicely appointed with ample space and storage. Eddie has all the mandatory communication equipment like Radio, RT, CB and cell phone, along with GPS, which, he says, is mainly used as a communicator between driver and office for arranging the next job and a great way of keeping a record of offroad kilometres to claim back. The dash is laid out well, with all switches and gauges in easy reach, and is finished with a nice wood grain. It has traction control and crosslocks, and another European extra is the hill-start button to stop any roll back.
The DAF also has things like fridges as standard.
The DAF's flat floor is certainly another bonus that makes access to the sleeper bunk easy and gives a feel of more space with plenty of headroom. This particular model has a sun roof.
Turning around is done without too much effort as the feel and feedback through the steering wheel is very positive and light. Couple this with a very good turning lock and you meet another necessary requirement in this line of work. Suspension is airbag and is supplied by an Airglide 200 sitting on top of Rockwell diffs, giving this unit a generic feel and the piece of mind that parts would be readily available.
Eddie pointed out probably the only thing he would change on this unit: by not having a clutch pedal to ease as you back up a small incline, it is very difficult to touch the loading ramp softly, which is normally done by controlling the clutch pedal.
Smooth and quiet ride
Excellent retarder in gearbox and integrated with exhaust brake
Lighting offers a wide viewing angle
Gear changes from 16-speed gearbox are well timed
Nicely appointed interior with plenty of space
Feel free to ask a question about this story or leave a comment on the Deals On Wheels
page.
For the latest reviews, subscribe to Deals On Wheels magazine here.
Keep up to date in the industry by signing up to Deals on Wheels' free newsletter or liking us on Facebook.