Freightliner Argosy truck
---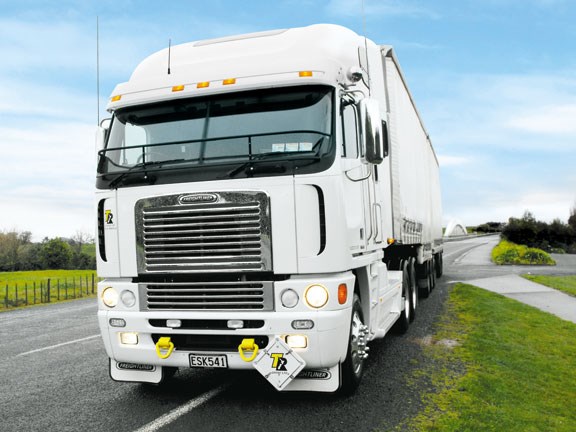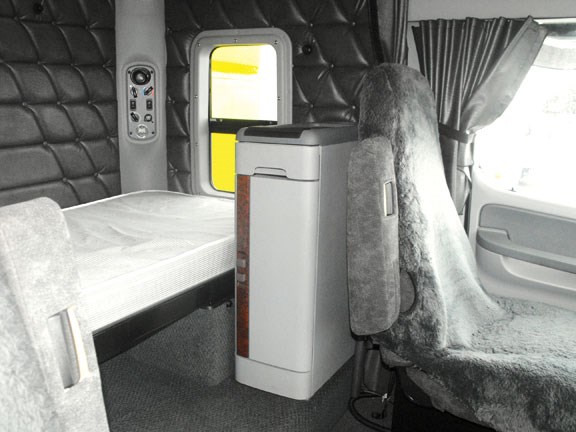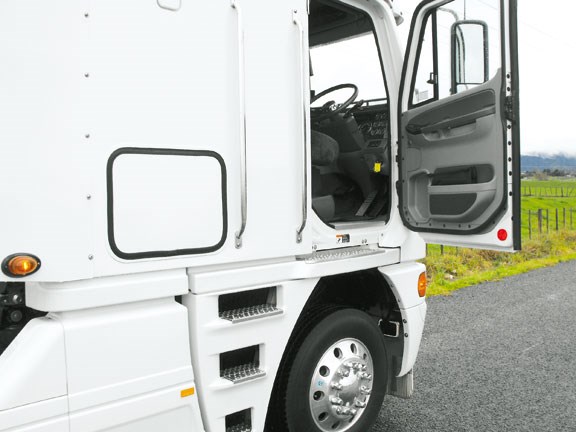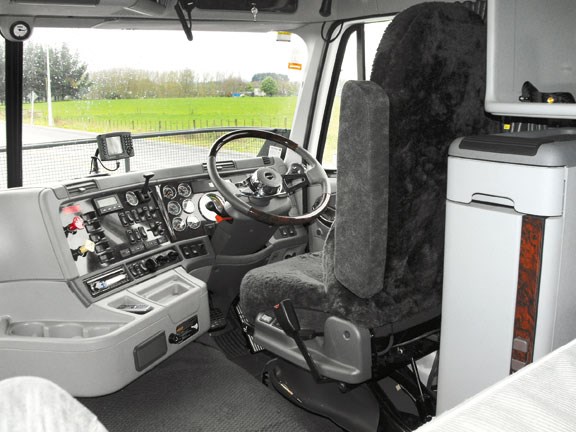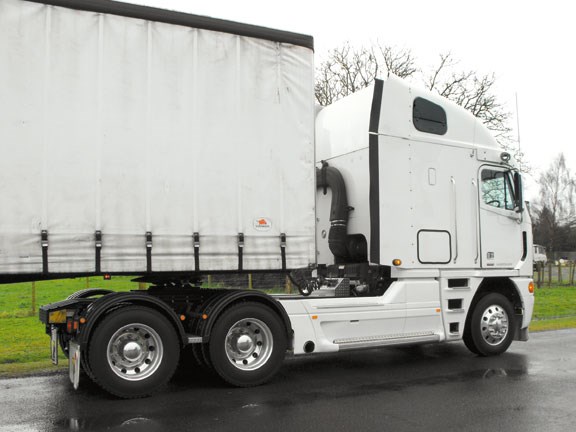 This Freightliner Argosy with its Cat C15 engine is suited to line haul and overnight jobs.
Powerful Cat C15 engine
Huge sleeper cab with plenty of storage
Autoshift gearbox
Good-looking dash with individual gauges
Smooth ride with four-bag air suspension
The Freightliner Argosy, with an enormous 110-inch high-rise sleeper cab, could house three families, no trouble at all.
This truck is suited to the line haul driver and would be the ideal custom-build for the floater (a truck that has no set run and can be sent anywhere in the country and is often away from home all week). Perfect for a company that does jobs all around New Zealand.
This excellent purpose-built truck comes with a Cat C15 engine rated at 435hp, but owner TR Group is in the process of going through the fleet and opening them up to 500hp. This involves a clever adjustment of having them run at 1650ftlb of torque in the low range, but as soon as you change to the high range it is rated at 1850ftlb of torque. Match this up with the Eaton Fuller 18918 automated gearbox, and it certainly makes line hauling a breeze.
The power is transferred to the road through a couple of sturdy Dana Spicer 44,000lb diffs and the ride is smoothed out with Freightliner's Airliner four-bag air suspension.
Inside the Freightliner Argosy cab
Once you've climbed up the ladder into the driver's seat, the space and layout inside this huge sleeper immediately impresses.
A flat floor means there is no need to climb over any partitioning, and a simple swivel from the driver's seat will see you standing comfortably. There is a second bunk that can fold down from the back wall and still leave heaps of room for two people to move around.
There is plenty of storage space, including wardrobes and cupboards. This home-away-from-home comes with a fridge and enough room for a microwave, TV and video. Overhead consoles and cubby holes are handy for keeping work documentation close at hand.
One thing that is noticeably different in this truck is that I did not feel overwhelmed by all the computer gadgetry that some of the new European models now have. The comfortable steering wheel was just that, a steering wheel, with no switches or buttons. This truck actually has a whole lot of individual gauges nicely laid out on the dash that add to the genuine old-school American look.
The dash looks impressive with its wood grain finish, but I feel there might be a little too much plastic involved. The up-side to this is that it definitely makes cleaning easy.
Checking the oil and water in this truck is still a simple task by just lifting the grill.
Performance and handling
Hooked up to a five-axle B-train, the big Cat engine purrs along effortlessly. The Freightliner Argosy is one of those trucks where you feel really comfortable and in complete control within five minutes. This is made possible by the automated transmission, which is pretty much idiot-proof.
The wing mirrors are a nice big flat glass in the top two-thirds and a convex piece in the bottom third. Vision through the big windows is excellent.
Retardation is the tried and true Jacobs with a three-stage setting. ABS and EBS, and drum brakes fitted front and rear, help with the slowing down.
As with most modern trucks of this calibre, it comes with all the necessary extras like heated and electric mirrors, cross locks and diff locks, an adjustable telescopic steering wheel and duel controls in the sleeper that control the internal roof lights and alarm.
Summary
This is an excellent truck for a traveller who is spending a reasonable amount of time away from home and wants to save on motel bills. The ride is great and even though the cab is big this did not hinder the job in hand in any way. Overall I was impressed.
Feel free to ask a question about this story or leave a comment on the Deals On Wheels
page.
For the latest reviews, subscribe to Deals On Wheels magazine here.
Keep up to date in the industry by signing up to Deals on Wheels' free newsletter or liking us on Facebook.