Mercedes-Benz Actros 3355 S truck
---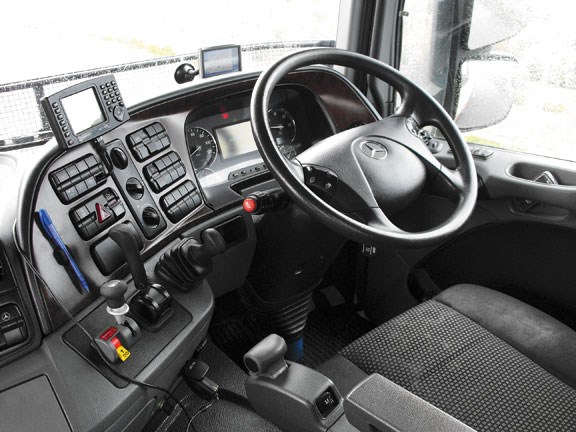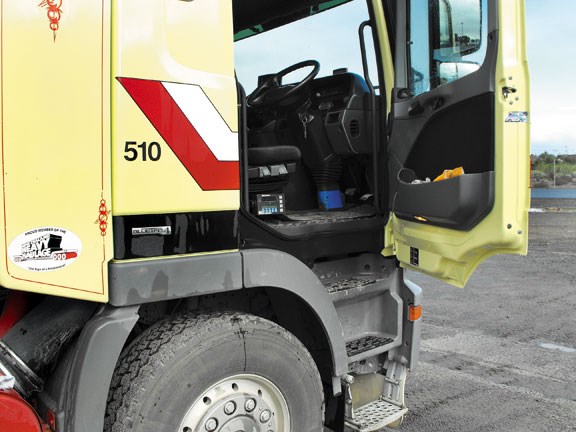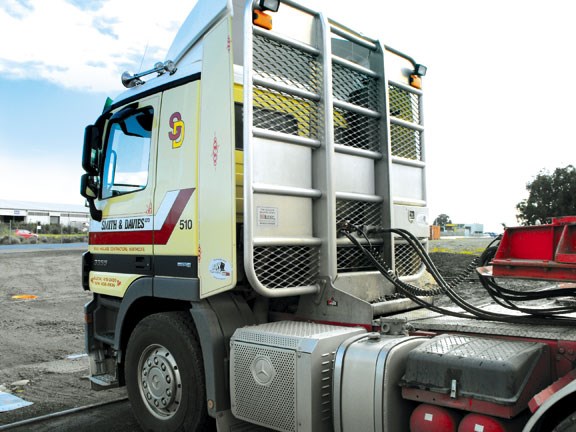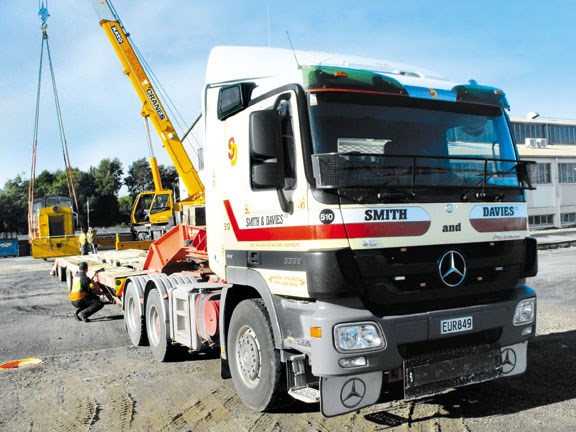 Easy to drive and loaded with extras, the Mercedes-Benz Actros 3355 S is ideal for line haul and heavy duty applications.
Economical
Awesome braking power
Cruise Control Retard
Comfortable ride with easy access to controls
Excellent vision from the cab
I caught up with the Smith & Davies transporter heading through Huntly, as it was carting a locomotive engine to Hamilton. Behind the wheel was Charlie Leki, who has 30 years driving experience.
Engine and power
The Mercedes Actros Bluetec 4 sports a V8 550hp engine hooked up to Mercedes Powershift 16-speed transmission, with heavy diffs rated at 26,000kg. It meets Euro 4 emission standards by having Selective Catalytic Reduction (SCR) technology otherwise known as (AdBlue).
This tractor unit has a GVM of 33,000kg, a GCM of 120,000kg and a turntable rated at 150-tonne, which puts it up there with the big boys.
Charlie's previous truck was a Freightliner Argosy 18-speed manual, which he really enjoyed driving. While he misses a little of the space that came with the sleeper cab version, the Mercedes has a lot going for it, and Charlie seems comfortable cruising down the road, an arm resting on the armrest poised over the auto shift. This means he is able to use fingertip control to ease through the gears.
There are three steps leading into the cab, spaced at good width and with grab handles within easy reach on either side of the door opening.
The seats are my favourite, Isringhausen - another quality German product. The interior trim and dash ooze Mercedes luxury, with wood grain surrounds and stylish gauges. It is an ergonomically designed workplace and has an aesthetically appealing yet hardy feel thanks to heavy truck plastic and flat surfaces. All gauges and switches are in easy reach and clearly marked.
There is a good amount of storage inside the cab. The large centre storage box between driver and passenger seats has a flat top to write dockets on, and in the centre bottom portion of the dash is a storage drawer. As well as overhead lockers, behind the seats are two more storage compartments and the cab has mandatory door pockets.
Vision is good and the large convex mirrors are split, with a big mirror in the top two-thirds and a smaller spotter mirror in the bottom third that get rid of a lot of the blind spots along the sides and out the back. These are heated and electric. There is also an overhead mirror on the passenger door facing down.
The actual ride of the vehicle is very smooth and inside cab noise levels are so quiet that they are non-existent.
The drive
Driving this vehicle is a breeze. The 16-speed Mercedes Powershift automated transmission makes life easy, although Charlie does get a wee bit frustrated because at times the gear changes seems rather slow. This seems to be a sentiment of a lot of drivers who have driven Roadranger gearboxes over the years and feel compromised by having to wait on a computer rather than a gearstick.
Computer-controlled situations give the ability for greater control over fuel usage. This is one area Mercedes-Benz is very proud of and the brand has actually been placed in the Guinness Book of World Records as the most economical truck in its class.
Another great point about computer-controlled automation is that it can be reasonably idiot-proof for inexperienced drivers. The gear select mechanism is located at the end of a remote-style arm mechanism, which can actually fold up out of the way.
The Actros tested has all the latest Telligent maintenance systems; by scrolling through the menu screen on the dash you can access your oil level, water level and AdBlue level.
Stopping power comes by way of disc brakes on the front and rear, with full ABS, EBS and ASR. These are joined by Mercedes' engine brake and a Voith hydraulic retarder.
Another excellent component is the cruise control that kicks in when descending hills; the retarder will increase its hold back ability the more it feels the increase in revs to road speed ratio. It has the hill/hold capability that a lot of modern trucks now have, and also a Rock-Free Mode, which simplifies driving when in an offroad situation on difficult ground.
Creature comforts
Extras include the cross locks and diff locks, along with the Manoeuvring Mode, which limits the revs to 1000rpm so the driver can use the accelerator pedal and get precise, controlled power when needing to move slowly and carefully.
Other things in the cab that help make driving a pleasure are radio adjustments that can be made from the steering wheel and the menu screen. Don't forget the communication equipment, which is high-tech and comes by way of a fax machine, text message screen, GPS voice prompts, RT and CB.
Feel free to ask a question about this story or leave a comment on the Deals On Wheels
page.
For the latest reviews, subscribe to Deals On Wheels magazine here.
Keep up to date in the industry by signing up to Deals on Wheels' free newsletter or liking us on Facebook.