Komatsu HD405-7 rigid dump truck
---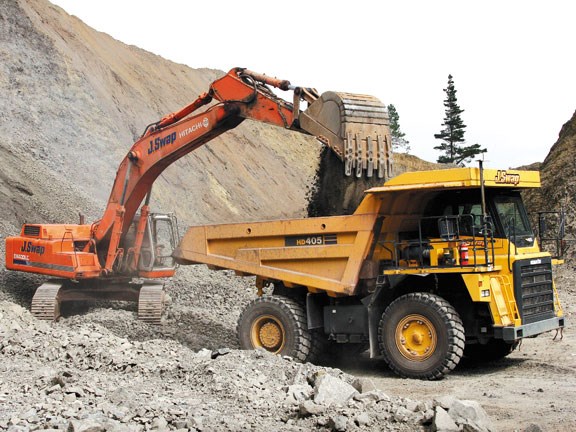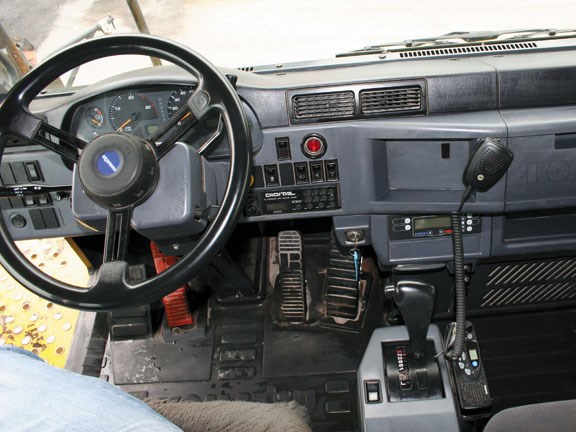 The HD405-7 rigid dump truck is the ideal workhorse for a quarry situated in a steep and difficult site.
Excellent retard system
Powerful engine
Easy to learn to operate
Good cab visibility
Hydraulic-pneumatic suspension offers better ride
J Swap Contractors Ltd is a large Matamata-based contracting operation. It's most recent purchase is a 2007 Komatsu HD405-7 rigid dump truck, used nine hours a day in a quarry partway up the base of the Kaimai ranges.
Other large vehicles they run include around 50 rigid dump trucks, 20 articulated dump trucks (ADTs), 25 bulldozers, 15 graders, 60-70 wheel loaders and approx 60 excavators.
The biggest obstacle is that the quarry is situated several hundred feet above the crusher plant and some 2.5km away by a steep road. Komatsu HD405-7 operator Henry Pou makes a round-trip to the crusher with 38 tonnes of rock on board every 20 minutes.
Pou has been driving the Komatsu for 18 months and he likes the quiet cab, excellent vision, powerful engine and engine retard system, and says it's easier and more comfortable to drive. He always drives the HD405-7 with the engine set in full power mode.
Inside the cab
Although the super-strong ROPS cage has large steel pillars I found the external visibility to be excellent.
The cab has room for a near full-width training seat. There's half a metre of space behind the seat areas, plus an adjustable and telescopic steering wheel.
Minimal controls include the toggle switch park brake (beside the auto gear lever), and the dash-mounted retard switch. A row of switches for economy or full power, optional ASR automatic spin regulator, high or low idle speed are also on the dash.
Engine and power
The 15.24-litre Komatsu SAA6D 140E-5 engine features turbocharged, air-to-air after-cooled, and cooled EGR (Exhaust Gas Recirculation) to produce ISO 371kW (498hp) at 2000rpm, and a massive 2167Nm of torque at 1400rpm.
The electronically controlled motor meets European Tier 3 emissions regulations.
Going uphill, the 15-litre Komatsu powerplant pulled well in third and fourth gears. Pou changes down manually and I quickly found out why when I used automatic mode. The engine dropped too many revs before changing down. As I got to the brow of the hill I selected low gear and engaged auto engine retard before descending.
I took my feet off the pedals and let the retard system come into its own. By pushing a short right-hand steering column stalk to speed up by 1km/h increments, or pulling it down to slow down by the same measure, I could easily set my road speed, empty or loaded.
Performance and handling
At the quarry face, Pou used a 40-tonne Hitachi digger to load the 8762-hour HD405-7 in no time and we were good to go with approx 27.3m³ of heaped blue rock on board. Engaging first to get out of the quarry, the Komatsu motor performed well. It didn't just hold its revs, it increased them while driving up the steep exit road.
Shortly after, the long downhill began and, still in retard, I selected our desired 17km/h speed and the truck did the rest - all I had to do was keep it on the road and try not go above 2000rpm. The revs are manually adjusted by the retard stick by increasing or lowering the ground speed to keep the motor revs within a safe tolerance. With a load on, the Komatsu would pick up speed as the engine revved up to 2400rpm while changing up a cog.
When the road flattened out I changed into third and later fourth and selected up to 25kmh for the retard, before slowing again as the gradient steepened.
One great feature is the optional three-mode front and rear hydraulic-pneumatic suspension, which automatically sets itself to soft, medium or hard, depending on the load, for a better ride and greater stability.
Despite being 8.465m long and 4.15m wide, I was surprised with the 43? steering lock and overall agility of the 34,400kg unladen truck, giving a turning circle of just 14.4m.
After extending the body to its full 48? extension at the crusher to empty the load, I found the control lever offered no feel when lowering the dump body until the last few degrees. Due to its fast travel speed, I lowered it with several stabs because Pou advised it comes down with quite a bang. I would expect the relevant hydraulic control valve may need adjusting or servicing.
Transmission
The HD405-7 features a seven-speed (and one reverse) fully automatic transmission with a torque converter, which operates in first and reverse. The K-ATOMiCS (Komatsu Advanced Transmission with Optimum Modulation Control System) system allows for a top speed of 70km/h. With or without the optional retard, slowing is taken care of by a hydraulic wet disc brake system.
Feel free to ask a question about this story or leave a comment on the Deals On Wheels
page.
For the latest reviews, subscribe to Deals On Wheels magazine here.
Keep up to date in the industry by signing up to Deals on Wheels' free newsletter or liking us on Facebook.