MAN 8x4 logging truck
---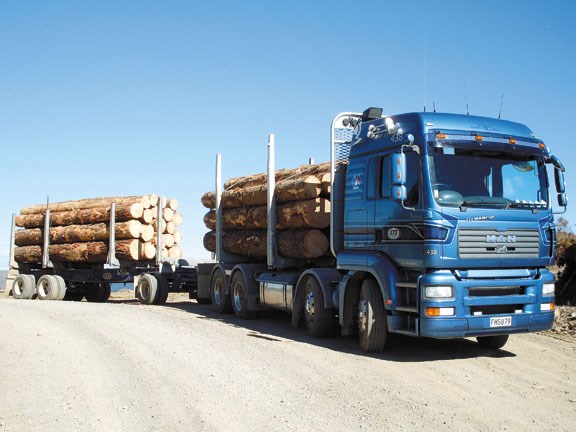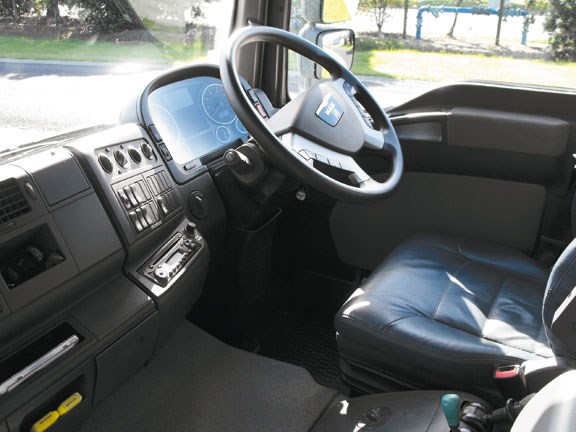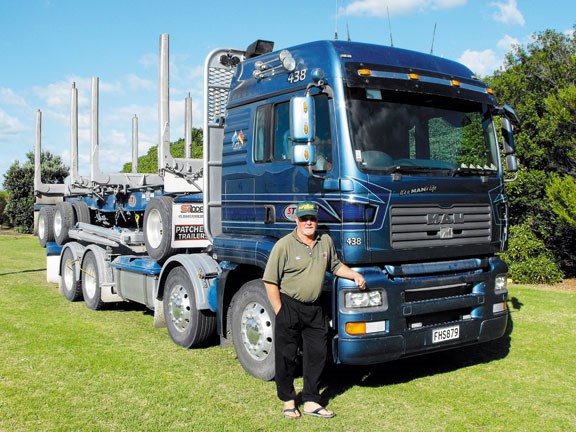 This MAN truck is a twin-steer 8x4 logging unit that is hard at work on the East Coast.
ZF gearbox with smooth change
Top of the line ISRI seats
Excellent retarder
Eight-bag air suspension
Nicely appointed interior
Ian McLaughlin, who contracts to Seymours Transport Services of Opotiki, has been plying New Zealand roads for around 34 years, owning his own gear for much of that time. Logging is a new experience for him, with around 14 months experience.
Engine and power
This MAN 8x4 takes to the road with its own brand of engine, known as a D2876, 480hp. It puts out 1700lb/ft of torque, which meets the emission standards by way of compliance to Euro 3 standards.
The unit has an automated gearbox, which is the ZF 12 speed Over/Drive Tipmatic and a ZF Intarder and cruise control. Throw some nice big sturdy Hypoid HYD-1370/Hy-1350 rear axles behind it and you definitely have a unit fit for rugged bush conditions.
Ian says he is impressed with the ease in which he could climb in and out of the cab. He also like the quick shifting automated ZF gear box, which runs through the gears very smoothly with quick changes.
Another pleasing aspect of this truck is its retarding ability when compared to Ian's previous Freightliner Argosy. Ian found that his MAN could descend the steep, winding hill known as Traffids 10km quicker than his Argosy, and he didn't have to touch the brake. He finds the new computer-controlled input excellent for when he crests the hill, saying a quick touch of the brake activates the memory and it will hold it at that, all the way down.
This excellent retardation comes from a combination of the Intarder, which is a fluid retarder bolted to the outside of the gearbox and functions on its own for the first four stages of operation, until you get to stages five and six, when both Intarder and engine brake work together to really bite in and give some serious retarding abilities.
Not only does the computer technology give you fluid levels, it also gives you cool things like how much wear your brake pads still have left on them. As can be expected this comes with all the other engine management read-outs that are needed to keep an eye on in the daily operation of the truck.
The test
Getting into the cab was definitely an easy procedure - the doors open wide and the grab handles are at good positions.
The driver's seat was one of my favourites, the top of the line ISRI air ride leather with all the settings to satisfy any position you prefer when driving. A ISRI seat is fitted to the passenger side as well.
The dash was not filled with copious amounts of gauges, switches and buttons, but seemed clean and functional. The storage facilities are great, with two big overhead lockers, a couple of storage shelves, cup holders and cubby holes and shelves in other strategic places around the cab. There are two big outside lockers and one of them is accessible from under the bunk. Another accessory is a good sized fridge that can slide out from under the bunk.
Interior lighting is ample with main cab lights and map lights available.
Performance and handling
I am impressed with the smoothness of gear selection, also the twin steer along with the eight-bag rear suspension gives an excellent ride. The automated gearbox was a breeze and there were three different drive settings, with one of them being for manoeuvring.
Part of this clever system is the anti-roll-back component, which is also helpful when trying to get out of a skid site and becoming cast halfway up a slippery muddy hill - a gentle application is required to remedy the situation.
Visibility is excellent. Ian has left the stone guard off, saying it is much easier to get in with a brush to keep his windscreen clean. He also feels it does not impair his vision in any way. Mirrors come by way of big convex glass and are placed in line with the "A" pillar so as not to obscure things too much.
I found the MAN had a very low steering ratio. Although I did find this a bit disconcerting, Ian assured me that you do get used to it and get a bit busier on the wheel a bit sooner. Apart from the trouble I had turning around, the MAN rode particularly well and I found it easy to get to grips with everything quickly.
This MAN comes with disc brakes front and rear.
This MAN is fitted with a Central Tyre Inflation (CTI) system. The CTI is controlled by a screen and buttons in the cab that allow you to drop your tyre pressure from 95psi to 55psi, thus delivering better traction to your drivers and also helping in not tearing up the bush roads.
Feel free to ask a question about this story or leave a comment on the Deals On Wheels
page.
For the latest reviews, subscribe to Deals On Wheels magazine here.
Keep up to date in the industry by signing up to Deals on Wheels' free newsletter or liking us on Facebook.