Western Star Constellation 4864 F.X. 8x4 tractor unit truck
---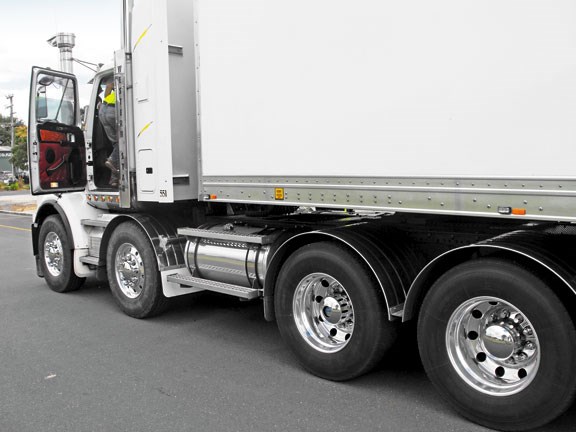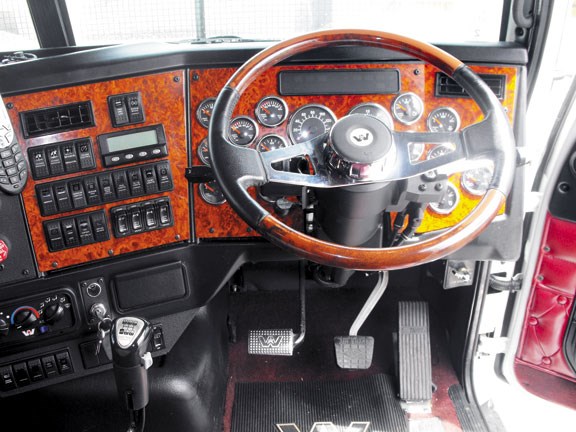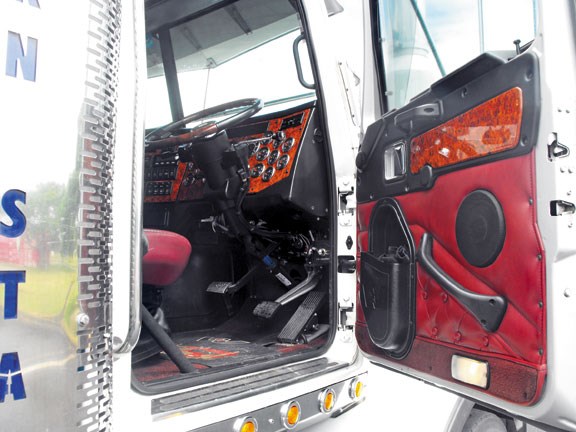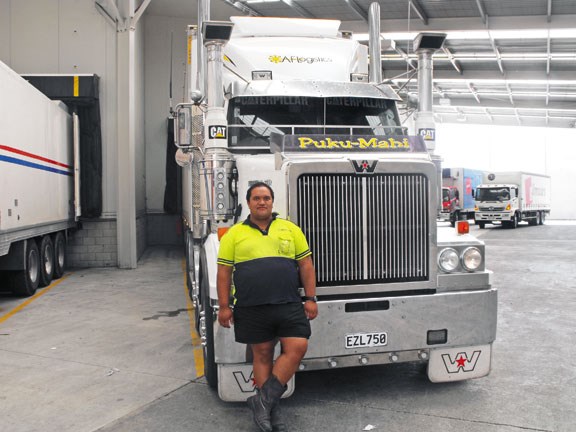 We test drive the hard-working Western Star Constellation 4864 F.X. 8x4 tractor unit.
Manoeuvrable with good turning circle
Excellent ride
C15 Ct engine with 18-speed gearbox
Spacious sleeper cab
Creature comforts include Bostrom air-ride seats
This Western Star belongs to Jim Banks, and is contracted to A.F Logistics. Jim purchased this unit around March 2009 and has made sure that it earns its keep by double shifting it.
Smooth operator
Driver Rawiri Te Ngahue has been with Jim for about three years. He drives the big Western Star from Rotorua to Auckland and back to Atiamuri, doing pick-ups and drop-offs along the way.
As we get the big Western Star moving it doesn't take long to notice how Ra coaxes the unit through the gear changes with ease and confident precision; he likes to work within a small rev window of about 14 to 1500 and by doing this he has a very smooth, unrushed style.
Engine and power
This Western Star is an 8x4 tractor unit Constellation model (slightly wider cab) 4864 F.X. It has a C15 Cat engine rated at 550hp and putting out 1850lb/ft torque, and is matched to an 18-speed Roadranger manual gearbox.
It runs Meritor 46-160 diffs and suspension comes by way of 4600 series Airliner Air suspension. Jim has gone for drum brakes all round and runs 295/80 R22.5 steerers.
Interior
The cab has a 20" retro fit Sleek-line sleeper, which is wide enough to stretch out, as well as high enough to stand upright. The rest of the interior trim is a mixture of buttoned red leather, vinyl and wood grain. The floor is all carpeted, so suitable for line-haul rather than muddy or dirty work areas.
Storage is taken care of, with compartments above the driver and passenger and more storage space in the sleeper. The dash layout has an impressive amount of gauges and switches that cover every facet of the trucks operation. It also includes an air gauge weigh scale, which can tell the driver the weights on the tractor unit.
Jim has fitted wireless truck and trailer weigh scales in the form of a hand-held remote with wireless signal that can tell the driver exactly what the weights are on the axles for the truck and quad trailer.
The creature comforts in this Western Star are a DVD unit, mobile phone, CB and a good stereo system with sub speaker.
Both driver and passenger seats are Bostrom full air ride leather and give adequate comfort and support to your back.
The exterior
On the exterior this rig looks really smart, with twin exhaust stacks, a big chrome sun visor and a couple of shiny stainless external air cleaners mounted either side of the square bonnet.
At either side of the cab the steps fold-down and give access to two tool boxes, along with two other compartments on the outside of the sleeper box. It is fitted with two 300-litre diesel tanks in polished alloy and chrome, and an array of marker lights that run along the bumper, air cleaners and strategic points around the cab, as well as set of blue lights behind the Western Star heat shields on the exhaust stacks.
Performance and handling
Getting in and out of the cab is easy, with the steps placed nicely in line with the door, so with the big 14.1m quad axle semi in tow we head out at just under the 44-tonne mark.
Negotiating our way out of the cool stores is not a problem and the quad tracks fairly well. The turning circle on the 8x4 twin steer is good and there is no issue with its manoeuvrability. However I did find that the external air cleaners did add to the blind spot that is traditional with large mirrors and "A" pillars.
The 550 Cat pulls effortlessly and once on the motorway we are up to 90km without even trying. We hit the Bombay's and all it takes is a split on top gear to keep us perking all the way to the top. Down the southern side with a steeper gradient means the three-stage Jake can have a good workout, and with only one full gear change down we hold back at 1800 revs all the way to the turnoff for SH 27.
We hit some lumps and bumps, which the Western Star irons out as though they weren't there. Ra says that when the quad trailer is loaded properly with good weight distribution and combined with the tractor units 8x4 set up, the ride is exceptional.
Feel free to ask a question about this story or leave a comment on the Deals On Wheels
page.
For the latest reviews, subscribe to Deals On Wheels magazine here.
Keep up to date in the industry by signing up to Deals on Wheels' free newsletter or liking us on Facebook.