Hino Trucks 300 816 Crew Cab
---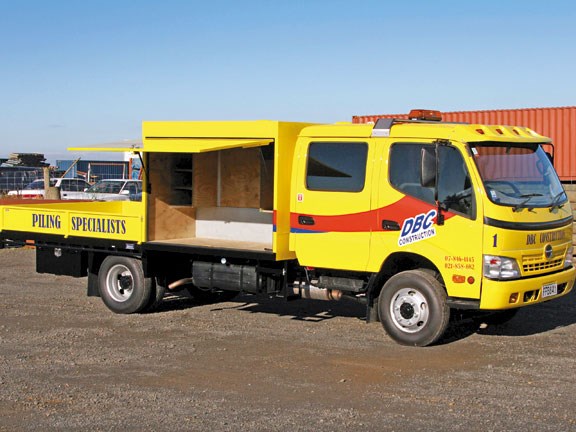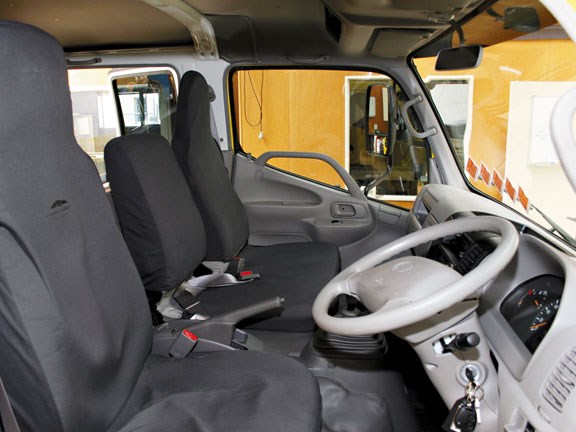 The Hino 300 816 Crew Cab model can seat up to seven people and is a great alternative to a van.
Smooth driving
A very tight steering angle
Plenty of interior and deck space, and storage
Wide opening doors with good grab rails
Big mirrors
Having a crew cab truck on the team can be a game-breaker for companies that need to get a number of people to the job in one vehicle.
You can take a lot of equipment too, thanks to the large rear deck area available for all kinds of intermediate sized loads.
Including an automatic version, Hino offers four models in its 300 816 series Crew Cab, ranging from 4500 to 7500 GVM. The 2615kg chassis weight and the powerplants are all the same, the only difference being the GVM, where in particular the 4500 unit is able to be driven on a Class 1 car licence.
Our Hino 300 816 light test truck is owned by DBC Construction, based in Hamilton. The company purchased the 7500 GVM version to get away from using vans to transport its equipment.
DBC Construction owner David Broad chose the 7500 GVM size because of his loadings, taking into account the 3810kg tare weight.
"I'm hoping that when it's full of people and tools it'll be about 5.5 tonne, giving us two tonnes to carry attachments on the back," he says.
The deck measures 2.4m long x 2.15m wide, while the deck and toolbox canopy is 4.35m total and has a small built-in tunnel for 4m pipes.
The cab
The 300 series cab is both spacious and well appointed for a light truck. There's plenty of room up front and it's pretty good in the back too.
Three people can sit across the front seat, utilising the centre fold-up seat, while four seat-belt positions are available in the back - although a trade-off is restricted leg space in the middle because of the engine well.
There's a reasonable amount of space to put your odds and ends, the largest being a pair of overhead spaces located near the windscreen, accessed by open slots.
Rearward visibility was spot-on thanks to a pair of large rear vision mirrors, the left unit incorporating a useful wide-angle mirror.
Getting in and out wasn't a hassle due to a small step, pillar-mounted hand-holds and four very wide opening doors.
Performance and handling
On the road the truck oversteered a little through the turns. One thing I really enjoyed was navigating around ultra-tight spaces on this long 3870mm wheelbase crew cab, due to an incredibly good steering lock.
While I haven't tested a similar sized double cab truck, I felt this model needed a bit more power. Driving up hills empty, the 110kW Hino N04C TV engine would hold its revs - just - but it was reluctant to pick up revs too, particularly if the powerplant dropped below 2250rpm, where a significant powerband began as the intercooled turbocharger kicked in.
The taller gear ratios left me out of the powerband a few times on uphills. An example was when I changed down from fourth gear at near maximum 2900rpm into third, the revs dropped 800rpm. This left the engine at 2100rpm, some 150 revs below where the turbo came on stream, with the engine unable to pick up its revs on the hill.
The four-cylinder, four-litre diesel engine produces a claimed 397Nm of torque at 1800rpm via an electronically controlled common rail direct injection system.
With a run-up on a flat straight the best I could get was 112kmh with a tailwind, with the motor revving as far as I could get it to go at 3100rpm. The speed limit would see the engine turning over at 2750rpm in top.
With 600km on the clock, it still has some running in, and in particular with the six speed manual transmission. Changing up or down through any of the ratios was still fairly slow engaging the gates.
I didn't go hard on the brakes to test the ABS brake system, but what I did find was ample stopping power from any speed.
Feel free to ask a question about this story or leave a comment on the Deals On Wheels
page.
For the latest reviews, subscribe to Deals On Wheels magazine here.
Keep up to date in the industry by signing up to Deals on Wheels' free newsletter or liking us on Facebook.