Astra ADT40C dump truck
---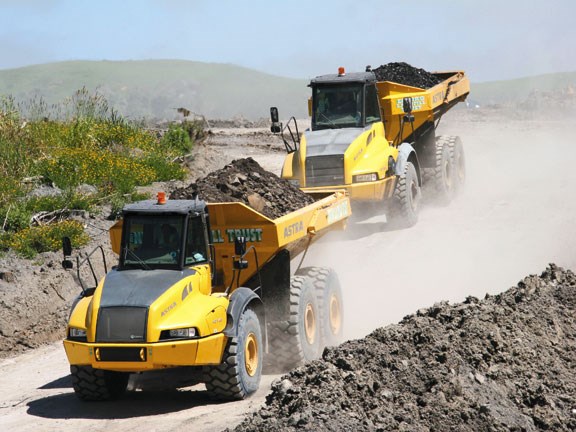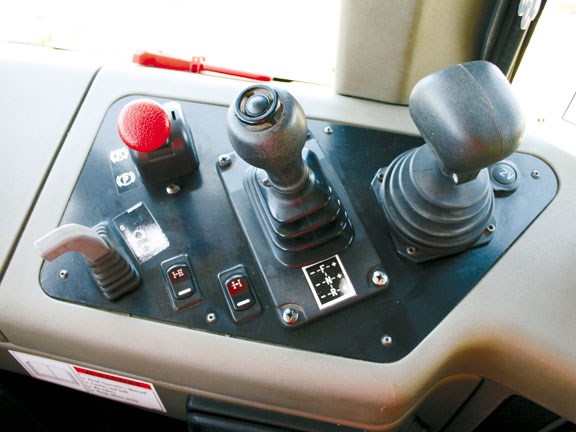 With a low centre of gravity for very high stability, the Astra ADT40C dump truck is built to handle difficult terrain.
User-friendly transmission
Retard braking system allows for smoother, safer driving
Good stability from wide body and low centre of gravity
Comfortable cab
Good handling and impressive turning circle
Six wheel drive allows for driving on rough tracks
Formed in 1946, Astra now forms part of the Fiat-owned Iveco group. Astra produces an articulated dump truck range starting from the 23,200kg payload ADT25C, to the 28,160kg ADT30C, the 31,500kg ADT35C and the big 37,000kg payload ADT40C.
Astra ADTs are built for rough quarries. They are very wide and have a low centre of gravity for high stability, while the double articulation allows good contact between the six tyres and the ground, especially over difficult terrain.
Near Huntly, Enviro Landfill Trust runs a coal mining operation, a construction and demolition landfill, and will shortly become New Zealand's first (and only) approved used tyre landfill site. The company employs 20 people on one shift with John Campbell's son, Justin, as the operations manager.
Enviro Landfill Trust runs six Astra ADTs; four are 30-tonne ADT30C models and two are 40-tonne ADT40C articulated dump trucks.
The cab
Once inside the roomy climate-controlled cab, almost all external noise disappears. All of the main control functions are easy to understand for a new driver.
Once in the seat, external visibility is almost unrestricted due to the forward sloping bonnet and large windows. The easy to read analogue display includes a rev counter, transmission temperature, engine temp, fuel level, and a small digital LCD display.
I thought the biggest Astra ADT handles surprisingly well for a 29-tonne (empty) vehicle. Other than its huge 3465mm width, it was easier to drive than a normal truck. I completed a circle on full 45-degree steering lock and was impressed to see an approximate 6-7m turning circle.
Performance
The ADT40C bounced over the bumps a bit being empty, understandable since the springs are rated to carry more than double its weight. But the key feature of the Astra is that it can be driven on rough tracks.
The quarry apparently becomes a "skating rink" when it rains. "Compared to the 30-tonners, these 40-tonners have wider tyres and they slide sideways easy. They don't turn well in the wet, so you just have to keep that in the back of your mind," operator Ryan Brinkley explains.
John says, "During the wet weather we can operate where we normally wouldn't be able to with the older truck, because of the latest technology, and being six wheel drive."
Powerplant
The Tier 3 six-cylinder Iveco Cursor 13 diesel engine displaces 12.8 litres. The powerplant features direct injection via individual Bosch injectors, four valves per cylinder and an intercooled turbocharger with electronically controlled variable geometry blades.
The ADT40C's Iveco motor makes its maximum 335kW (455hp) power at 2100rpm, although Brinkley said he likes to keep it spinning at around 1500rpm to get the best out of it. The engine produces a very healthy maximum 2000Nm of torque at 1400rpm.
All the gears
To get underway in a forward direction, pull to release the red park brake, press the button on top of the gear lever as you push it forward, and push the accelerator for the speed you want in automatic transmission mode, which it starts in. To change to manual mode, either press the top button a second time or simply flick the gear lever hard over. To change up gears in manual just move the lever right, and left to chop down.
"Manual mode is a must because you can see what terrain is coming up and you can start slowing down and select the gear that is best for it. Whereas if you power up a hill and it goes soft, you are going to stop because the automatic can't see that it's soft. It only chooses a gear from the feedback it gets from the engine. So manual is better control and better use of the gears, and better safety-wise too," Brinkley says.
Transmission
The ZF Ergopower transmission is an automatic design with six forward and three reverse gears, in one range with a 50kmh top speed. On the Astra ADT40C all six wheels are in permanent all-wheel drive and feature automatic slip diffs, which can engage while moving.
Stopping power
The stopping system on the Astra ADT40C I drove comprised four hydraulic wet disc brakes operated by a dedicated engine-mounted gear pump and accumulators. These are backed up by the electronically controlled two-stage Iveco Turbo Brake enhanced retard system.
The exhaust brake retard system allows you to control the vehicle going downhill better under almost all situations because it is smoother.
Braking is smoother because retard stage one utilises constant engine compression to slow the vehicle downhill. Stage two is for more serious slowing, which uses engine compression and application of the wet disc brakes, and worked nicely with a full load while I was in the instructor seat.
Enviro Landfill Trust's Astra ADT30Cs are fitted with dry disc brakes, although these are also available in wet disc configuration.
Feel free to ask a question about this story or leave a comment on the Deals On Wheels
page.
For the latest reviews, subscribe to Deals On Wheels magazine here.
Keep up to date in the industry by signing up to Deals on Wheels' free newsletter or liking us on Facebook.