Scania R470
---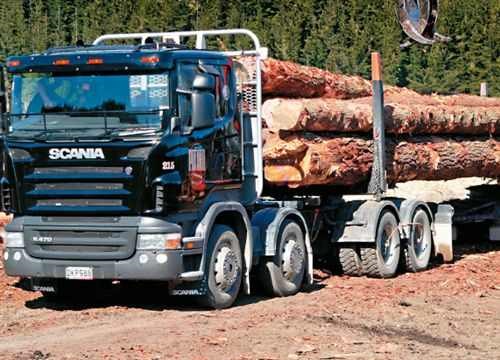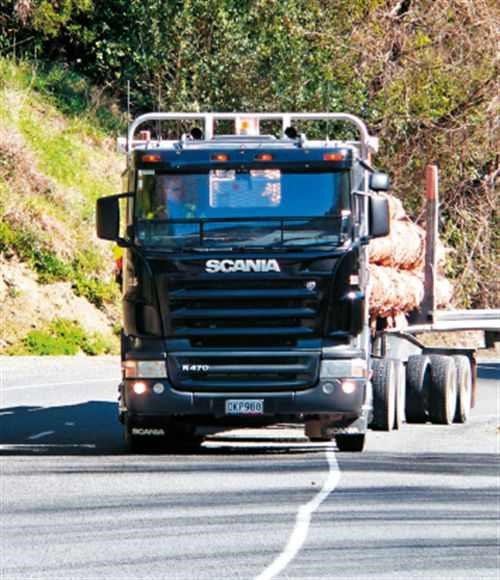 Mark Pittar's new Scania R470 8x4 stems loggging truck is holding it own with the big boys on the East Coast.
Mark Pittar began his career in the transport industry at the age of 20. His first foray into forestry occurred when the company he was carting stock for switched him over to a log truck. "After getting into the logs I thought, 'this is what I want to do. Everything's a challenge, everyday's a challenge" says Mark.
At 29, the opportunity arose to buy out an existing contractor to the Pan Pac mill in Napier, so Mark jumped at it and took the leap from driver to owner driver.
Starting out in a used truck, it wasn't long before Mark began considering new as a better investment for his operation. "After about two months [with the used truck] the diffs in the truck blew and we had to replace them. It got me a bit worried and I thought if the diffs are stuffed, what else is going to go wrong? So I thought, 'Stuff this, I'll go buy a brand new truck.'" After doing the sums and seeing that it all worked out, Mark stepped into the new truck market.
Having started in Japanese trucks, Mark steadily grew his operation, buying out owner drivers when the opportunity arose. His fourth truck, (his first of European origin), was not one Mark cares to reflect much on. As such, for a long time he never really looked at Scania as an option for his growing logging fleet. Mark also had the perception that Scanias were expensive and a bit heavy.
But a combination of factors over a period of time changed all of that.
Scania has been gaining in presence throughout the East Coast in recent years, and the introduction of the new P & R Series in 2005 seems to have acted as a catalyst for the premium Scania brand within the region, including a noticeable increase in the number of Scanias rolling in and out of Pan Pac's yards. "It was with these other guys buying Scanias and just talking and listening to what they were saying, I thought, 'Well, maybe I should enquire? It's not going to hurt," explains Mark.
So when Pan Pac advised owner-drivers of their requirements for the logging trucks contracted to the mill to be stems trucks, Mark threw aside his reservations towards Scania and gave CablePrice's sales representative for the East Coast, Paul Roche a call.
After discussing his requirements with Paul, it soon became clear to Mark that his perceptions of Scania, like many others, were unfounded. "Scania has a perception in the market of being heavy and at the top end of the market for price" admits Paul, "But in reality, they are very competitively priced and the tare weight comes in lower than a number of other mainstream brands"
Capable of legally carrying 29 ton of logs, the fuel economy of the 6-cylinder turbo- compound Scania engine, combined with the driving performance and driver comfort of the truck is exceeding Mark's expectations. "The fuel economy is pretty good. Not surprising really, cause Scania's always been pretty good" believes Mark.
Aside from being fitted with hub reductions for the forestry application, the logger is a standard spec 8x4 470hp Scania. It has been running between Pan Pac's mill in Napier and their skid site in Putere two hours north where the stems are being harvested, but the trucks alternate between the mill and different skid sites on a rotation system.
Although he now owns four logging trucks, Mark still spends three nights a week driving. His first and longest serving driver, Colin, drives the Scania during the days, and Mark wanted to provide Colin with a comfortable working environment. It all worked out perfectly as I wanted to keep him happy because he's a brilliant operator" explained Mark.
"The comfort is exceptional - she rides really smooth and has awesome traction and surprising power for a smaller engine carrying these weights" adds Colin.
"She holds her own against the larger horsepower American trucks. With their bigger engines, they can pull away from me on the straights and on the hills, but the Scania performs exceptionally on the downhill where the retarder kicks in." Colin also says he is impressed with the visibility from the cab saying the mirrors give a good view of the logs, and feels the truck is performing without even breaking a sweat.
Mark has placed his first Scania on CablePrice's comprehensive ScanPlan Max 24 repair and maintenance contract as he considered them an ideal way to budget for repair and maintenance costs more effectively and provide assurances that his investment is kept in optimal operating condition. "A lot of the other guys are on ScanPlan and were really happy with it and I was sick of getting big bills" adds Mark.
Although the truck has only just clocked up 20,000 hours, Mark says the CablePrice Hastings team have been good to deal with and are accommodating with services. "Paul has been great. He's been quick to act on anything I have needed, and so far has always sorted things out quickly".
CablePrice's current marketing campaign is based on the concept that "success has a way of following Scania". "We've seen it before, the first Scania you own will bring others" reads the ad. And if Mark's new Scania continues to perform the way it has begun, Mark says that there is every possibility you could see more Scania's in his fleet colours in the future.


Keep up to date in the industry by signing up to Deals on Wheels' free newsletter or liking us on Facebook.