Toyota Toyoace KC-LY101
---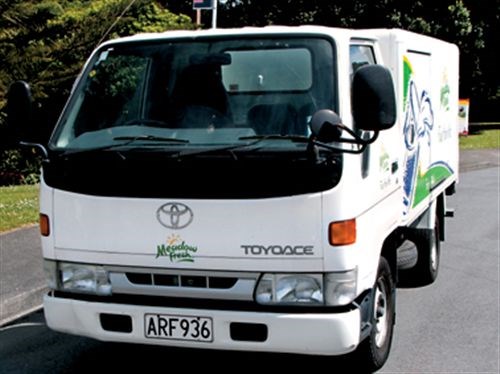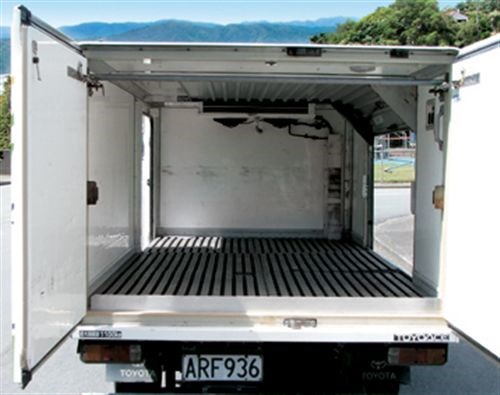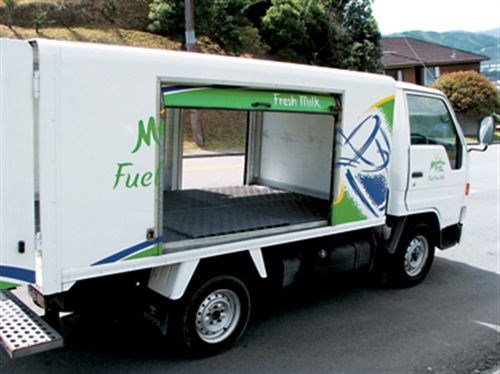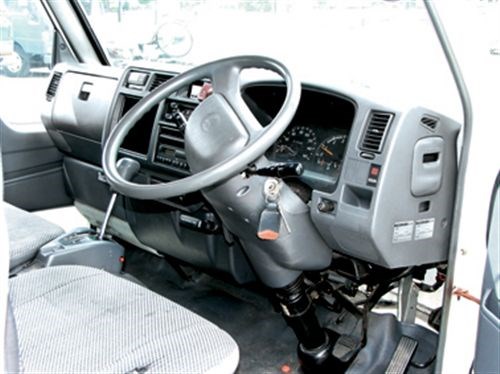 Practicality and performance from a Kiwi icon.
I have had a good look around this month at the variety of trucks that, although may not be the most impressive in size and structure, are built with practicality in mind.
I found a truck that fitted into this category perfectly – a great Kiwi icon, the milk truck!
This 1999 Toyota Toyoace KC-LY101 is classified as a NA (light vehicle-subject to a standard WOF only) class vehicle, which has been purpose-built for the transportation of small goods with the added bonus of a chiller unit that was formally used as a milk truck. This Toyota model truck arrived in the country as a Japanese import in March 2001 in Christchurch and has since made its way up to Wellington.
I took it out for a drive through the busy Petone Streets and the Korokoro Hills and was quite impressed with its performance.
To begin with, it has a 2770cc diesel engine with a gross laden weight of 2995kg and a TARE of 1100kg.
The engine is easily accessed underneath the passenger seat in the front cab by simply lifting a clip and bringing the seat up.
It is an automatic, which I was surprised about, however this makes a lot of sense with all the stopping and starting a vehicle like this may be subject to. It also has an overdrive setting or fifth gear option for longer distance cruising.
I was driving this vehicle on a very muggy day and although it took some time for the air conditioning to kick in, it did, which was a godsend. It has a standard radio fitted and surprisingly FM was available although this was as technological as it got.
The cab was a three seater with the middle seat being fairly restricted for space, while the driver's seat was adequately comfortable and provided enough head and leg space to accommodate.
The standard of the interior cab was very high and was obviously well looked after and maintained. There was some storage space in the glove box, and behind the middle seat was an area for such things as delivery documents, etc.
The steering wheel was adjustable and all indicators and headlights worked without any problems. I also noticed that from the cab I had excellent visibility both to the front and the sides. The convenience of power windows is also a great feature of these later model trucks.
This truck was fitted with a rear canopy (storage unit for small goods) which restricted visibility directly behind the vehicle, however there was a reverse signalling warning indicator that was easy to hear from some distance.
The T-bar handbrake was easy to operate and stood fast on a downward gradient of about 45 degrees, although it should be noted that testing conditions took place minus a load.
The chiller canopy unit consisted of a space of 2m in width by 3m in length and about 1.5m in height approximately. The canopy had double doors to the rear, which opened out completely. On the driver's side was a 1.5m x 1m sliding door, and on the passenger side another sliding door 1m x 1m, offering exceptionally good access. All doors were securable and the internal canopy looked to be in excellent condition with thick rubber mats fitted to the floor to maximise stability of goods.
The diesel tank was located just to the rear of the driver's door and was very easy to access as were the two spare tyres (a substitute front and rear) located under the tray on either side of the vehicle.
The tyres fitted are Dunlop 185x14 tubeless at the front and Bridgestone 235x15x13.5 at the rear, which were in average condition and will need replacing in the near future.
The suspension felt as though it was in very good working order and consisted of springs (coils) in the front and leaf sprung suspension in the rear. In fact, it was a reasonably smooth ride especially considering I was not carrying a load at the time.
This Toyoace currently has 170,561 on the clock and is paid up on its diesel mileage for another 1439km. It is also currently warranted and this doesn't expire until June 2005.
The exterior condition was very good and I couldn't locate any significant areas of rust, although considering it's a 1999 model I would be very concerned if I did.
The driving experience can be summed up by saying it was simple to operate and did everything I wanted it to. Its turning lock was very effective and I was able to quickly and efficiently complete a 180-degree turn in a lane and a half. The wheel alignment felt as if it had just been serviced and the Toyoace gained speed quickly on the flat, although I could definitely feel the weight in the back swing the rear of the vehicle out a bit (which is to be expected). The foot brake was first class and proved effective on the downward slopes of the Korokoro Hills.
This truck still has a lot of life in it yet, and would suit many different small goods industries, such as transporting milk and other liquids, flowers, fruit and vegetables, meats, dairy products, etc. It's definitely worth an enquiry.
Truck tester: John Reynolds
Words and photos: Kelly Ryan
Keep up to date in the industry by signing up to Deals on Wheels' free newsletter or liking us on Facebook.