Scania R164
---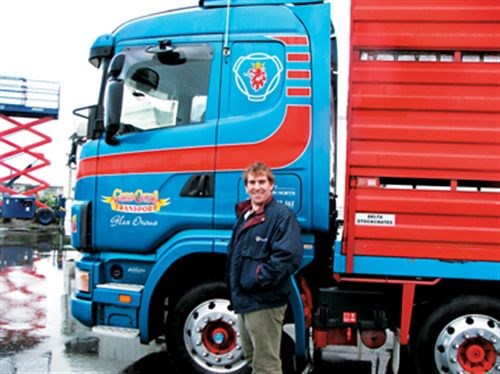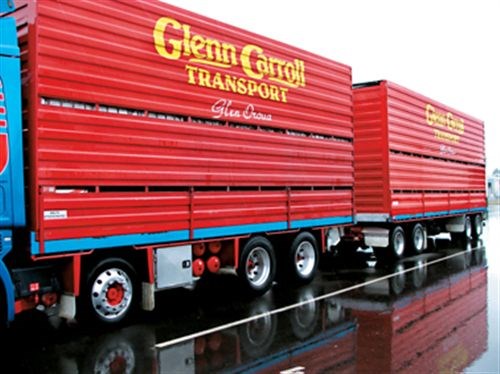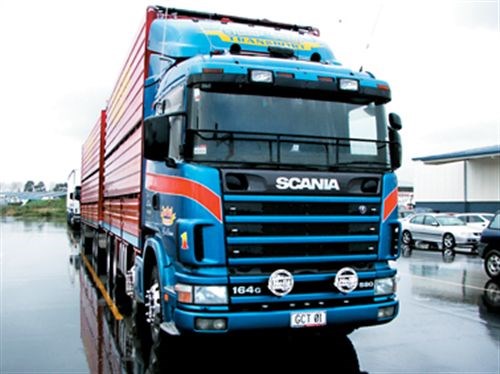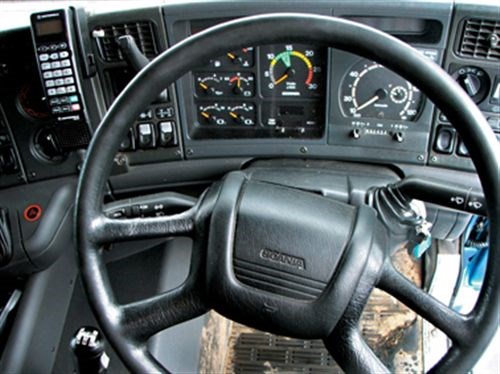 In addition to being big, sturdy and practical, the Scania R164 offers comfort when off the road, too
Glenn Carroll Transport is a specialist in livestock cartage in Palmerston North and has a variety of trucks specially designed for the job. Owner Glenn Carroll has been in the heavy transport industry for many years and knows a good thing when he sees it. He has also his new Scania R164 to be "tops" in regards to her size, sturdiness and practicality, but also a portable piece of luxury on wheels.
Scania was founded in 1891 and is now the fourth largest manufacturer in the world of trucks 16 tonne in gross weight or more (class 8). It currently distributes to more than 100 countries.
This Scania has air sprung and fully adjustable leather seats, providing the ultimate in comfort for the long haul. Added to this is the very effective air-conditioning unit, providing that all important climate control for our unpredictable weather patterns.
I also noticed that everything was well positioned around the driver's seat. From the CB radio to the air conditioning controls to the dashboard instruments, everything was at your fingertips.
A near new factory fitted Kenwood stereo system is within easy accessibility to the driver for on board entertainment, and there's also a 14in television, which provides entertainment for any down time – especially handy on long haul trips. As for the sleeper cab, it is more than adequate in length and width, and the mattress quite comfy, too.
On the road
This Scania 8x4 configuration has 14 gears to choose from, cab air defectors, an air kit, alloy wheels, monsoons, with exclusive trim and extra driving lights attached.
The 500-litre fuel tank feeds the 580hp Scania DC16 03 engine, giving it more than enough power to haul its load over the most challenging terrain balanced out with the extremely effective hydraulic braking system.
The suspension of this Scania is Spring 4x41 parabolic and, according to Glenn, has never failed to provide a smooth and comfortable ride, even when lugging a 23ft stock crate.
Attached to the rear is a 1997 four-axle 29ft TMC trailer. This trailer has monoleaf suspension with a sliding drawbar. TMC Trailers are specialists in heavy transport engineering and based out of Christchurch.
"This truck has been a pleasure to drive, it has heaps of guts with the hill climbs, even fully laden and the brakes work extremely well," Glenn says. "The comfort level of this truck is really quite something and you almost feel as though you're being driven – not the other way around.
"There's heaps of storage area and the internal night lights are really good. I have been operating this truck under the SCANPLAN contract since I bought her new, in order to keep her well maintained and at her best. She really has been an asset to the business."
This truck is currently for sale and I would recommend a look if you're in the market for a livestock carrier with real class.
By Kelly Ryan
For more information contact Gary Bree at Cable Price Trucks in Palmerston North, tel 021 529 895, or visit the Cable Price website at www.cableprice.co.nz
Thanks to Glenn Carroll and Cable Price Trucks Palmerston North.

BRIEF SPECIFICATIONS
Scania R164
Engine: 580hp Scania DC16 03
Transmission: 14 gears
Fuel tank: 500 litres
TARE weight: 13,300kg
Trailer: 1997 four-axle 29ft TMC with monoleaf suspension
Suspension: Spring 4x41 parabolic
Tyres: 275x70R
Features: cab air defectors, air kit, alloy wheels, monsoons, exclusive trim, extra driving lights
Keep up to date in the industry by signing up to Deals on Wheels' free newsletter or liking us on Facebook.