Mitsubishi Canter
---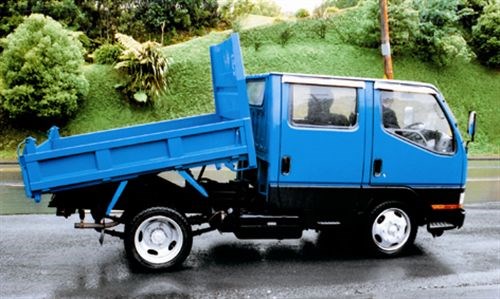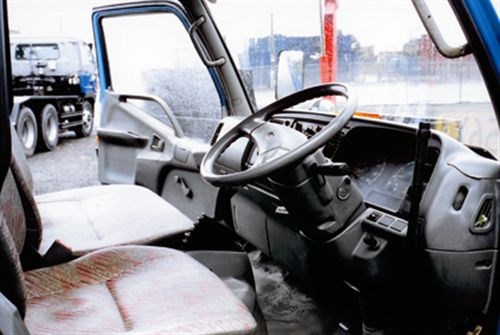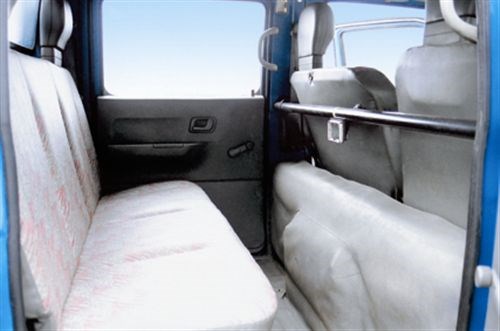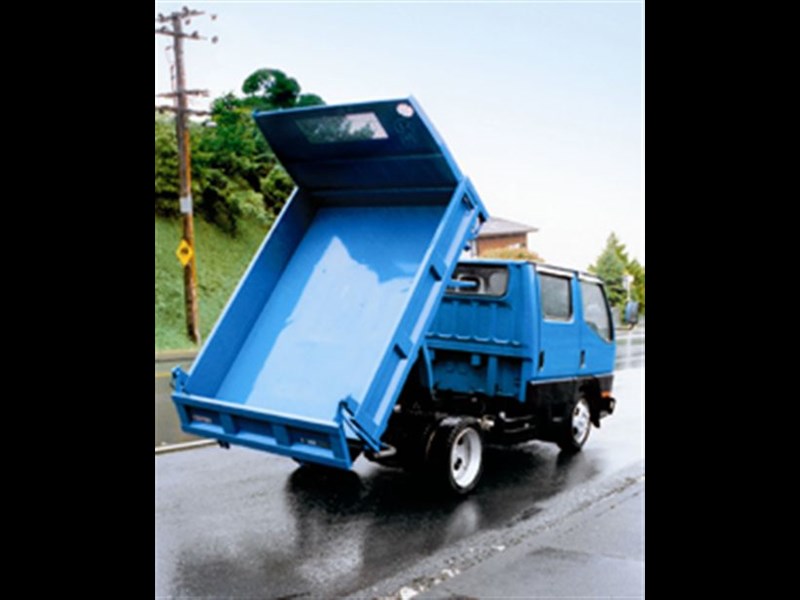 With 91,000km on the clock, the 1994 Mitsubishi Canter that we picked out to test was definitely in good condition for its age – both inside and out.
Size wise, this truck would be perfect for a small work crew with its double cab seating four comfortable and safely (with seatbelts) and five at a squeeze. The general condition of the interior was very good for its age.
The stereo was a factory fitted system which played "am" only, but I enjoy talkback radio, so that was no problem, and the speakers were in good working order.
I felt a little restricted for space in the driver's seat and at 6ft 2in, I wouldn't want to be any taller, although the seat itself was well cushioned and quite comfortable.
There was adequate leg room for the average sized person.
This model had good visibility both to the front and sides with well places mirrors.
There was no central locking, which could prove a bit of pain, and the Canter was fitted with a reminder alarm if the keys were not removed when the ignition is turned off.
I was impressed with the interior storage area. Under the rear seat was a locker that was the same width and length as the seat above it and approximately a foot deep. Perfect for ensuring tools and equipment are kept dry and secure, as well as extra space for work bags, etc.
The interior lights worked well with one main light in the front cab and two side lights in the rear cab.
This small truck had air conditioning (which I was quite surprised about as other models of this vintage and size I have driven haven't), and what was even more surprising was that it worked well.
It had a "t" bar- pull and release handbrake that held well (minus the load) on a fairly decent gradient hill. There was an oil check switch on the dash that indicated oil levels without the ignition being on.
This truck also has a 24-volt capability within the cigarette lighter connection.
The windows were all manual operation and all worked without problems.
All the cab doors have handles fitted and foot holes for easy access into the cab and disembarking.

On the road
This Canter had a standard braking system as well as an exhaust brake, which I tested (minus any load) on the Korokoro Hill in Petone. I was well impressed with both of these and it felt as though they had been well maintained. Hill starts were also no problem and the clutch felt as though it were in good working order and wouldn't need replacing for some time.
It had a standard 5 speed manual transmission, which I found to be quite chunky. What I mean by that is it wasn't overly smooth but in my experience and my opinion this is quite standard for Mitsubishi vehicles in general and has no effect on its efficiency.
The Canter has a 4.2 litre diesel engine minus a turbo but this didn't seem to hinder its capability. I found it to be a reasonably comfortable drive with an excellent steering lock enabling it to make tight turns with reasonable ease. It would be perfect for building sites or landscaping with its hydraulic tipper trailer at the rear.
The tipper is operated by a small handle next to the steering wheel for easy operation. The difference with this particular one is by increasing your revs it will quicken the speed of raising or lowering the trailer.
Once the tipper has been raised to its full extent (which puts it on an angle of approximately 65 degrees) it has a safety bar in the rear under the trailer, which will secure it in place.
I found this rear wheel drive to have impressive pick up especially on hills although it is hard to gage without a load. Speaking of loads it has a total weight capacity of 2500 kg with dual wheels at the rear. This obviously has the advantage of added weight distribution and means less ware and tare on tyres.
The tyres fitted at present, front and rear are 195/60RX17.5, which would not need to be replaced for use in New Zealand.
The suspension is sprung (not leaf) with four at front and four at the rear.
Driving this truck around the city streets of Petone I found it to be very manageable and fairly comfortable without bouncing around too much, which I would expect without a load.
This was also true for the open road when I took it through to Lower Hutt on State Highway 2. It reached 90km with reasonable ease and I experienced a high level of control throughout.
In my opinion it's a very practical and deceivingly comfortable lightweight truck, highly suited to a variety of small businesses, particularly a landscaping or a small construction company. The interior is in very good condition and all the bells and whistles worked well. I didn't notice any rust that would require urgent attention and the exterior condition was reasonably tidy.
This Mitsubishi Canter is located at Phil Wheelans Commercials at 7 Western Hutt Rd, Petone, tel (04) 568 8980. The price is on application so it's well worth a look.
BRIEF SPECIFICATIONS
Mitsubishi Canter 1994
Gross max vehicle weight: 5300kg
Gross max combination weight: 7800kg
Front axle capacity: 2500kg
Rear axle capacity: 4200kg
Gross max towed weight (unbraked trailer): 750kg
Gross laden weight: 5300kg
Factory wheelbase: 2500mm
Axle tyre capacity front: 2000kg
Axle tyre capacity rear: 3800kg
Keep up to date in the industry by signing up to Deals on Wheels' free newsletter or liking us on Facebook.