Old Mangere Bridge Replacement enters new phase of construction
---
Construction of the new bridge has entered a new phase of construction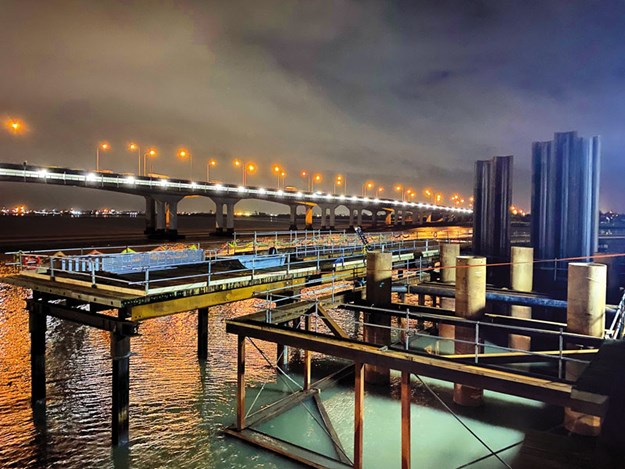 Truck drivers traversing the Mangere Bridge will have noticed the construction of the new walking, cycling, and fishing bridge across the harbour, which is entering a new phase, with Waka Kotahi NZ Transport Agency now working on the central bridge piers.
The team completed constructing the temporary staging platforms out into the harbour, alongside where the new bridge is being constructed and demolition of the old Mangere bridge is in progress.
Now the construction team is working on the cofferdams needed to construct the main structural piers of the new bridge. A total of nine cofferdams will be built: two large ones and seven smaller ones.
The cofferdams are temporary structures in the harbour that will go 10 metres down to the seabed, says Waka Kotahi senior manager project delivery Andrew Thackwray. "A cofferdam is a watertight box made from joined-up steel plates or 'sheet piles', so seawater​​ can be pumped out to create a dry and safe work environment. The cofferdam also protects the surrounding environment from the effects of construction."  
The two large cofferdams, 25 x 12.5 metres, are where the team will build the two main bridge piers that will support the feature arch span which weighs more than 400 tonnes. All of the cofferdams, including the seven smaller ones, 13.5 metres wide and 6.5 metres long, will be built from steel plates or 'sheet piles' made to order for this project.
The steel plates, weighing a total of 550 tonnes, arrived by sea in Auckland in the first week of COVID-19 Alert Level 4 when all non-essential construction sites were shut down. They took up a lot of space on the wharf and a request was made to move them to make room for unloading essential goods.
"We are working with McConnell Dowell to see where we can make up the lost time. We want to restore the vital walking, cycling, and fishing connection to the Mangere Bridge and Onehunga communities as quickly as possible."
As well as connecting to Auckland's wider cycling network, the new bridge will provide increased clearance underneath and space between the piers for waka, canoes, and small watercrafts to travel into the Mangere Inlet.​  
Find heavy machinery for sale in NZ
Keep up to date in the industry by signing up to Deals on Wheels' free newsletter or liking us on Facebook.