Peterbilt's all-electric Model 579 day cab tractor unit
---
Peterbilt's commitment to alternative energy solutions was showcased at the recent Advanced Clean Transportation Expo held in California
An all-electric Model 579 day cab tractor was scheduled to go into service at the Port of Long Beach after the show. It is one of the 12 tractors built by Peterbilt in collaboration with Transpower, the California Air Resources Board, and the Port of Long Beach.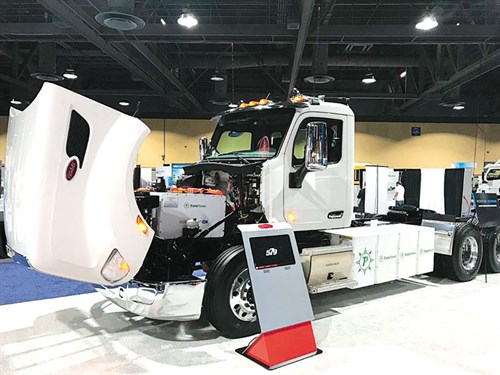 Peterbilt says the all-electric Model 579 produces up to 490hp, has up to a 200-mile range (approx. 321km), recharges in less than five hours, and has a battery storage capacity of 350–440kWH.
"These demonstrator vehicles will be used to test the performance of an all-electric powertrain in a real-world environment," Scott Newhouse, chief engineer, Peterbilt Motors Company says.
"Electrification is not a new concept to our industry. However, the advances made in battery and electric technology can make this a real possibility moving forward. I am confident that when the market is ready, Peterbilt will have the most effective powertrain solution."
Funding for the tractors was provided, in part, by the California Climate Investments (CCI)—the state's climate change-fighting, cap-and-trade programme. The award is part of California Climate Investments, a statewide programme that puts billions of cap-and-trade dollars to work to reduce greenhouse gas emissions, strengthen the economy, and improve public health and the environment.
The programme also creates a financial incentive for industries to invest in clean technologies and develop innovative ways to reduce pollution.
Keep up to date in the industry by signing up to Deals on Wheels' free newsletter or liking us on Facebook.