Bafe Bakery wins Deals on Wheels Best Eatery on the Road competition
---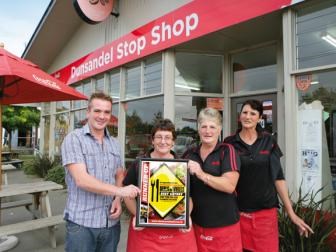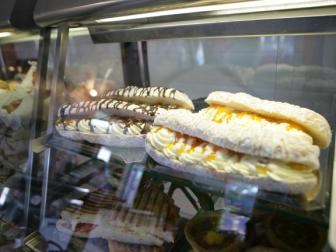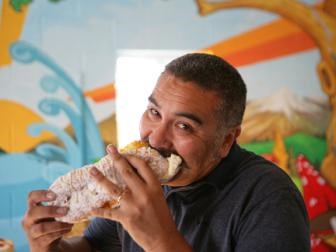 For the second consecutive year, husband and wife team Chris and Judy Paama have taken out the top spot in the nationwide Deals on Wheels Best Eatery on the Road competition.
Located in Lumsden, about halfway between Queenstown and Invercargill, the owners of Bafe Bakery told me since their first win last year, and thanks to the exposure in Deals on Wheels magazine, their bakery has seen a noticeable increase in business. This was good to hear as it was one of the goals for us here at DOW HQ, when setting up the competition a couple of years back.
Chris says their famous doughnuts are high on the list of many food-deprived road warriors stopping in for a hunger fix. With that, I was pointed in the direction of the latest creation from the Bafe team - extra-large doughnuts aptly named Man-Nuts by some wag when they were first introduced. Of course, being a Deals on Wheels tester, I thought it appropriate I also 'test' one of the oversized doughnuts on offer.
Like all the food at the Bafe Bakery, these cream-filled stomach stretchers are made on the premises and like alcohol, I'm sure are fine to consume in restricted quantities. My verdict? They are bloody amazing - Ed.
Dunsandel Stop Shop - runner up
This year's runner-up was the Dunsandel Stop Shop, located on SH1, approximately 40 kilometres south of central Christchurch and owned by 28-year-old Ben Batchelor.
On the day I visited, the eatery saw a constant stream of truckies and mere mortals stopping in for a hunger fix. Originally from Hamner, Batchelor purchased the business six-and-a-half years ago and, with the assistance of his long-term staff, has built the establishment up to where it is today.
Batchelor tells me they constantly work on improving the menu and cater for all stomach types, including recently introducing home-made salads. With winter just around the corner, soups will also be making their regular comeback soon. For those with more red-meat-styled taste buds, the Dunsandel Stop Shop is well known for their sausages (selling up to 100kg a week) and their cheese rolls, with over 100 of them running out the door daily.
Also available are burgers and full cooked meals at prices that make me want to weep when comparing them to my Jafa-land rates. The rugrats are catered for as well with a children's menu that should keep them quiet for at least a hundred kilometres along the road.
The eatery is open seven days a week, and opens at 5am during weekdays to feed the early starters - Ed.
Top 10 eateries as voted by you
Bafe Bakery - Lumsden
Dunsandel Stop Shop - Dunsandel
Gumboot Manor - Taihape
Rangitaiki Tavern - Taupo
Wheels Roadhouse - Te Kuiti
Matamau Diner - Dannevirke
Garden Café - Patetonga
Artisan Bakery - Rangiora
Rivers Café - Murchison
Broadway Tearooms - Reefton
For the latest reviews, subscribe to our Deals On Wheels magazine here .
Keep up to date in the industry by signing up to Deals on Wheels' free newsletter or liking us on Facebook.