Scania Bronto
---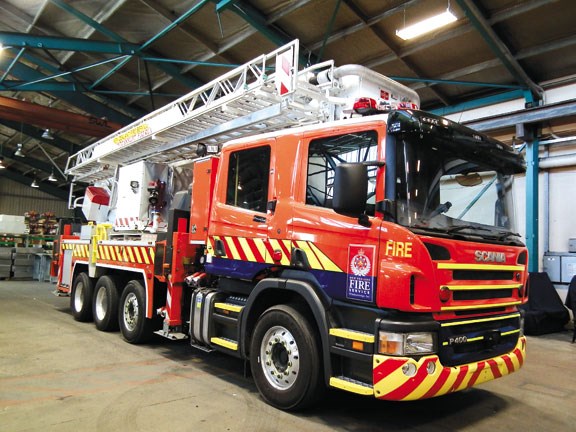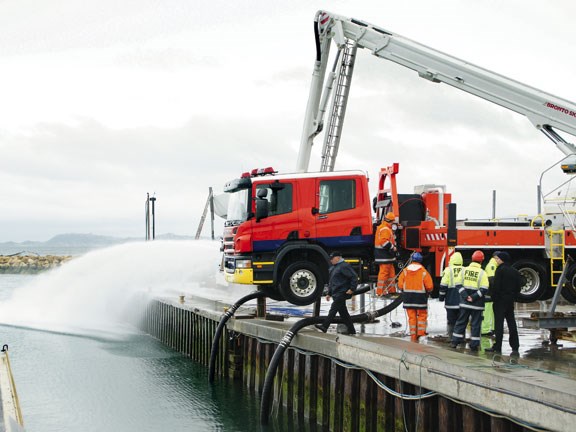 There'll be a new adaptation of Bronto on the Auckland streets soon – City Station's latest long-neck firefighting platform, with the utalitarian label, Type 6.
The Finnish-origin Type 6, is currently in Wellington for adjustments from its European specification to NZTA requirements. The New Zealand Fire Service already has several Type 5 Brontos', but the 6 will be a rare sub-species: the only one planned for the NZFS national fleet from the ground up. Auckland's Type 6 replaces the also one-of-a-kind Mack (Baker) Aerialscope, that has been in service in Auckland for over 30 years.
The Type 6 stretches to 32-metres and, while rated to deliver 5700-litres of water a minute through high volume nozzles at the top of the extension, tests on the truck have got that figure up to 6100-litres-per-minute. It can also supply four ground-laid hoses.
Based in Finland and now in operation for over 50 years, Bronto Skylift produces two categories of hydraulic platforms; rescue and firefighting platforms, as well as access platforms. Over the past five decades, Bronto Skylift has produced more than 5500 units which have been sold to more than 120 countries.
Bronto Skylift is a subsidiary of the publicly listed Federal Signal Corporation (founded in 1901), and is headquartered in Oak Brook, Illinois, USA.
The parent company's products include safety and security systems, vacuum loader vehicles, street sweepers, truck mounted aerial platforms, water-blasters, and technology and solutions for intelligent transportation systems.
According to the annual report, in 2011 the Fire Rescue Group (under which Bronto Skylift sits) experienced sales of a USD109.5 million, which was a slight increase in sales for Bronto units compared to the previous year. The backlog of orders as at the end of 2011 was worth USD80 million compared to the USD57 million order book showing the year before.
Feel free to make a comment or ask us a question about this story on the Deals On Wheels
page.
For the latest reviews, subscribe to our Deals On Wheels magazine here.
Keep up to date in the industry by signing up to Deals on Wheels' free newsletter or liking us on Facebook.