NZ's largest truck stop in the making
---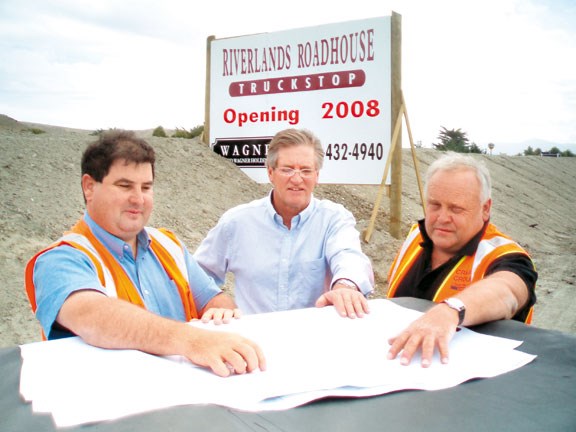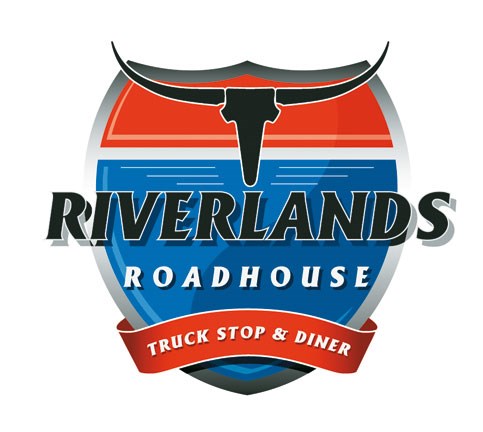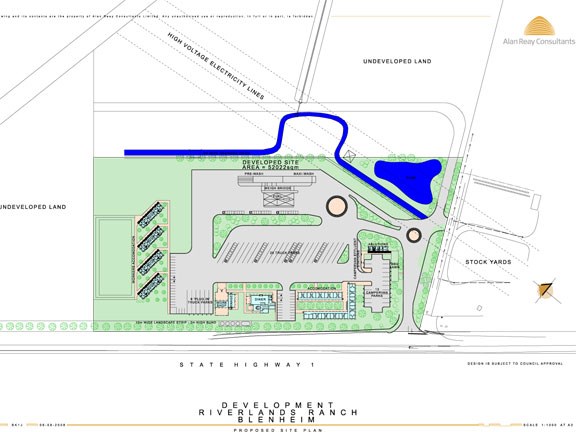 Riverhead Roadhouse set to offer fantastic facilities to truckies
Truck stop developer David (Bill) Wagner would be hard-pressed to find a more strategic location for his Riverlands Roadhouse project.
Located just out of Blenheim, the combined truck stop, service centre and accommodation centre will be the biggest in the country.
And it will be the best situated. In either direction there is potentially more than a day's driving for a large number of truckies. Long distance haulage doesn't come much longer in New Zealand when inter-island travel is involved.
Picton and the Cook Strait Ferry are just over half an hour's drive to the north of Riverlands. Crossing the Strait itself takes several hours and when you add in the waiting time, that's a big bite out of the day. On the other hand, head south and there's hours of driving to reach any of the South Island's major centres. 
On completion, the Riverlands Roadhouse will be more than a stop along State Highway 1 to refuel truck and driver. Initially there will be space to park 50 big-rigs on sealed parking and accommodation for drivers.
Other facilities are on the drawing board, too, but rain has hampered progress. It is perhaps an irony that in an area known for summer droughts, it's too much water that has been causing the delays.
When I suggested to Wagner that I would come over and see progress, he said there would be only a lake (of rainwater) to photograph.
"The ground in Blenheim is seriously saturated," he says. "As the bulk of our initial work involves moving large amounts of soil, our contractors have advised us to hold off further works until later in October."
This will probably put the opening back to the other side of Christmas. There had been hopes of opening this year.
"We are now looking to late February – barring any further delays," he reckons.
The drivers' needs are being anticipated in many different ways. Power points will be included on some of the parking spaces to service refrigerated loads. There is room to add more parking spaces should this not be enough. Locked storage is also a possibility.
Livestock can be catered for too. "The sale yards are next door and we also intend to provide overnight corral facilities for horses," Wagner says.
The whole complex will be well-lit at night and have full security camera coverage.
There will also be a Caltex diesel shop, a Toltec weigh bridge and Washtec drive-through truck wash, with a number of options to cater for different sized rigs.
Drivers who wish to sleep in their rigs will be able to use toilets and showers, cook a meal, use the internet or watch tv without the need to leave the parking compound.
However, for those not wishing to sleep on board, beds are available in the specially- designed motel suite. The motel will have designer dormitories for the drivers. Each dormitory will have twin rooms, and a kitchen and bathroom.
Recognising that trucks need to come and go at any time around the clock, the developers will hire out the rooms by the hour.
Next-door to the parking lot will be a country-style restaurant/diner complete with a log fire and horseshoe-shaped coffee bar.
There will even be an opportunity for drivers to stretch their legs and get some exercise. Part of the four-hectare facility will be left as a reserve where drivers can kick a football around.
Wagner is not the first developer who had the idea of building a truck stop on the outskirts of Blenheim. But he looks like being the first to bring the project into being – albeit at a cost of $6 million.
He acquired land situated between the Wairau Plain and Awatere Valley from local owners. The vendors had had plans to build a motel on the site. Wagner went outside the square to visualise a multi-purpose stopping place.
"Planning has taken a year, with some intense design work and redesign work to fit all the pieces together. It involved everyone from Transit to the Marlborough District Council."
Transit will assist by providing designated on and off lanes into the truck stop.
Wagner says the project has been well received by the locals as well. "Everyone has been greatly supportive as all seem to see an urgent need for the facility," he says.
But it won't be there just for the use of the transport industry. Knowing the region to be a magnet for itinerant seasonal workers, Wagner plans to include accommodation for farm workers.
It would be right on the spot for vineyard workers on nearby properties. Units for farm workers could be ready by the end of 2009, depending on demand.
Wine industry groups are keen on the idea, he says.
Others who could well find this a good spot to service and park their vehicles overnight are campervan drivers. There has already been a degree of interest coming from that quarter, Wagner says.
While the work to get Riverlands Roadhouse has taken longer than expected, Wagner hopes that "it will all come together at once. However, our priority is to get the truck park and facilities, ie. fuel station, weighbridge and truck wash, up and running first."
David Wagner Holdings Ltd is perhaps better known as developers of buildings, including warehousing projects. But they have 20 years' experience in putting projects together and distribution centres are also closely aligned to the haulage business.
Riverlands Roadhouse will initially operate as an independent 24-hours-a-day business. "It will be leased to an operator once we are up and running."
The project is being put together under the direction of Connell Wagner while Crafar Crouch handles construction.
For more information on Riverlands Roadhouse, phone David Wagner on 0274 324 940.
Keep up to date in the industry by signing up to Deals on Wheels' free newsletter or liking us on Facebook.