Restoration project: FGK Morris Restoration Part 23
---
Deals on Wheels writer Lyndsay Whittle on his latest progress with the FGK Morris restoration
For a while, I thought I might have to be a little economical with the truth in order to get this month's story to print and to hide under the excuse that all the work was going on under the truck and not on top of it.
Luckily, however, things have fallen into place and I've managed to cobble together a fair amount of progress on several fronts, including 'all that work' that's been going on to fix the towing rig to the rest of the body.
Restoration buddies
Andy tells me that his restoration buddy Chris has been on holiday for the past few weeks so not too much has been happening in their workshop other than some mechanical work carried out on the head by Andy's brother.
I had a call the other day from Cam who has kindly offered me some doors and other sundry items that he won't be needing for his restoration due to the fact that a lot of the original FG K cab parts were never used when the ice cream van bodies were built on the BMC (British Motor Corporation) chassis.
It gladdens me more than I can tell you to know that I'm not the only person out there who wants to bring these funny-looking old trucks back to life, plus, I usually wind up with a few more spare parts as I go along.
I've also had a call from Dion of Tapanui, who has an original fuel tank in good condition that I can pick up the next time I'm down that way. Thanks, Dion.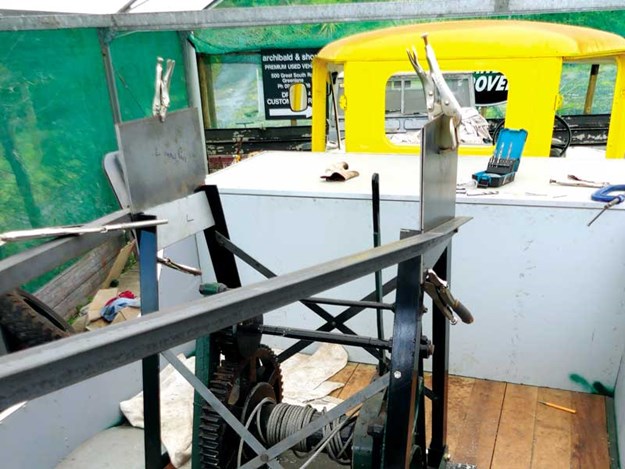 One of the real joys of being privileged enough to be able to write about my restorations is the friendships that are forged along the way and the information that has come out of the e-mail exchanges that have taken place.
For instance, Cam requires some parts to make a flap that sits on the grille to cover the radiator filler cap and he wants to fit a passenger's seat to his van (a feature that never appeared in the original versions).
Now I have enough parts to make up one-and-a-half radiator cap flaps, and with a bit of tweaking, I reckon I can make up an original-looking left seat to go in Cam's van, although, he'll have to organise the upholstery work at his end.
Cam has sent me some photos of the bits and pieces he has left over, so a mutually beneficial outcome should result from the exchange. Hopefully, I'll be able to make a trip to Hamilton in the next few weeks, so I should be able to report on the outcome in next month's story.
The progress so far
In the past I've cheekily blamed my glass guy Jeremy for the lack of progress in this area, but now I have Jeremy phoning me on a weekly basis asking me when I'm going to get enough paint on the cab so he can get stuck in on his part of the bargain.
Writing that last short paragraph prompted me to stop procrastinating and commit to getting that part of the job done, and now I have a definitive booking for 26 September for Jeremy to fit the front and rear screens along with the two corner windows that sit in front of the left and right footwells.
The upper quarterlight windows will have to wait, however, as I'll need to manufacture metal frames before Jeremy can fit the glass.While Jeremy will be fitting the glass, I won't be present, as I'll be boarding a plane on that day for a well-deserved two-week break.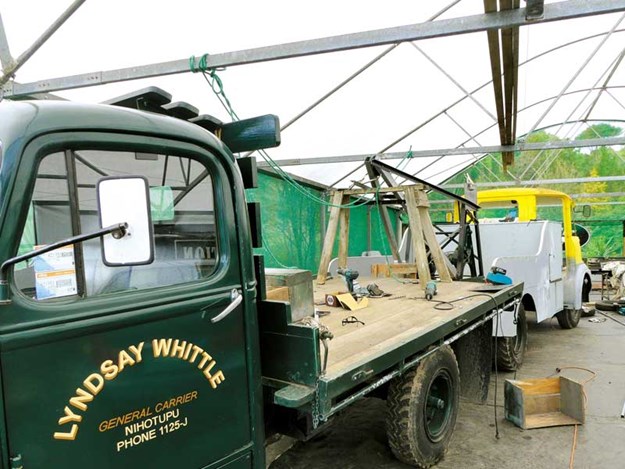 For clarification, it's my long-suffering wife Christine who is deserving of the break, not me. I just wanted to make that perfectly clear. Getting back to the towing rig, I've secured it to the bodywork in a way that allows the entire body to be removed with the rig in place should that be necessary.
Nobody knows for sure at this stage if the rig will ever get any sort of certification for lifting anything, even though the 8mm cable I'll be using is rated to 750kg.
The fact of the matter is that the lifting capability of the rig will be limited to the strength of the person winding the handle and given that that person will be me, along with the fact that the winch isn't geared down, I doubt if the thing will ever lift more than an empty wheelbarrow in any case.
Only time will tell, and I guess that time will be in about three or four months during the VIN process, but the long and short of it is that I'm only carrying out this project as something to take to shows and parades anyway. My back-up plan is that if I can't find an engineer who'll certify it, even for say a couple of hundred kilogrammes, I'll see if fitting a permanent 'For display purposes only' tag will suffice.
If that fails I'll simply remove the body (a half-hour job) and fit a flat deck for road use and transport the truck to events when I want to display it as a tow wagon. I'm easy either way, as the entire project for me has been about manufacturing something that has visual appeal, kind of like a piece of art—only one that moves about.
As I say, we'll all know the results of the final outcome in a few months.On other fronts, I'm slowly filling in all the holes in the bodywork now that I have the cabinet doors fitted and have just one more door to go to gain access to the battery box.
The inside of the tool cabinet is finally painted two-tone with provision for a rack to go in when I'm carrying out the final fit-out.
Other jobs soon to come are to dismantle the crane, paint the components, and refit the lot to the truck; making those quarterlight frames; and working on the cab doors. 
Tip of the month:
Think outside the box before you're inside it
Coming up...
Fitting the glass—finally
Keep up to date in the industry by signing up to Deals on Wheels' free newsletter or liking us on Facebook.