FGK Morris Restoration—Part 21
---
In his latest FGK restoration update, Lyndsay Whittle speaks to other truck restorers in New Zealand
In last month's installment, I spoke of the kind people who often come forward with offers of various useful bits and pieces to help with my restorations and June 2018 was no exception to the rule.
Terry Jenkins, a friend of my mate Barry Birchall, had read one of my previous stories where I'd told of how Barry had come across an original sales brochure for the FG K Series Morris and kindly bought it for me.
Evidently, Terry had once owned an FG K60, which he used on a milk run in days gone by, and while the truck had died many years ago, he still had a workshop manual that he gave to Barry to pass on to me.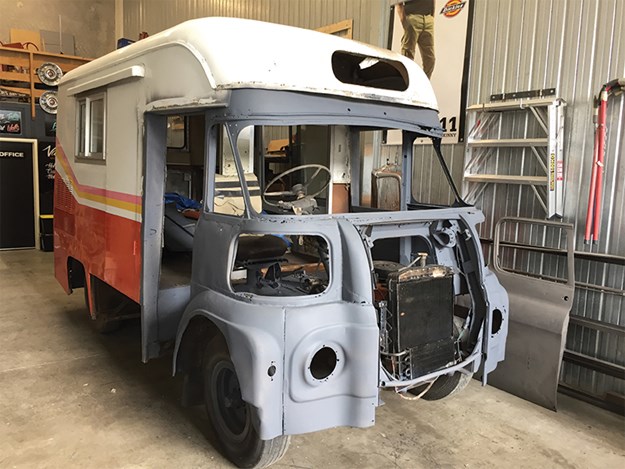 Naturally, I phoned Terry to thank him for his kind donation and the conversation drifted far from the original purpose of my phone call. While chatting to me, Terry remembered he had a few spare parts for the truck stashed away in one of his sheds, which he said he would be happy to give to me.
One such part is the indicator/light/horn switch cluster that I'm sure I'll be able to make good use of, given that I had to rob the cluster from what is currently my donor truck, as the one that came with the current restoration truck wasn't completely operational.
Shared interests
When I first embarked on this project, I thought I'd probably be the only living soul (in New Zealand anyway) who'd be remotely interested in restoring one of these funny old trucks to its former glory. How wrong could I have been!
It appears that every time the latest issue of DOW hits the stands, someone sallies forth with new information about FGK Morris or Austin trucks, ranging from "My dad had one of those" to "I've got some spare parts I'd like to give you".
I even had a call a year or so ago from Andy Armstrong in the South Island, who, along with his mate Chris, had been given one in unbelievably good condition. Lucky buggers.
That story, along with a photo of Andy and his truck appears in the August/September Issue 289, so grab hold of a copy if you can or search for the article
online on dealsonwheels.co.nz. I'll also include a snippet in next month's story as
a bit of a reminder.
Furthermore, just to show I'm not the only one in the country who's completely nuts, I recently received a call from Cam Farmilo from Hamilton about his FG K30.
Before I delve into more details, let me put the records straight on this one. Cam has a more legitimate reason than I do to have an FG K30 in his possession, as his one will be used for business purposes.
I wrote an article on Mr. Whippy vans for DOW long before I'd ever thought of owning an FG K30 of my own.
In it, I recalled how Soft Serve Products in Melrose Street, Newmarket, owned a fleet of these relatively underpowered (even for their day) four-cylinder variants but which were perfectly okay for use as ice cream vans.
Well lo and behold! Cameron is getting a Mr. Whippy van rebuilt by Wade from VBS Auto Body Shop in Hamilton, which will be used as a promotional vehicle for his Hamilton East-based business, Duck Island Ice Cream.
Cam says that it was in a "pretty bad shape" when he took ownership of the vehicle but judging from the progress photos he's sent me, I'd suggest that when the job is completed, it's going to be almost better than new.
Back to the restoration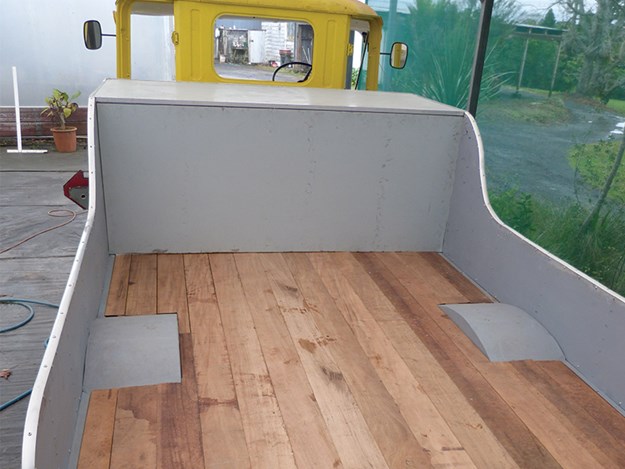 On the home front, I've busied myself, as promised, with getting the hardwood deck fitted to the truck—a job that I'm happy to report is now complete.
I've even made up the rear sheet metal panel and routed it into the timber on the back end, with the next step being to cut the recesses that the tail lights, indicators, and number plate will fit into.
When I've finished that, the next job is going to be to rout a 900mm x 800mm x 3mm steel plate to sit flush into the hardwood deck.
I'll mount the hand winch and towing rig on top of that and secure it to the undercarriage of the deck by means of a concept that is still only in my head and will perhaps be best described by taking a photo of the finished product. More on that in the coming weeks.
It's obvious that the majority of my efforts this month have been focussed around the rear portion of the restoration, as it will be patently obvious to all who are following this saga that precious little has been done to the cab.
I'm going to apologise right now for my lack of living up to my word on fitting the glass to the truck, as hitherto, I've apportioned a certain amount of the 'blame' for lack of performance in this area on my old mate Jeremy from Bespoke Auto Glass.
Not so this month I'm afraid, as it was my agreed responsibility to call Jeremy when he got back from his holiday to tell him when I had the rest of the cab painted, but to date, that hasn't taken place.
I know everyone is probably fed up with hearing my feeble excuses for not having the painting finished, but it's been cold and wet, hasn't it?
A bit of borax has been poked my way over recent weeks as the toolbox/storage area behind the cab has been slowly taking shape.
The light-hearted humour isn't because of my workmanship or lack thereof, but because of alternative options being offered up as to potential uses for the space other than to store tools in.
When some wiseacre asked me if I was going to put some insulation in place before I fitted
the plywood lining, my first question was "why would I bother doing that?", the stark retort was "well, you'll be able to pack your sleeping bag and mattress and live in there
if you get kicked out of home".
I've really no idea what prompted that comment. People can be quite hurtful at times.
In the meantime, I'd better stop prattling on and get stuck into some more work before next month's deadline rolls around.
Coming up...
No promises but maybe some glass in August? Here's hoping anyway.
Tip of the month:
Learn not to be too sensitive
Keep up to date in the industry by signing up to Deals on Wheels' free newsletter or liking us on Facebook.