FGK Morris Restoration—Part 17
---
As winter looms, Lyndsay deals with some setbacks before beginning work on the front end of the cab
I had a little chuckle to myself as I re-read my comments from last month's restoration story where I was complaining about not getting much work done because my wife keeps taking me away on holidays all the time.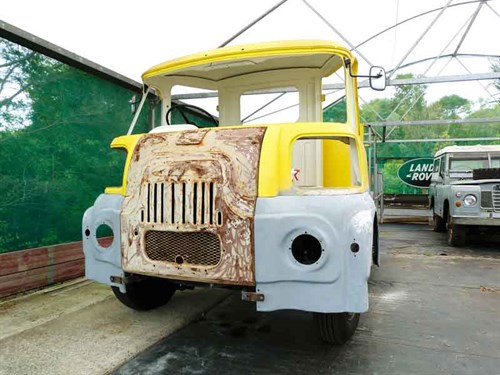 Had I have been able to see into the future, I reckon I would've had a good reason to be pleased to be taken away from my restoration work by taking such pleasurable breaks. Let me explain.
I was a bit worried that I wasn't going to be able to report much progress for this month's issue, as we'd had a few setbacks to the schedule, with Jeremy the auto glass man being off work for a few weeks due to an operation to his hand, to name just one.
Furthermore, I'd recently picked up some extra work for my Mitsubishi transporter, along with the fact that I needed to get some renovation work on my house completed before winter sets in.
With all these diversions looming, I'd put in some extra hours prepping by pre-fitting the front wings in order to hopefully show some meaningful progress when the deadline for this month's issue reared its head.
A few days into March I'd scheduled in some time where I was going to leave the truck alone for a week and go and attend to the work on my house.
The first job I had on my list was to sand and paint the front deck of my pole house, and as it's between three and five metres above the ground, I always pay strict attention to safety, especially as I'm mostly working by myself.
Suffice to say, I'm always mindful of the fact that I can't afford to spend any time in the hospital due to any avoidable mishaps. By now, you may be wondering where this is leading.
The long and short of it is that I did actually wind up in hospital by the end of the evening of the first day of work on the house, but it wasn't because of any kind of accident.
It was getting dark, so I decided to jack it in for the day and eat dinner, fully expecting to be back on the job bright and early the next morning.
However, by about 10pm, I was complaining of stomach pains, and by midnight, I was admitted to the hospital with the worst pains I think I've ever had in my life. Fast-forward a couple of weeks and I'm now back at my computer writing the story you're now reading, recovering from surgery to a repair a twisted bowel.
I think I have a twofold reason for going into this at length, the most obvious of which is to make some feeble excuse for not being further along with the restoration than I should've been at this point in time.
The more obscure reason is the fact that all of us make assumptions that we're going to deliver the goods, never paying any mind to the fact that some rotten bugger can throw a spanner in the works at any given moment.
The big lesson that I've learned from all of this is the fact that this old body that's hardly ever let me down for more than a few days over the course of the past 67 odd years probably needs to be treated with a bit more care and respect.
I reckon I've done myself proud there, with the most protracted excuse I've been able to come up with for inaction throughout this series.
Getting on with the restoration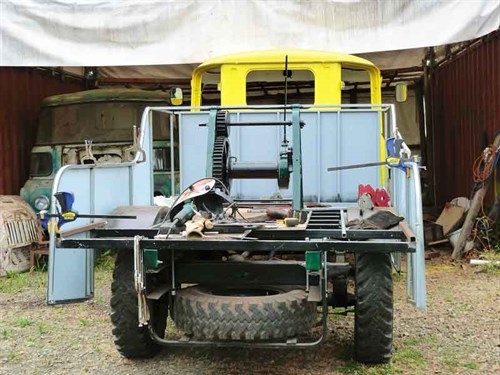 Back in the workshop, that extra work I put inprior to my hospital stay has kept the project idling away and has been focussed mostly on the front end of the cab, although there was a little bit of work I'd carried out inside the cab in the early stages of the restoration that I shamefully had to redo.
I say shamefully, as when I started on the cab work nearly a year ago, I was an almost total novice as far as bodywork was concerned, even though I considered myself to be reasonably proficient from a mechanical point of view.
The panel work I'm talking about is the part of the cab where the wings connect to the cab.
At first glance a year ago, aside from one portion about 150mm long that I'd had to cut out and replace, the joints appeared to only need a light sand before applying a coat of rust preventer and a couple of coats of paint.
I'm still not sure whether it's because my standards of workmanship have become more pedantic over the past 12 months or if I simply didn't know enough back then that has caused me to redo this part of the job, but in any event, we're going to end up with a more superior and long-lasting finish in this area.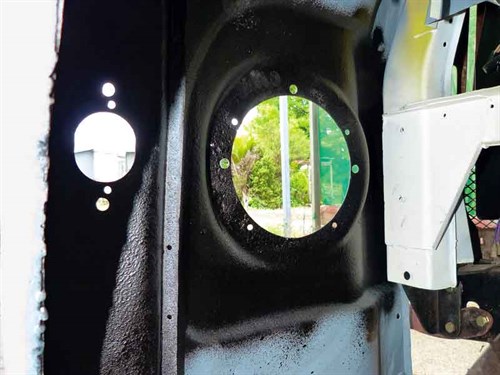 For the most part, for any cab panel work that needed paint and rust stripping, I've taken a long-winded way with stripping discs and our gravity-feed bead blaster. However, upon taking a look at all the nooks and crannies in the grille, I made the call to take this to my friends at Kwik Strip who acid dipped it and provided a protective etch.
This was well worth the 120 bucks it cost and has provided a protective coating to keep it rust-free during the time I've been laid up. One of the next jobs on my list is to attend to the doors, which could well do with a trip to Kwik Strip as well.
However, since the window rubbers and the parts of the doors surrounding them are almost like new and would be a devil of things to take out and refit again anyway, I think we'll have to resort to good old elbow grease again.
A small project I'd just started prior to becoming unwell is the rectangular panel that sits under the grille and will eventually fit itself behind the bumper.
The panel was so badly twisted and bent that it was almost unrecognisable but is now starting to take shape. More about that next month. 
Tip of the month:
Expect the unexpected
Coming up...
No promises this month. I'll have to work to my physical capabilities I'm afraid.
Keep up to date in the industry by signing up to Deals on Wheels' free newsletter or liking us on Facebook.