Cover story: Ward Group
---
The impressive truck fleet at Ward Group helps make the company as successful as it is. Deals on Wheels takes a look around their Penrose yard.
Peter Ward is understandably proud of his truck fleet. With a focus on efficiency in terms of both performance and the role each truck plays, the modern Ward Group fleet is the result of a determined effort over the last five years to modernise, to work smarter, and to present a more dynamic public persona.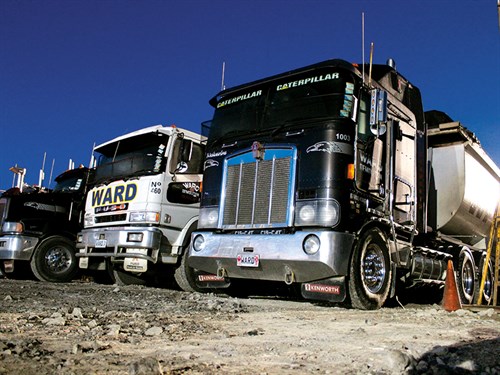 With deconstruction, salvage, and environmental work always a lot more complex than the general public often realise, Peter says he needed his road fleet to be similarly ambidextrous.
"We've taken things to another level with our trucks now," he says.
"We've got a uniform fleet of smart-looking, heavy-duty trucks, along with lighter trucks, too. At the end of the day, we've got a bunch of flagships out there helping to represent the Ward Group.
"But the trucks need to fulfil a variety of tasks for us. You can split the fleet into the bigger Kenworths and the medium-scale Mitsubishi Fusos, but within those groups, we have trucks that can haul material as well as shift machinery. And that could be from one end of the town to the other or to the other end of the North Island, and they'll look damn good doing it, too.
"I love seeing the boys heading down the road in the big T401s and K104s; they look absolutely mint and that makes me proud of what we're achieving."
The Ward Group fleet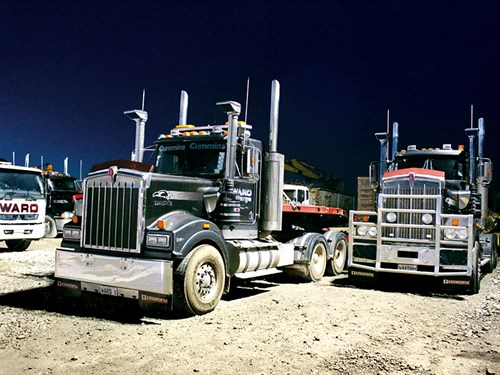 The Ward Group fleet now numbers 22 trucks based out of their busy Penrose yard with other trucks located in Te Kauwhata, Wellington, and further afield.
With distinctive liveries and an almost complete split between Kenworth and Mitsubishi Fuso hardware (a sole Freightliner Argosy SSB will be replaced with another Kenworth K108E in a few weeks), Peter says the decisions he and his team have made around their road fleet are reflective of the maturity of the group of companies as a whole.
"Five years ago, the business was all about the numbers. But we've been around for a quarter of a century now and we've completed plenty of work we are immensely proud of over that time. So, part of the fleet planning comes down to recognising that," Peter says.
"Sharp-looking trucks attract good drivers that want to look after their vehicle. We're a very serious, very professional entity. And our road transport needs to reflect that attitude.
"We're also working smarter these days, which means looking at our tare weights, trailer lengths, and diesel burn. We're not just chasing a particular brand because it's all about the badge on the bonnet. We want trucks that do the hard yards and are reliable and fulfil these goals for us."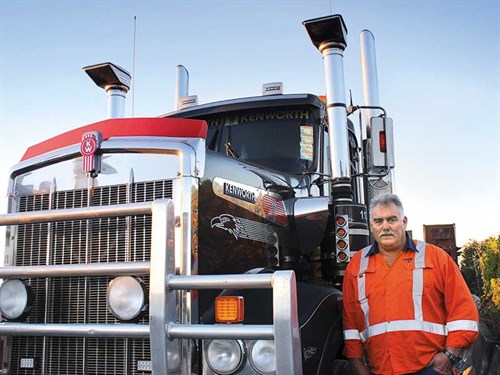 Ward Group transport manager, Tony Johnson, has a firm eye on the practicalities of a solidly-performing fleet, too. While the big black and silver Kenworths hog the spotlight, the company's fleet of medium-sized Mitsubishi Fuso six-wheelers are just as vital in his mind.
"They're basically like big white wheelbarrows when you boil it down," he says. "But they're so versatile with it. The 401s are absolute weapons. I suppose my heart would go to Kenworth for our medium truck range, too, if they had such a model. But we've utilised Mitsubishi Fuso for a number of years now, and they've performed well."
New additions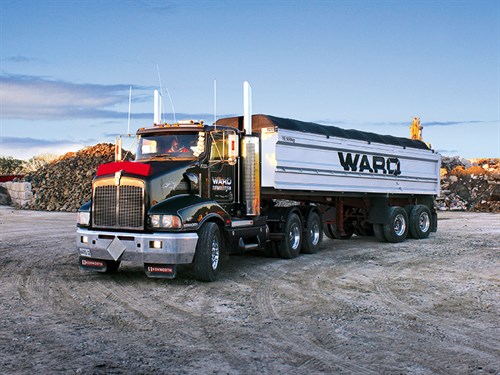 The company has an H-stickered Kenworth T409 arriving soon, and a new four-rows-of-eight transporter trailer will join another one that was recently added to the fleet. With some seriously large excavators on the Ward Group machine fleet, Tony says he's unapologetic about doubling down on the structural integrity of the trailers.
"They need to last the lifetime of our gear. Just because there isn't an engine in it, doesn't mean it isn't a valued piece of machinery for us," he says.
Peter Ward also mentions health and safety as a big driver of decisions around ensuring the company's machine fleet is fit for purpose; decisions around the road fleet are no different.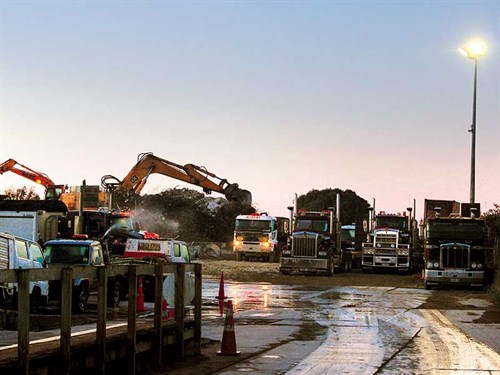 "We've gone for automatic transmissions in most of our trucks now, for example. We were doing replacement clutches all the time because of the sort of work we are doing in confined urban environments—getting in and out of tight access gates and that sort of thing—it's hard on clutches. But manual gearboxes can also contribute to fatigue, so going for automatic gearboxes simplifies things a bit for our guys.
"Look, I'll be honest. There was a bit of reluctance at first among the guys. But now when you talk to them, they didn't realise these transmissions are so good."
"You know what I like?" asks Peter by way of conclusion.
"I like the fact that, out on the road, you never see a bunch of our trucks all in the same place at the same time. But you still notice them all the same.
"To me, that means we've got a fleet that really stands out. But it's a busy fleet; we've done some great work, but we're continuing to achieve more and more every day. And we're using our trucks all over the place, in every aspect of the company, to get the work done."
Keep up to date in the industry by signing up to Deals on Wheels' free newsletter or liking us on Facebook.