Going green: the Composting NZ story
---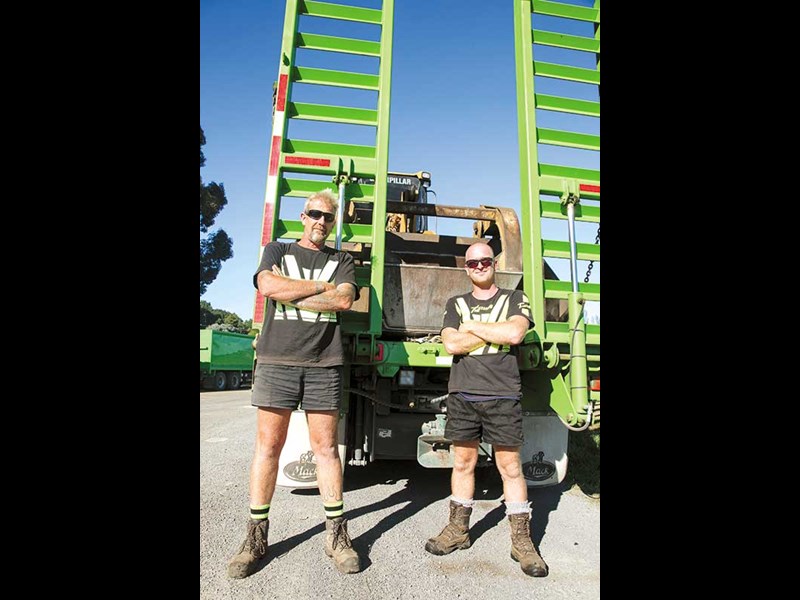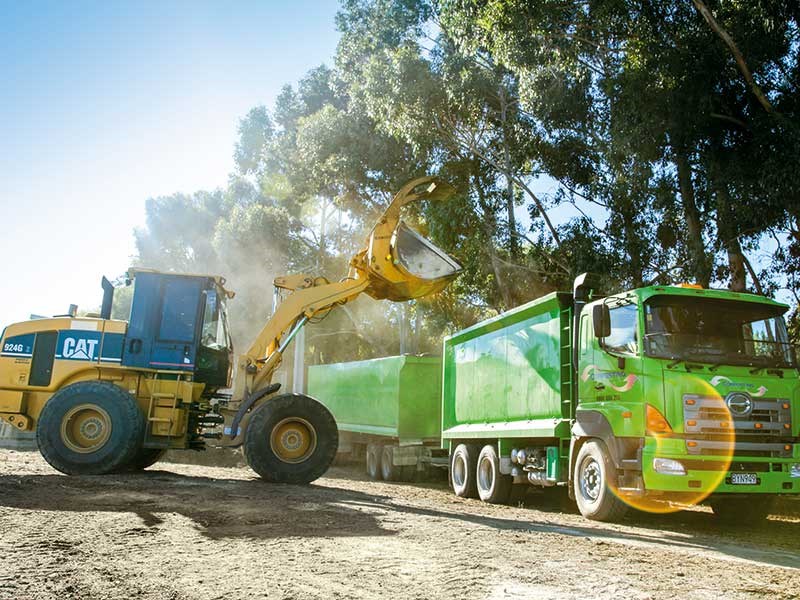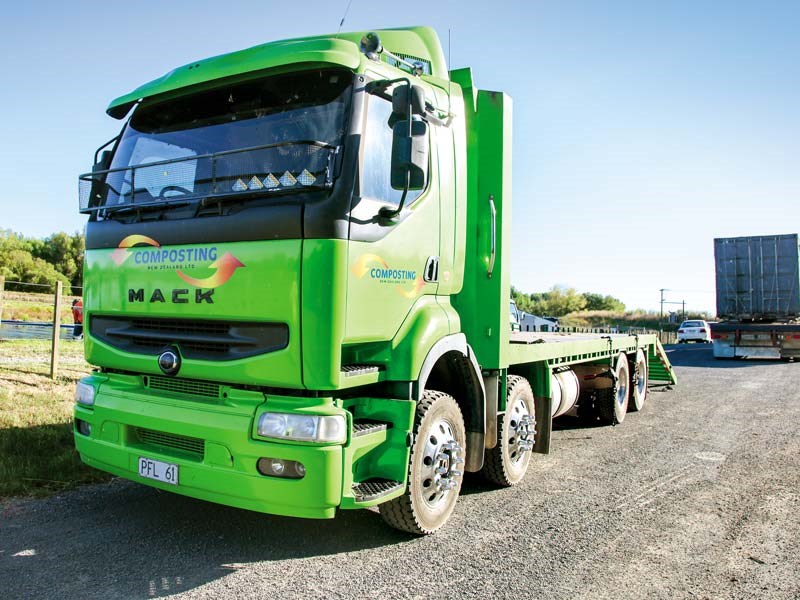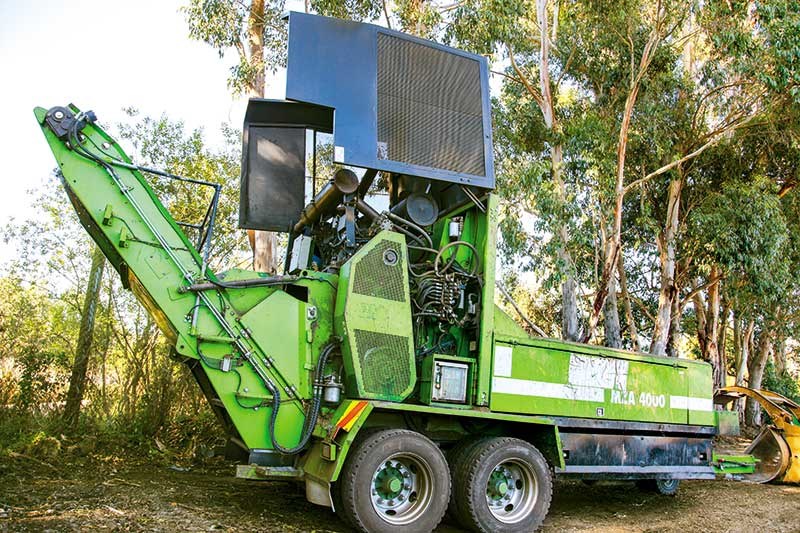 Brendan Mallia always knew something could be done with greenwaste, so he put his money where his mouth was and started a composting company.
That was 20 years ago and now Composting NZ processes greenwaste though out the central and lower North Island.
The company operates over an extensive area: Kapiti Coast, Porirua, Horowhenua, Rangitikei, Manawatu, Palmerston North, Wanganui, Tararua District, Central Hawke's Bay and Hastings.
As well, it has two landscape supply yards: one in Paraparaumu where the main composting operation is and a branch in Upper Hutt, which also collects greenwaste.
Its compost operation has been certified organic for the last ten years and is sold mainly in bulk to residential customers in the lower North Island.
When DOW spoke to Mallia, he was sitting in a digger "somewhere on the Gold Coast" – Kapiti that is, not Queensland.
He's a Mack man – always has been – "I just like American trucks," and apart from Macks, he loves anything on two or more wheels – the bigger the better. He got his first taste for Macks while on holiday as a boy in Rotorua. He and his father Roger Mallia, a mechanic, used to ride in a mate's Mack R series.
"It was the first Mack 285 twin air cleaner in New Zealand – owned by Allan Hallaway. We also rode with Dave Towsey who had the first of the 400 Pacific logging trucks in New Zealand."
"I trained as a mechanic and after that did a bit of work for Clive Taylor – another Mack man – so I got to drive some of his Mack Rs and his Super Liners."
Mallia mostly has Macks in his fleet but also one Hino, "The Hino has done 700,000 kilometres and has been the mainstay of the fleet; it does all the fluffy highway work and the Macks do all the tough work."
"When I first began the company I had an R model, then I had two V8 Mack MHs and one six-cylinder MH. After that I purchased a Trident from John Ray, followed by a CH Mack, quickly followed by a Quantum. So that's a total of seven Macks in the history of the company. The Macks have all been awesome trucks with lots of history trucking history behind them, especially the V8s."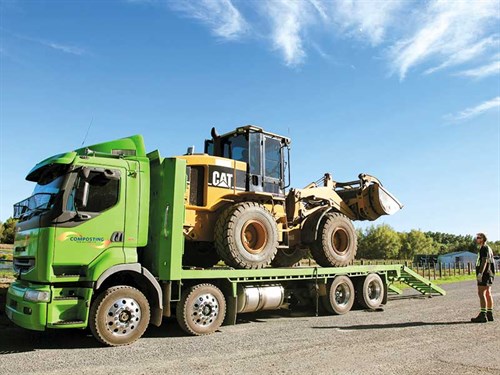 "We also have a new Hino 300 Series delivery truck for our yard in Paraparaumu, this is the second Hino we have had for deliveries; it's a great little truck."
Mallia says he's always bought second-hand – always around 5-600,00kms – then about 11 years ago he bought the Hino and retired the little 350 Mack MH.
The Quantum tows their mulcher around the country with the Cat 924g on its back, replacing what the MH used to do.
"In the next three or four months we'll replace the Hino and the maybe one of Macks, with new trucks."
The composting company also runs three excavators: Komatsu, CAT, a 14-tonne Hyundai, a mobile Anaconda screening plant – a Backhouse Windrow turner for turning the large mounds of compost. "It's a very cool machine there are probably only three or four in the country. Then there's a 4WD Fendt tractor, five or six wheel loaders: CAT, Volvo, Hyundai and old International loaders. "They're used in my retail outlets and because they are very simple loaders, they work seven days a week, 363 days of year. Most of our operations run seven days a week."
"The mulcher is a Willibald MZA4400 460 HP from Germany – it's my second mulching machine – and is nearly due to be replaced. My mechanic and I just spent three weeks in Germany looking at replacement mulchers."
"Because of the extent of work we've got, we want to stay ahead of the industry, making sure the mulcher we buy suits our business needs.
That's an impressive stack of equipment for the company that began on a wing and a prayer.
When he got into the heavy machinery industry, Mallia gained a wide variety of experience driving diggers, motor scrappers and dumpers in the forestry, earthmoving and the rubbish industries. He loved the work but it occurred to him how much waste material there was.
"When I was involved in native logging we only recovered about 55 percent of the native logs and the rest was all mill slab. Basically, we used to drive around with a big diesel tanker and set fire to hundreds of cubic metres of mill waste. I used to stand in middle of forest and look at it and think, 'man, what a waste.'"
Then he thought about green waste and the cost of removal from tips and he thought, 'there's got to be a better way.'
It wasn't until he watched a TV programme about a green waste recycling business that he galvanized into action.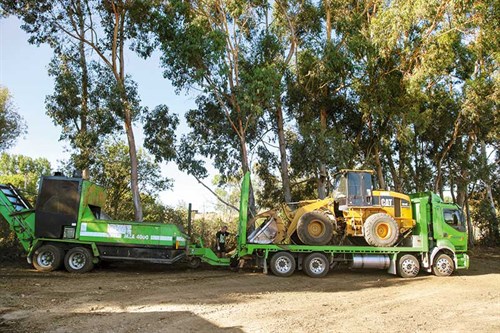 "I got in the car and shot off to Auckland to have a look at Kerry Riley's operation, Black Gold. I couldn't believe what I was seeing: People depositing their vegetation, which would then be pushed into a big heap. Kerry had a digger and a bulldozer plus a mulching machine. He basically sat on the digger and the bulldozer and played in the sandpit all day. After about six months of processing, people drove out again with a pile of dirt. I thought, 'Wow! That's unbelievable.'"
That was it: Mallia was sold.
He leased a mulching machine and scored his first job. He remembers it well because it was at the Wanganui Landfill and the Motua Gardens Occupation was in full swing at the time.
He had very little capital but managed to get a contract with the Kapiti Coast District council under his belt and it just grew from there.
Composting NZ probably processes the largest volume of material in the country. "It's incredible when you realise that it takes anywhere between 10-22 cubic metres of loose material to make one metre of end product."
All maintenance is done in house at their workshop in Kapiti where they have two mechanics and an apprentice.
"We have a total of 30 staff, it's a bit of a family business with my wife and two of my brother in-laws as well as my son, all playing major roles in the company. I am very lucky to have a great team around me."
He has no regrets at following his hunch about turning green waste into gold and is rapt at the good it does along the way.
"It's an enjoyable business to be in. When you are involved with work that's environmentally sensitive, there's no negativity towards it. There's always more work than you can poke a stick at and there's always another way of rehandling waste material and turning it into another job."
"Compare this to when I first started and we used to just mulch at landfills and leave. Now we do so much more and nothing is wasted."
Keep up to date in the industry by signing up to Deals on Wheels' free newsletter or liking us on Facebook.