On the road with trucker Amy Edmonds
---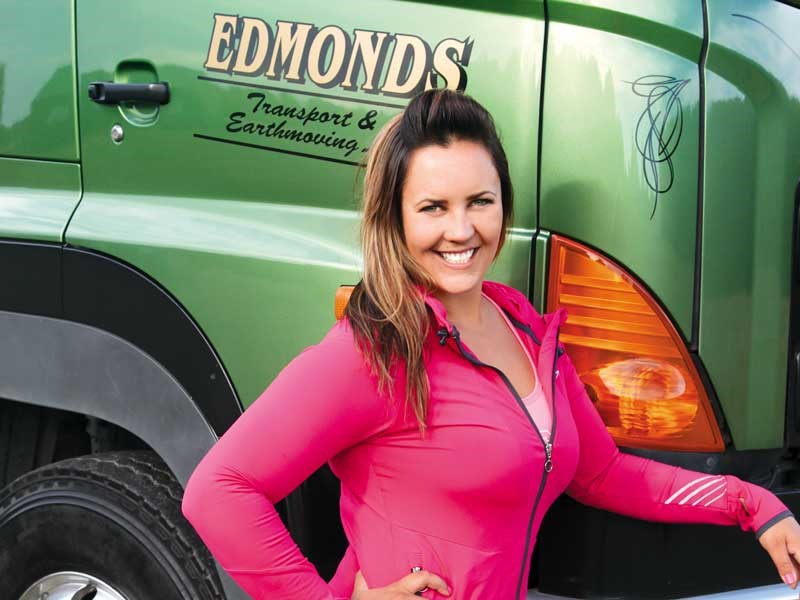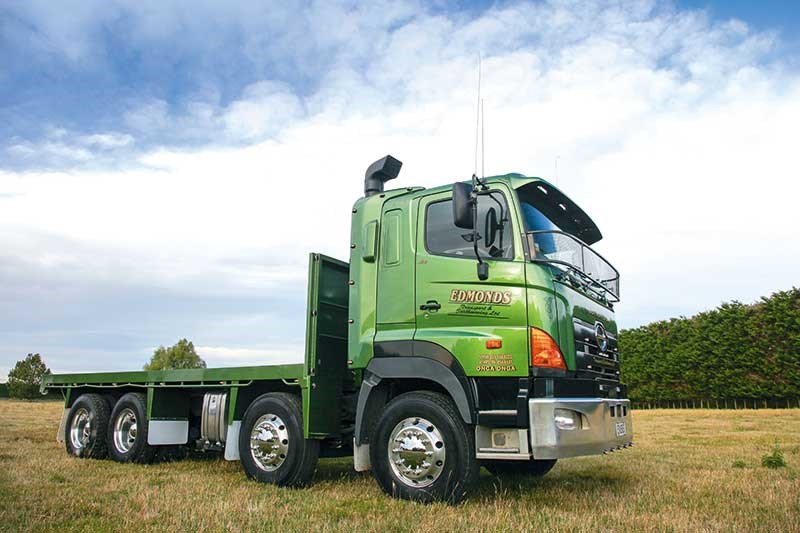 If Amy Edmonds had her way, there'd be more women truck drivers in the industry...
Amy Edmonds can hardly contain her excitement as she appears around the side of her new metallic-green Hino.
She's happy to talk about the truck she's been waiting for over a year to take possession of and the difference it will make to their business.
The new addition to Edmond's fleet has been in action for three weeks and is keeping busy already. "I've carted baleage and done a few trips over to Marton with grain. Today I'm about to chuck the sides on and go and do some metaling. We have a new driveway and truck turn-around to spread tomorrow, I'm finding it an awesome truck to work in."
Edmonds Transport is a family business located in the rural village of Ongaonga. It was started by Amy's father, Steve Edmonds, around 20 years ago and carries out a variety of work including earth moving and cartage of metal, fertiliser, silage as well as tree work and firewood. "We are very versatile at what we can do. We are close with our clients and know them pretty well. It's even better when they ring up and ask for me and not dad," says Amy.
Amy has been truck driving for nine years, having started out driving around the hay paddock while still at school.
She left Hawke's Bay for a while to do other things, but it was truck driving that drew her back. "I enjoy it and get to meet some cool people. As well as that, there is nothing better on a good day than sitting in the truck and going for a cruise."
Amy's latest truck is a 2007 Hino 700 series with a 450 engine and 18-speed road ranger gearbox. The ex-logging truck has been substantially rebuilt by Steve. It was bought as a cab and chassis and has had a new deck and tipping gear added.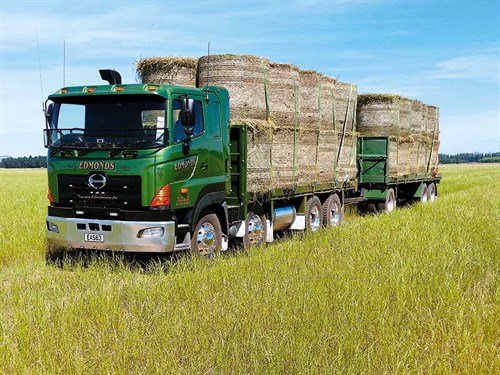 The resulting truck, she says, is nicer to drive and sits on the road better than her previous one.
Amy had a clear idea of what she was after when it came to purchasing her next truck. For a start, she wanted the road ranger gearbox, as is her 8x4 Isuzu 460 Gigamax, plus a front of body hoist.
"When we're trying to buy a second-hand truck, nothing matched what we wanted. We prefer the front of body hoist to the under body hoist because we find them a bit more stable for what we do. Dad said, 'well then, we will just build one.' So here it is!"
Alro Truck Centre in Palmerston North, who also did the paintwork, shortened the wheelbase by about half a metre and in building the deck (which has removable sides), made it with heavier metal for stronger tipping action.
"This allows the truck to be much more versatile, more so than if it had a fixed bin. We can do tipping work and flat deck work as well as bulk work with our silage bins."
Lineup of machinery at Edmond's Transport:
460 Isuzu Gigamax 8x4.
450 FY Hino 8x4.
350 K1 Mitsubishi 6x4.
SF402R Mitsubishi 8x2.
160- LC 7 Hyundai digger.
Nine-tonne Sumitomo digger.
Three- and four-axle drop side tipping trailers.
As well as a couple of loaders and bits of machinery.
Read the full article in the latest issue (#271) of Deals on Wheels magazine. Subscribe here.
Keep up to date in the industry by signing up to Deals on Wheels' free newsletter or liking us on Facebook.