Penske Auckland factory tour
---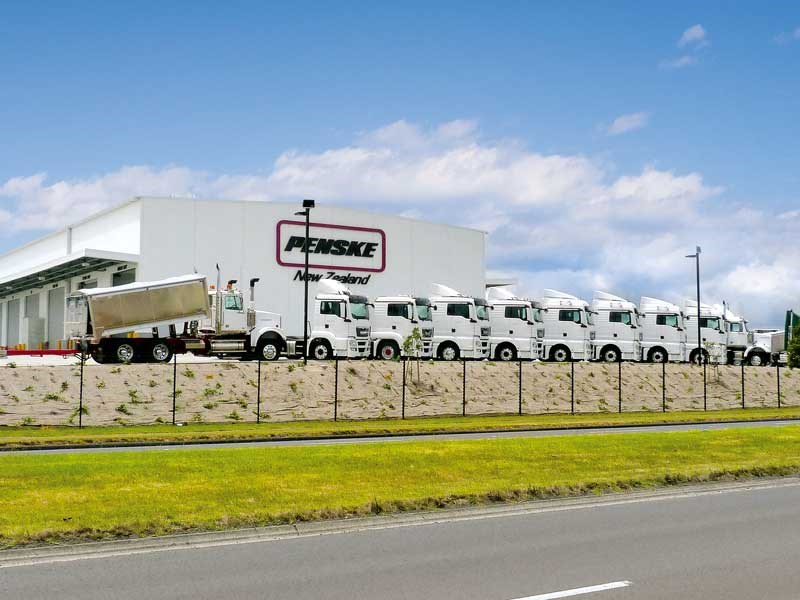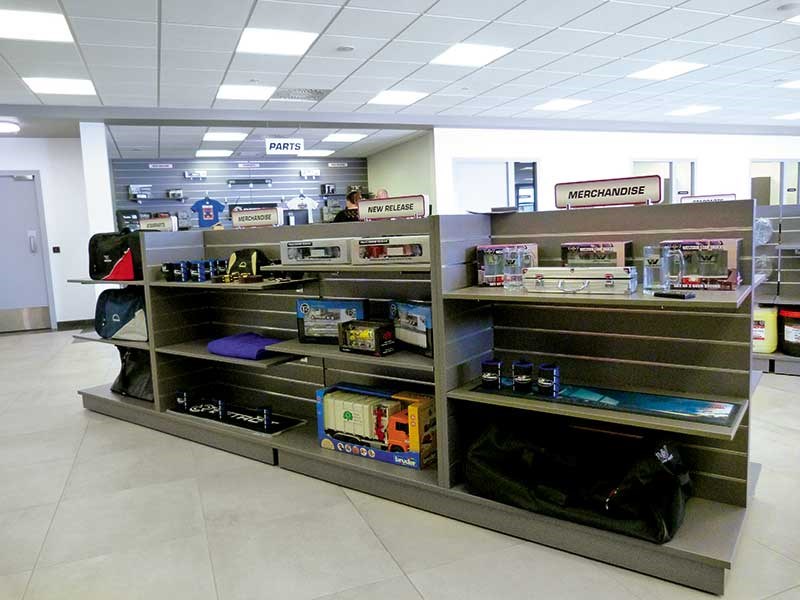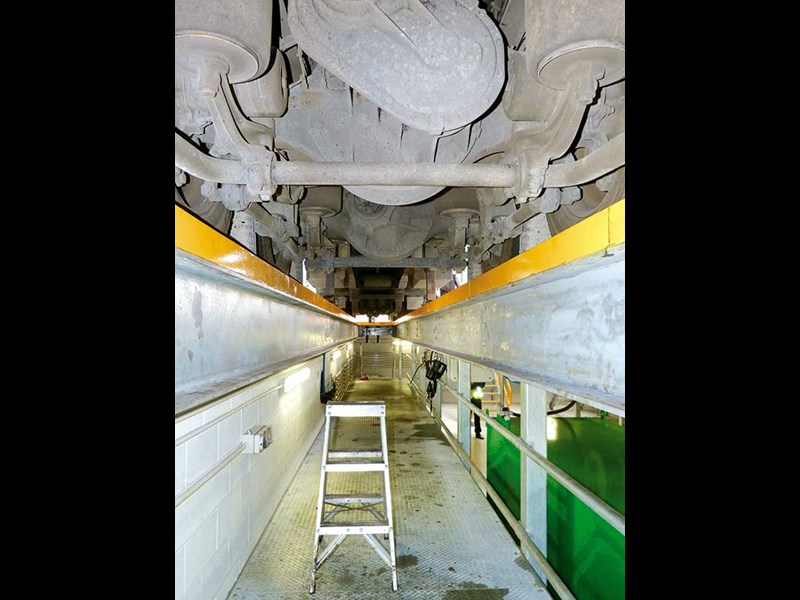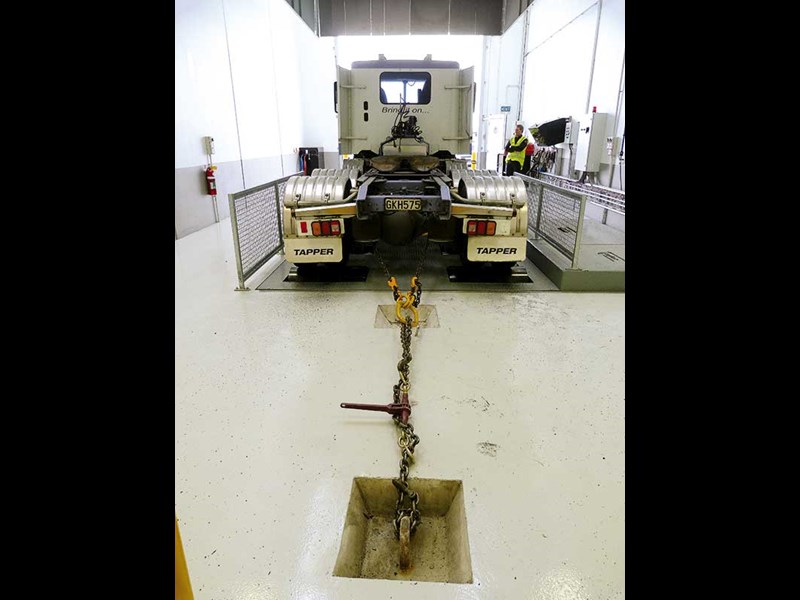 If you're driving in either direction along Roscommon Road in Wiri, you can't help noticing South Auckland's newest landmark building at 4 Langley Road. It's Penske Commercial Vehicles and Penske Power Systems New Zealand's new sales and service facility.
On behalf of Deals On Wheels, I recently had the unique opportunity of being taken on a guided tour of the facility courtesy of Penske Commercial Vehicles' national sales manager – truck, Dean Hoverd.
Penske Commercial Vehicles and Penske Power Systems New Zealand are subsidiaries of Penske Automotive Group and are authorised agents for Western Star Trucks, MAN Truck & Bus, Dennis Eagle, MTU and Detroit engines.
Set on an almost 1.8-hectare site, the purpose-built facility incorporates office/retail space, a parts distribution centre and a modern 16 bay workshop in an approximately 5000-square-metre building.
Over 90 staff members are employed at the Wiri premises, working in what can best be described as a cutting-edge environment.
Upon arrival at the spacious showroom, I was met by Dean Hoverd, who spoke enthusiastically about the recently completed facility and it was immediately evident that he knew the operation inside-out.
He went on to explain that he had been involved throughout the entire build, so I didn't hesitate to take up his offer of walking me through a virtual experience of having my truck serviced by Penske Commercial Vehicles.
It had been raining heavily earlier in the morning, so the first thing I noticed was the large canopy covering the entrance to the service centre and thought how nice it would be to be able to stay dry while getting out of my truck and walking into the reception area.
Once inside the building, I was greeted in the dedicated service advisor reception by Charl Tait, where a customer can check-in his or her vehicle before they make their way to the customer lounge.
The customer lounge has all the comforts of home with free Wi-Fi, Sky TV, a coffee machine and charging stations for electronic devices.
There are even two drivers' 'offices' with separate toilets and showers. A unique workstation quickly converts into a comfortable bed – an absolute luxury during those longer-duration service or repair jobs.
Sorry folks, as much of a home away from home the lounges are, currently you can't stay the night - they're only available for use during normal business hours, 7am to 6pm weekdays and weekends by arrangement.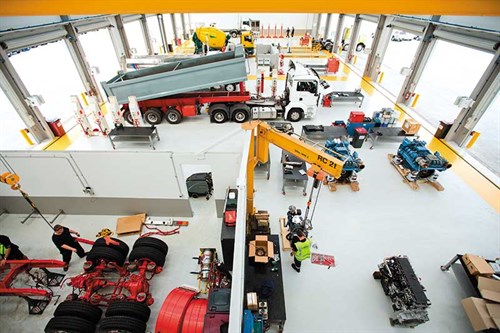 As we continued on my guided tour I was left imagining how pleasant it would be as the driver of a truck being serviced, to be able to freshen up before catching up with some paperwork or simply chilling out in front of the TV while the service technicians attended to my rig.
The technicians, along with the rest of the staff, are well catered for at break times as well by way of pristine ablution areas which are connected to spacious locker rooms which more closely resemble a hospital theatre than they do a vehicle workshop.
All staff are given comprehensive in-house training in a purpose-built training room, connected to an adjacent workshop complete with engines of varying types, where the students can put into practice all they have learned in the classroom.
Customers can even book themselves into tutorial sessions in which they can gain a greater appreciation of the vehicles they own and drive.
Technical training courses for staff and customers are available across both Penske Commercial Vehicles and Penske Power Systems divisions and generally range from two- to five-day courses and include electrical, transmission, base chassis and cab to name but a few.
Components of even the highest quality machinery will wear out eventually and this fact of life is catered for at the Penske New Zealand facility in a huge parts/distribution centre 1466 square meters in size.
The warehouse really has to be seen to appreciate how big it is as it incorporates a mind-boggling 833 pallet spaces and carries over a 100,000 spare parts, despatching 13,000 pieces per month.
Customers are provided with an electronic consignment note for track and trace purposes.
Moving on to the modern workshop, the visitor can imagine how this workspace would be every mechanic's dream.
As was the case with the ablution facility, the workshop looks more like an operating theatre than it does a vehicle repair environment with everything having its place and everything being in its place.
When I comment on how clean and tidy it all is, Hoverd explains that like every area of the operation it is 'Penske Ready', "It's a philosophy we stand by, in which we are dedicated to providing excellence and drive in everything we do," he says.
We stop by a room that I would estimate to be slightly less than the size of the average New Zealand house which is the dispensary for all lubricants and coolants, all of which are piped under the workshop by way of high-flow pumps to colour coded stations with meters that dispense the exact amount of grease, oil or coolant required.
In order to ensure purity of all products dispensed, each pod is fitted with a separate filtration system.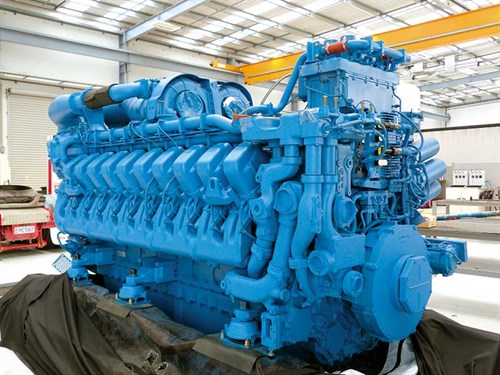 A really impressive feature of the drive-through workshop is the four-bay service pit in which the mechanical team has the ability to service four trucks at once.
There is a fully articulated fluid system for use above and below-pit servicing and a waste oil and coolant disposal system delivers used products back to holding tanks in reverse order to which the new lubricants are delivered from the lubricants dispensary.
Wide non-slip under-pit walkways allow the mechanical team to move freely beneath truck and trailer units from front to back, aided by the well-lit environment and a hydraulic jacking system.
The large workshop incorporates 16 drive-through service bays, a suspension testing unit and a comprehensive brake testing system.
Added into the mix is a fabrication bay where a full-time engineer is on hand to manufacture and repair drawbars, tailgates and the like.
There are two on- and off-highway engine strip-down and rebuild bays and a dyno room in which engine output can be accurately measured by means of a Taylor TD-24 chassis dynamometer.
The Taylor TD-24 has a capacity to handle 1034hp at 30mph (771kW@48kph) and absorbs 550hp at 35mph. A digital printout is provided to customers, recording all values gathered during the test.
A high volume fumes extraction system ensures that all personnel in the area are kept safe from fume inhalation during the test, at the same time as protecting the customer's asset from soot and fumes damage.
As I come to the end of my guided tour of the Penske facility, I imagine my own truck travelling the path I've just taken and think how pleased I would be to know that it would be 'Penske Ready' at the completion of the service.
Meanwhile, back in the customer lounge, I would be well rested and probably would have phoned a customer I'd been meaning to catch up with but never had the time otherwise to do so.
Also I probably would have spent some time browsing through the extensively stocked retail area while I was waiting.
I'd be refuelled with a complimentary coffee and would have made sure I popped along to the customer service desk and ordered a 'birthday' for my truck by treating it to a good old wash in Penske's New Zealand's full-length drive-through wash bay.
Let's face it, nobody enjoys having to take time out from the working day to get their truck serviced, but it's a job that needs to be done nevertheless and the guys at Penske Commercial Vehicles and Penske Power Systems are doing their bit to make the process a lot more palatable.
With that in mind, it's worth calling in and having a chat to Malcolm McDonald, Penske Commercial Vehicles Auckland service manager, or Dean if it's a new truck you're looking at purchasing.
For more information, phone 0800 782 7626.
For the latest news and reviews, subscribe to Deals On Wheels magazine here.
Keep up to date in the industry by signing up to Deals on Wheels' free newsletter or liking us on Facebook.