Business profile: Whitlock Freight
---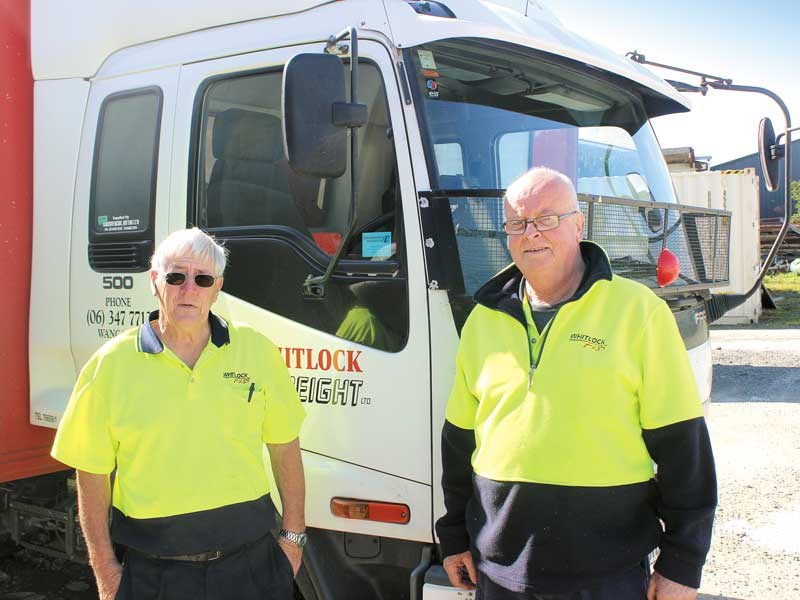 Co-directors Bryce Whibley and Kevin Hope.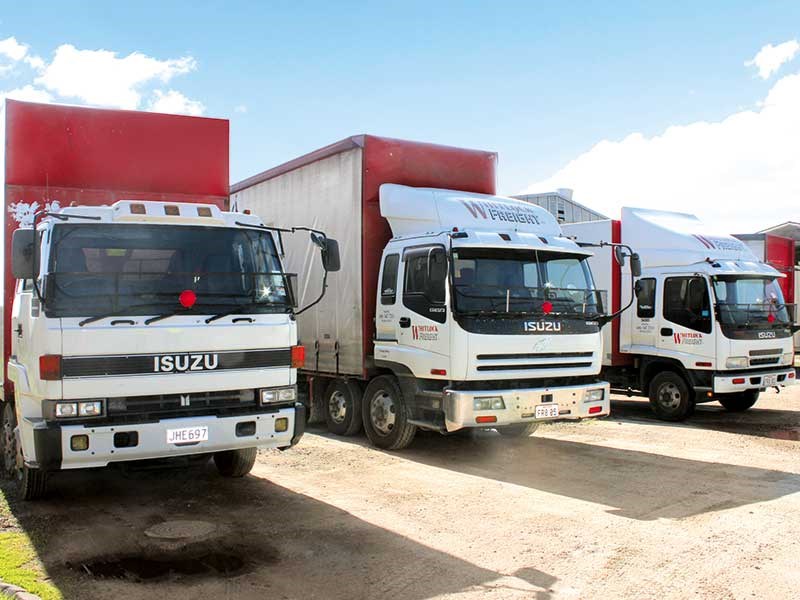 Whanganui's Whitlock Freight doesn't let lengthy distances or ever-present big national carriers dampen its spirit when providing a reliable hands-on service to its many loyal customers.
If the Whitlock name rings a bell, you might be thinking of meal condiments rather than moving commodities. But you'd be on the right track – Whitlock Freight does indeed have its origins with F. Whitlock & Sons, purveyors of fine sauces.
Founded with one six-tonne truck by Murray Whitlock in 1987, this Whanganui firm has forged a reputation for itself over the intervening three decades as a safe pair of hands for all manner of goods. Although in the beginning, says co-director Kevin Hope, the Whitlock name on the side of the truck led to a fair bit of conclusion jumping.
"The first truck was a refrigerated unit with which Whitlock carted frozen fish to Wellington with. Although people would always assume he had Worcester sauce onboard.
"I remember one time we had to take some hazardous goods to the Ohakea airbase; the storeman was certainly looking at us sideways when we turned up with 'Whitlock' on the side of the truck. I don't know if he would ever have bought another bottle of sauce after that."
"People would always assume we were heading for the kitchens if we turned up somewhere like Massey University," adds fellow company director Bryce Whibley.
Hope and Whibley both started their driving careers with General Foods, carting ice cream, one on a Tip Top truck, the other carrying Gaytime branded desserts. They came onboard with Whitlock's as owner-drivers but enjoyed working here so much they eventually bought the company.
"We're good mates and we've spent most of our professional lives working alongside each other, so it works well," says Whibley.
The company downsized somewhat following the 2009-'11 recession and now has four staff, with three trucks permanently on the road and one spare. Both Whibley and Hope are behind the wheel almost every day and they certainly do the miles to keep ahead of the game.
"Bryce and I share the Auckland run, which we do twice a week, while another driver BJ runs a six-wheel Nissan to Wellington daily," says Hope.
"The third truck mainly runs between Whanganui and Palmerston North on local service, but all-in-all we certainly cover plenty of miles. Occasionally the Auckland run will involve a drive through to Tauranga on the way there, so 700km in a day is nothing out of the ordinary for us."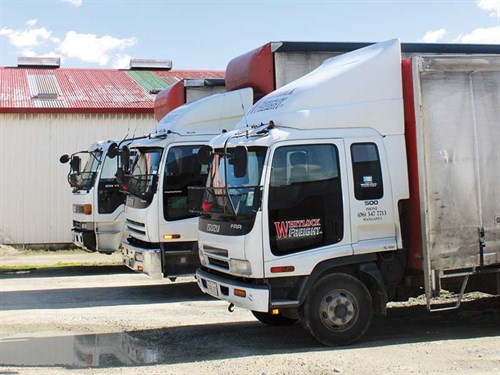 Whitlock Freight has another truck – an eight-wheel Isuzu – about to retire from the fleet. They're currently awaiting the arrival of its replacement; a similarly proportioned Mitsubishi Fuso sporting a 60-cubic-metre boxed body and double curtains. For this they've gone to CAL Isuzu in Hamilton – a firm favourite when it comes to supplying trucks.
"We've been buying through CAL Isuzu for a long time now; they're a good team and we know we'll be getting a good honest truck that will be delivered in the best condition possible," says Whibley.
The duo like Isuzus, but the Mitsubishi offered them everything they need to replace the out-going Isuzu.
Hope says that one of the keys to remaining a trusted name in the provinces is to put service first and not bother competing on price with the big boys of the freight world.
"We're not the cheapest and we never have been, but we've always prided ourselves on our customer service. As a result we look for and retain some good long-term clients.
"You can bet your bottom dollar that a client that's only focused on a good deal won't be around in six months' time – they'll just be looking for an even better deal somewhere else."
Whitlock Freight has been carting kitchen joinery for many years all over the country, but mainly to Wellington. Some years ago the small team transported 500 kitchens in one year for a local Whanganui firm. Something they've also specialised in doing is carting saplings.
"The numbers are down a bit now, but we've shifted up to 250 trees in one go in the past. We're essentially delivering between nurseries and local councils in those situations," says Hope.
"Saplings are a very time-intensive load to ship because you can't pick them up on the forklift – you have to take your time and ensure the trees are all loaded in good order. That's the sort of niche stuff we often cart; it might cost a bit more but we ensure it is done right."
Whibley says that business is tough for provincial operators, especially with bigger companies in Auckland and Wellington utilising nationwide carriers as one-stop-shop providers. The care and attention Whitlock Freight puts into what it handles is the essential ingredient in what makes them different though.
"We love operating out of little old Whanganui," concludes Whibley.
"It means we travel a fair distance to the main centres, but Auckland, Hamilton and Tauranga are all getting so big; I reckon in the last eighteen months we've added on an extra 40-45 minutes to do exactly the same deliveries as we always have in Auckland.
"We're part of the old team; that's just the way we are," he laughs. "I'd like to think we'll be here in another decade because of that too."
Never miss an issue of Deals on Wheels magazine. Subscribe here.
Keep up to date in the industry by signing up to Deals on Wheels' free newsletter or liking us on Facebook.