Truckie profile: 26-year-old Corina Oldenmenger
---
Corina Oldenmenger was only 17 when she started driving a delivery truck around Sydney. Eight years later she drives a B-double for Chester's Transport.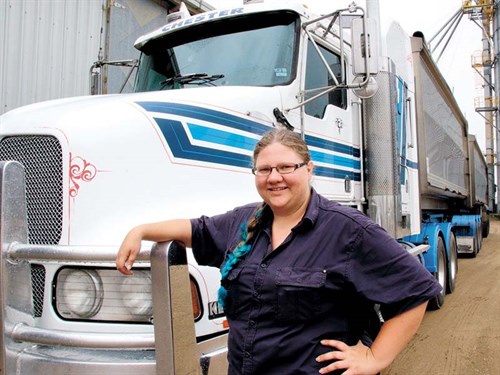 It is a Monday morning at Hanlon Enterprises in Junee, New South Wales. Light rain falls while Corina Oldenmenger loads the B-double tippers behind the Kenworth 604 she drives for Chester's Transport.
The harvest was in full swing over the weekend, and Corina spent Saturday carting wheat around the Corowa district, from paddocks to Rivalea.
But today's rain is causing havoc to the Riverina grain harvest. Headers have come to a standstill, so Chester's Transport has sent Corina to cart canola meal from Junee to Nathalia, Victoria.
She is proud to be driving B-doubles tippers at the age of 26. Standing in light rain with one eye on the auger she tells Deals on Wheels how she transitioned from a Sydney private school girl to a Riverina truck driver.
She grew up in Londonderry with her parents John 'Dutchy' and Sophia, and her sister Ramona. The sisters loved travelling in a truck with John who is an owner/driver.
Every year the Oldenmengers attended the Khaki Vehicle Enthusiasts' annual military vehicle gatherings at Corowa. And in 1995, when Corina was seven, the family took their restored World War II Chev Blitz to 'Back to the Track' — a convoy of ex-military vehicles which retraced the road constructed from Alice Springs to Darwin during WWII.
Home life revolved around the shed where Corina and Ramona helped their father restore military vehicles and a 1971 Volvo G88. They also built a miniature truck and trailer to drive on a vacant block, and Corina could reverse the trailer when she was 10.
She has come a long way since then. Deals on Wheels is in safe hands in the passenger seat as Corina steers the truck out of Junee towards Corowa, passing through Wagga Wagga, Lockhart and Urana. She waves at each truck she meets.
"Nine times out of 10 they wave back," she says.
Unconventional career
Corina says she wouldn't have dared use the UHF in Sydney, but drivers on these country roads are respectful when they hear a female voice.
"Sometimes they'll hear you over the UHF and say 'Good on you for driving'," she says.
Many people are surprised by her gender and her age.
"Most of the time it's a jaw drop or a double take. Generally it's quite a welcoming feeling from other drivers," she says.
"I don't need their approval. You're only doing the job for yourself. But it feels good to have compliments. It makes you feel on top of the world."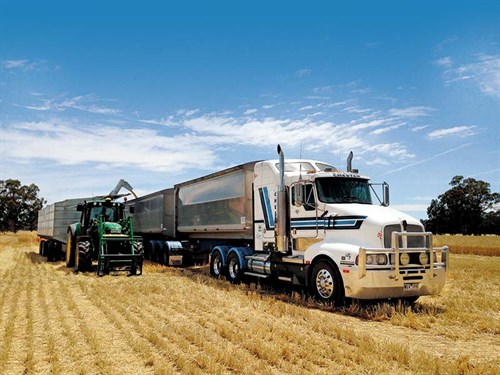 Truck driving is an unconventional career for a young woman. She is grateful to her parents who supported her decision.
"I think [Dad] knew at an early age that I was going to be a truck driver," says Corina.
John carted freight for ITS and convinced them to let Corina do local deliveries a month after she finished Year 12. With red P plates displayed on her father's LandCruiser, 17-year-old Corina was in business.
Two months later her parents borrowed money to buy Corina a six-pallet Ford Trader. She took over the repayments and — still on red P plates — used the Ford for the ITS deliveries. John prepared her for her rigid and semi licences and after four years driving the Ford Trader around Sydney she felt she was ready to move on "to bigger and better things".
Corina moved to Albury in 2010, confident she would find work driving a semi. But it was more difficult than she anticipated. Companies were crying out for drivers but they all demanded experience.
"How are you going to get experience if no one is going to give it to you?," she says.
Fortunately Ron Finemore Transport gave her a chance. Corina washed trucks for Ron Finemore Transport until they let her drive a semi. She progressed to driving B-doubles interstate at the age of 22, usually travelling between distribution centres (DCs) in Melbourne and Sydney.
Simply tippers
In April 2013, Corina began driving for Chester's Transport. It is mostly tipper work and she loves the simplicity.
"No curtains. No gates. No straps. No ropes. Better hours. I prefer the country driving. There's stuff down these back roads you don't see on the highway. And you deal with different people and different loads every day," she says
"Most weeks I get in the truck on a Sunday [night] or a Monday morning and I spend most of the week on the road doing grain and fertiliser and I come back Friday night or early Saturday morning.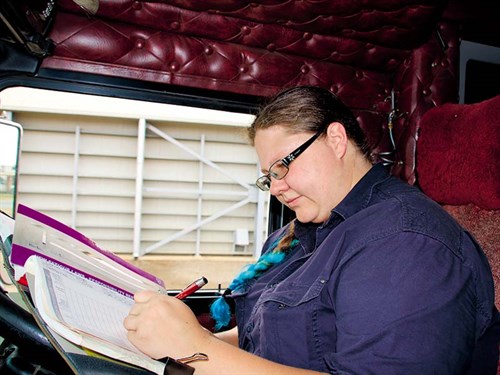 "I always sleep in the bunk but it could be anywhere from a truckstop to a grain silo or even just the side of the road where there's a parking bay."
Corina has found a few truck stops which look after truck drivers well. But she says many of the facilities provided for truck drivers could be improved.
"There's not enough toilets, there's not enough parking bays and there's not enough healthy food," she says.
She would love to see better facilities for women truck drivers.
Corina would be happy if she never had to open her toolbox or change another tyre, but she accepts overcoming mechanical challenges is part of the job. If she can't quickly identify the problem she phones her father for advice on how to resolve the problem.
"If I can't fix it then I ring the boss," she says.
Corina is buying a house in Albury and she is always pleased to return home on weekends, saying "It's good to sleep in your own bed and relax".
Sometimes she travels to B&S balls, or takes her bright yellow 1979 FJ45 LandCruiser to ute shows.
She loves life on the road and looks forward to seeing more of Australia throughout her career. Perhaps one day she will drive a road train or B-triple.
"I'm happy with two trailers on, but I wouldn't mind doing it just to say that I've done that," she says.
It is still raining and almost dark when Corina stops at Corowa to let Deals on Wheels out of the truck. The gates will be closed when she reaches her destination at Nathalia, so she will sleep in the truck tonight and unload in the morning. When the rain stops the harvest will resume. It is going to be a busy week.
Keep up to date in the industry by signing up to Deals on Wheels' free newsletter or liking us on Facebook.