Women in trucking: Catherine Purcell of Toll
---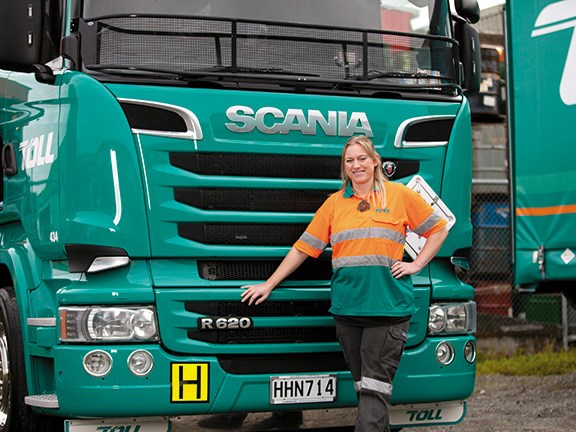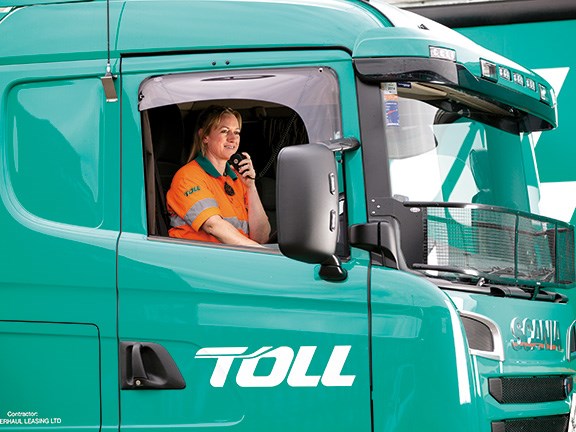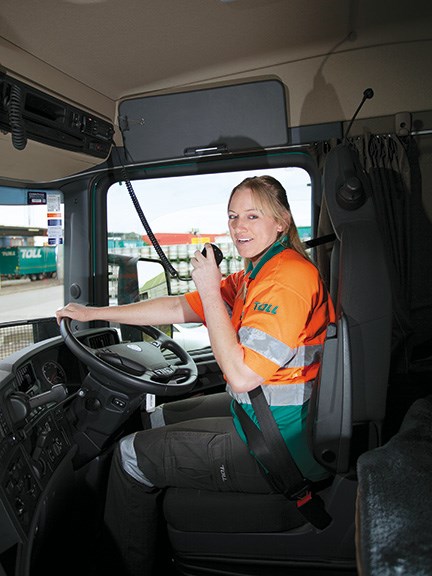 Truck driving remains a largely male-dominated industry in New Zealand, so we sought out some women who drive trucks for a living – including Catherine Purcell who works for Toll.
Being entrusted with operating a R620 Scania over the notorious Napier-Gisborne route shows this female trucker's skill level, especially when the brand new truck is owned by experienced owner-driver Hylton Tabb, who featured in a recent issue.
Trucks and machinery were familiar to Catherine 'Katie' Purcell from a young age, with her contractor father owning a digger. Even though she admired big trucks going down the road as a child, she says she never envisioned truck driving as a job.
Driving a milk van, her employer encouraged Purcell to obtain her truck license and drive the company's little three-tonner.
Then in 1998, a friend encouraged her to apply for a seasonal apple truck job at Road Freighters Ltd — a move that has kick-started many local driving careers. Still unsure, Purcell really credits her friend in convincing her to have a go.
Unlike today, it was a break in tradition, with Purcell and two other ladies making local newspaper headlines with the breaking of old stereotypes. Soon driving an old 180hp Mitsubishi truck and trailer doing apples to Port of Napier from packhouses, Purcell was into it and never looked back.
A full-time job followed with Road Freighters, hand unloading beer kegs on local runs and delivering oil products to orchards for the next six years.
Venturing into Australia, Purcell did 'two-up' driving mostly on east-west runs driving double road-trains (towing two 43-foot trailers). Driving for Bunkers and HPS, the highlight was a brand new Western Star Stratosphere. Kenworths were also driven and typical journeys were 2700km between Adelaide and Perth.
Purcell became the proud mother of two children but was back driving in New Zealand for Boyd Nodder Carriers Ltd by the time they were one and two years old, doing a Hastings-Palmerston North run.
It's a full three years that Purcell has been driving for Hasting's Toll contractor Hylton Tabb, previously at the wheel of Tabb's older 480 Scania before the R620 arrived.
"Every day is a different journey," says Purcell, when asked what appeals. The job sees her alternating between the Wellington-night and Gisborne-day runs out of Hasting's every four weeks.
Purcell likes the variety and enjoys the challenge of the SH2 route to Gisborne. "You have to respect the road," says Purcell.
It's quite clear this truck and job is Purcell's dream job and a great example that the stereotypes of old are redundant. The only thing in the way of female truck drivers now are the traffic lights on the way to the test centre.
For the latest news and reviews, subscribe to Deals On Wheels magazine here.
Keep up to date in the industry by signing up to Deals on Wheels' free newsletter or liking us on Facebook.