Women in trucking: Jonelle Gray of Infracon Aggregates
---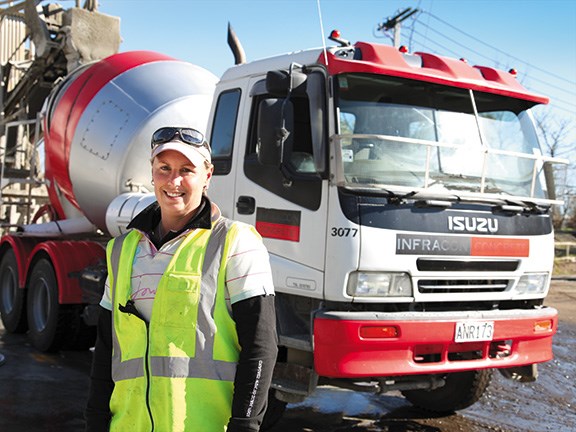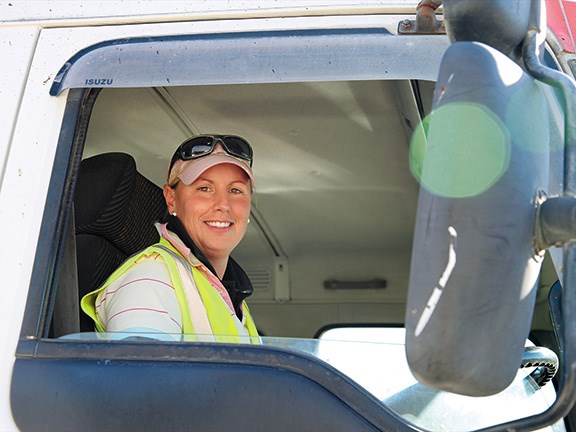 Although truck driving remains a largely male-dominated industry in New Zealand, we sought out some women who drive trucks for a living – including Jonelle Gray of Infracon Aggregates.
Infracon's metal division is located along a shingle road. The bitumen hasn't stretched as far as their office yet. Maybe that's fitting, considering the nature of their business.
In the yard, a concrete truck is at the loading bay awaiting its next consignment of cement. Jonelle Gray's Isuzu is lined up nearby.
Gray has been working and driving a concrete truck at Infracon Aggregates for seven years. She sounds surprised when she mentions that fact.
"I didn't expect to have a job driving a truck. I had been working on the rollers and doing general roading work at the other branch. I came here for a couple of weeks to help out and never went back."
She already knew how to drive a horse truck — she breeds Pinto horses and is a keen show rider — so it wasn't too much of a leap to begin driving the concrete truck. Two years ago she learned how to batch concrete, thus adding a new set of skills to add to her portfolio.
"It's not a very lady like job is it?" she laughs, but adds that her boss, Stu, has always been 100 percent behind her.
"Stu is the one that pushed me to learn to batch concrete. I'm glad he did now because it made me get some qualifications. Up until then I hadn't any because I left school early and didn't study."
"When I first learned how to batch concrete I thought I'd never get my head around it, but now I've grasped it. Concrete batching is easier to learn when done regularly."
The industry has rigorous standards and Gray often attends work health and safety meetings.
"We have to keep up with what's happening with the batching side. I did some concrete production and batching courses, one in Auckland and another two in the South Island, and have just finished one through the Building Construction Industry Training Organisation (BCITO)."
Working with concrete is an additional challenge to an already rigorous schedule, so how does she handle it?
"It's a very physical and challenging job. Chutes full of concrete are heavy, particularly when you are trying to move them to fill the wheelbarrows for the guys. I'm quite short but I've learned to work around it. You find easier ways as you go."
She likes the variety of work she gets — everything from dairy farms, house floors and cattle yards to swimming pools and tennis courts.
"Every load you take is different and no two days are the same. There's the challenge of different terrain as well.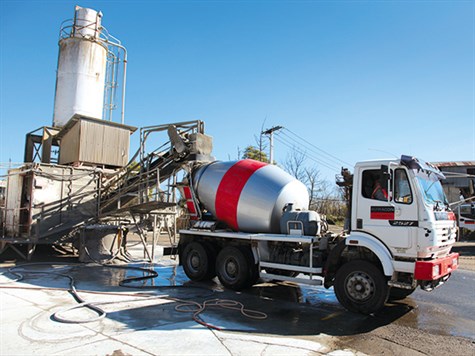 "Going off road is definitely more difficult. We have differential locks that drive all the wheels when it's wet and muddy and that helps to get us through. If that doesn't work, we sometimes need extra machine power from tractors or diggers to tow us."
One of the most challenging jobs Gray has encountered was being assisted down an access road to a bridge with a digger in tow.
"That didn't excite me too much. We were repairing underneath it. It was wet and very muddy and they were using the digger to help get the truck down there. We were going backwards and the digger helped to keep me nice and steady. I didn't think I was cut out for that sort of thing but I'm used to it now.
"I try and forget the spooky things. There's nothing like pulling up to a job and there's a nice driveway into it, that's for sure."
The truck she originally drove at the shingle plant was a Mitsubishi Fuso V8, but she's since changed over to the Isuzu.
"I admit I was a bit devastated when I had to change trucks. I was used to the Mitsi and it was gruntier than the one I have now. But the Isuzu has low reduction so it goes a lot of places the other truck wouldn't. When it's wet you get that extra oomph when you need it."
Most locals are used to seeing Gray at the wheel of her truck but she says she initially encountered a bit of opposition.
"I got a few comments that it was a male's job, but I actually find that unfair. There are lots of females doing men's jobs. In big places like Auckland there are probably lots of women drivers too, but it is rarer here so some people find it weird."
"Often members of the public will come in and say, 'Can one of the guys load me?' And I tell them, 'I can do that.' It's funny they think a male should be in the loader to load them."
After work, Gray spends every spare moment with her horses, so when she jumps out of the truck she heads straight off to the paddock to saddle up. She says it helps her keep fit and is something completely different to her day job.
For the latest news and reviews, subscribe to Deals On Wheels magazine here.
Keep up to date in the industry by signing up to Deals on Wheels' free newsletter or liking us on Facebook.