Isuzu tests Euro V Giga trucks ahead of NZ launch
---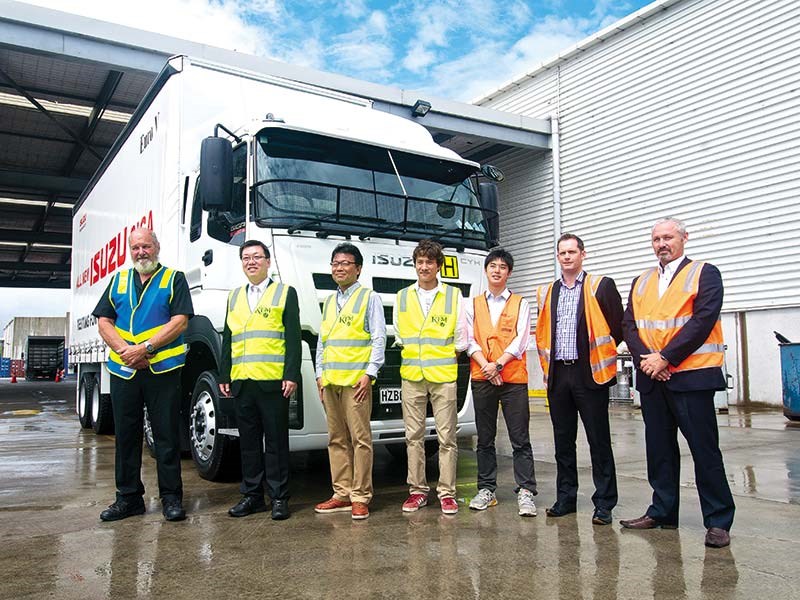 The test team.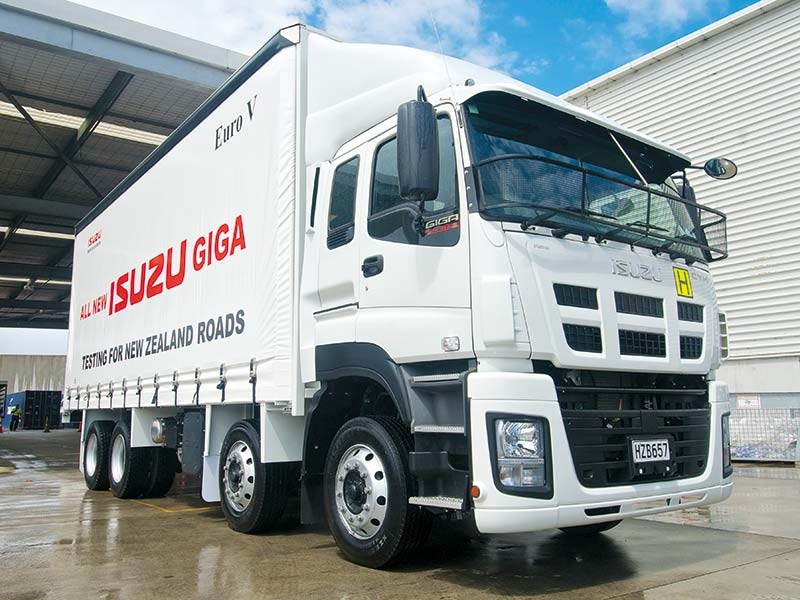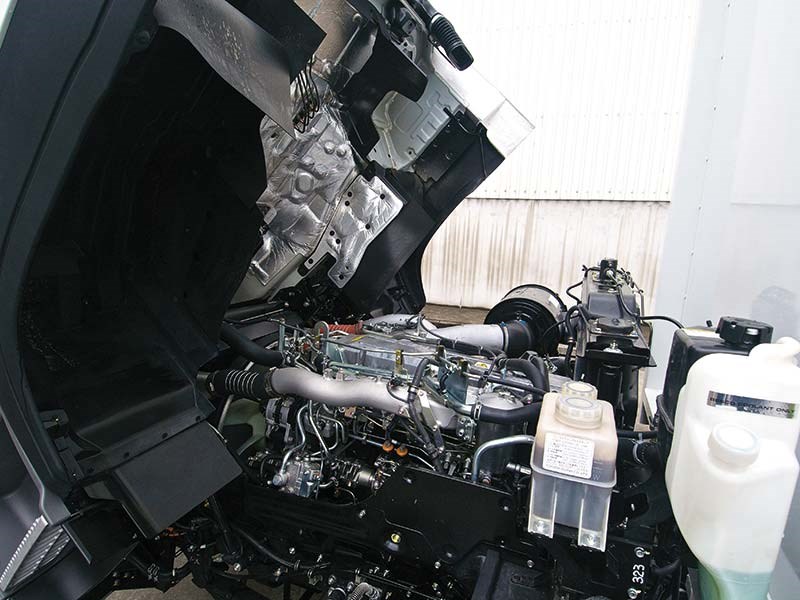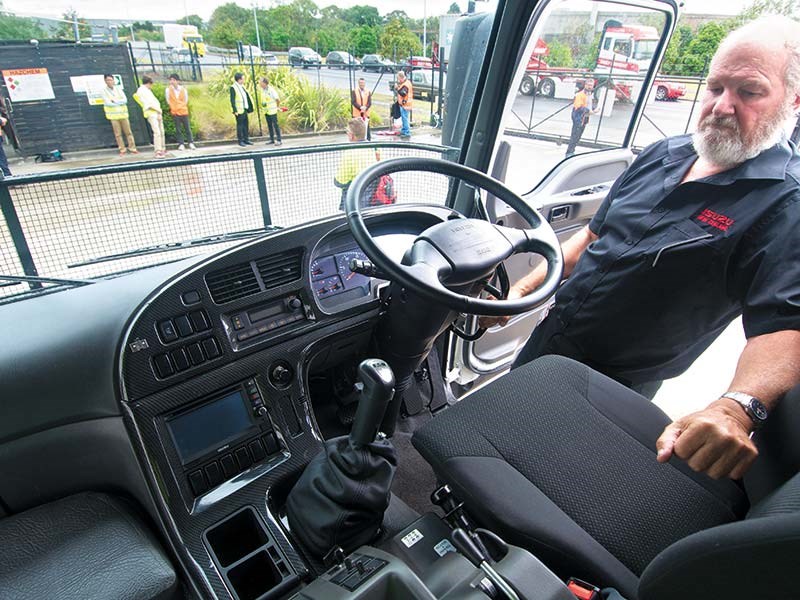 To prove its commitment towards providing New Zealand fleet operators with the right truck for the right job, Isuzu Japan sent a team of its top engineers to this country to carry out pre-production validation for its Euro V Giga range, under New Zealand conditions, on New Zealand roads.
Colin Muir, general manager of Isuzu NZ says that rather than building a truck in Japan and "shoe-horning" it to suit New Zealand conditions, the company made the decision to carry out a two-phase testing regime, starting with an Isuzu Giga CYH530 in March this year.
In preparation for taking to the highway, the truck was fitted out with its curtain-sider body.
The CYH530 used in the initial two weeks of intensive testing was the steel suspension model and was configured as an 8X4 unit with an Eaton 18-speed transmission, towing a curtain-side trailer, fully loaded.
To add further weight to their analysis, the engineers carried out a side-by-side test, using a similarly specified premium-brand European truck, in order to accurately benchmark their findings.
Muir told Deals on Wheels that the next vehicle to be put through its paces over a further two-week period on similar routes will be an AMT (automated manual transmission) model on air suspension.
One specific market this truck will be aimed at is the stock cartage industry, in which the comfort and welfare of the animals being transported has become of major importance in current enlightened times.
The test team
The Japanese team was headed by Mr Hosoya (chief engineer HD product planning and engineering dept) and assisted by:
Mr Kumakura (assistant manager, vehicle validation section #2)
Mr Itou (durability experiment group #3/engine experiment group #2)
Mr Seki (technician, vehicle mechanic section)
The New Zealand team was led by Andre Asselbergs, product and technical specialist, in conjunction with Muir, and Michael Doeg, sales and marketing manager.
Hosoya explained that while a professional driver was employed to drive the CYH530 which was set up with monitoring equipment, his team had ample opportunity to take a turn behind the wheel themselves.
Speaking on behalf of his colleagues, Hosoya said it was a bit of an eye-opener for everyone to experience the twists and turns on the likes of the Brynderwyns and the Kaimai Ranges.
"In Japan if we come across a hill when building a road, we push a hole through it [bore a tunnel] whereas New Zealanders seem to prefer to go over the top of it in most cases," he jokes.
But all joking aside, Hosoya noted that although he couldn't elaborate specifically on the tests he and his team had carried out on the CYH530, he did say that the information they had been able to gather would go towards producing some modifications that would be New Zealand-specific, benefitting both drivers and owners alike.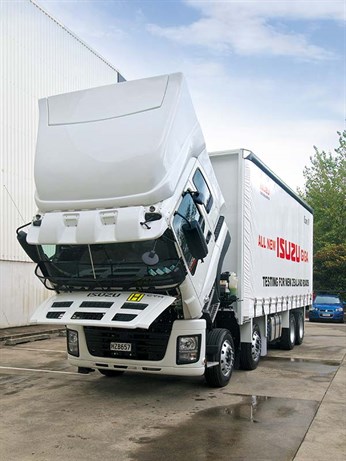 The testing programme
Referred to as VC36 High HP Testing and Validation, the programme was carried out on a primary route between Auckland and Whangarei, encountering gradients which topped-out at 16.8 percent and at elevations from sea level up to 280 metres above sea level.
A secondary route was also evaluated from Auckland to Taupo via Tauranga, in which the gradients were less severe than on the Whangarei run but nonetheless reached an elevation of 609 metres above sea level.
Testing was carried out with both 44-tonne and 50-tonne GVM (truck and trailer) on HPMV routes in order for Isuzu Japan to ensure that the new Giga line-up was best suited for New Zealand operators prior to the start of production in Japan.
It was noted that while New Zealand has a first world level of compliance and technology, it has a somewhat less than a first-world roading system, also that HPMV is rapidly changing the parameters for this class of heavy-duty vehicles.
Isuzu believes that HD trucks are the most important models in any manufactures stable.
Targeting vehicle driveability and fuel economy were high on the list of items being critiqued and while still being unable to reveal any specifics, Hosoya did say that the fuel economy results for the Isuzu were "very encouraging" when compared to the European test truck.
The VC36 Giga model line-up expanded from 9 to 18 models
VC36 is the Isuzu designation for the Euro V Giga (heavy-duty) product line of 460/530 horsepower 6X6/8X4 units which can be supplied in either rigid or tractor configurations.
Isuzu has introduced SCR (AdBlue) and deleted the diesel particulate filter system of emission compliance and the new model's engine has a longer, flatter torque curve which kicks in earlier and drops off later.
The new model has an improved cooling capacity and airflow.
An HD front axle is now fitted to the tipper model in order to accommodate super singles, it is also fitted with a driveline magnetic retarder.
Factory alloys are now fitted to all models.
Trucks can now be supplied with alternative chassis depths to shift between HD and height restricted vehicles.
New models are sporting a larger cab and updated interior.
A very special piece of in-cab technology
Isuzu trucks come factory-fitted with DAVE (digital audio visual entertainment) a top-of-the-line touchscreen audio system which can accommodate a plethora of add-ons such as an infrared steering wheel-mounted remote.
However the one piece of technology spotted on the test vehicle, which can be fitted across the Isuzu range and accessed via the touch screen, is called TPMS or tyre pressure management system.
How it works is that by replacing each valve cap with a specially designed sensor which communicates to an onboard transceiver, individual tyre pressures and temperatures can be monitored.
An easy-to-read display on the touch screen can monitor the conditions existing in up to 16 tyres on the truck and up to 24 on the trailer.
For more awesome features like this one, subscribe to Deals on Wheels magazine.
Keep up to date in the industry by signing up to Deals on Wheels' free newsletter or liking us on Facebook.