K Bedford Restoration project: part 8
---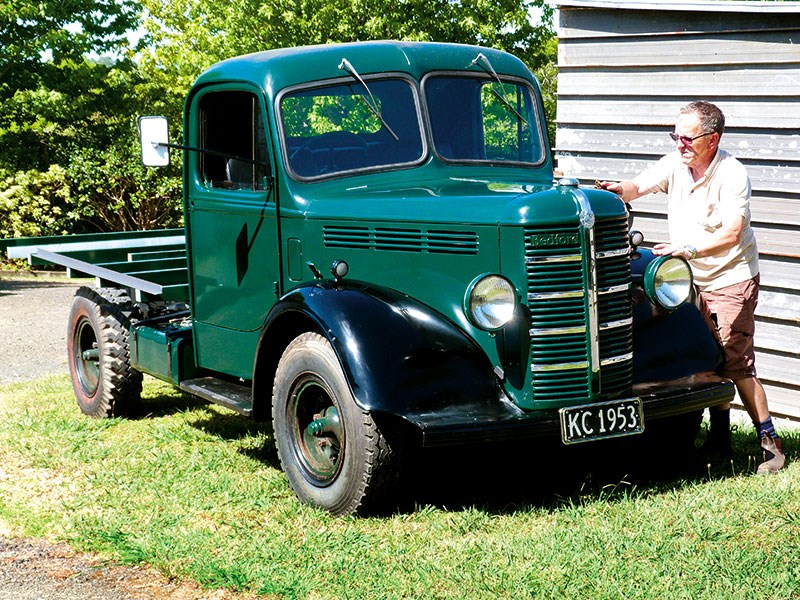 Possibly the first time the truck has been polished in 36 years.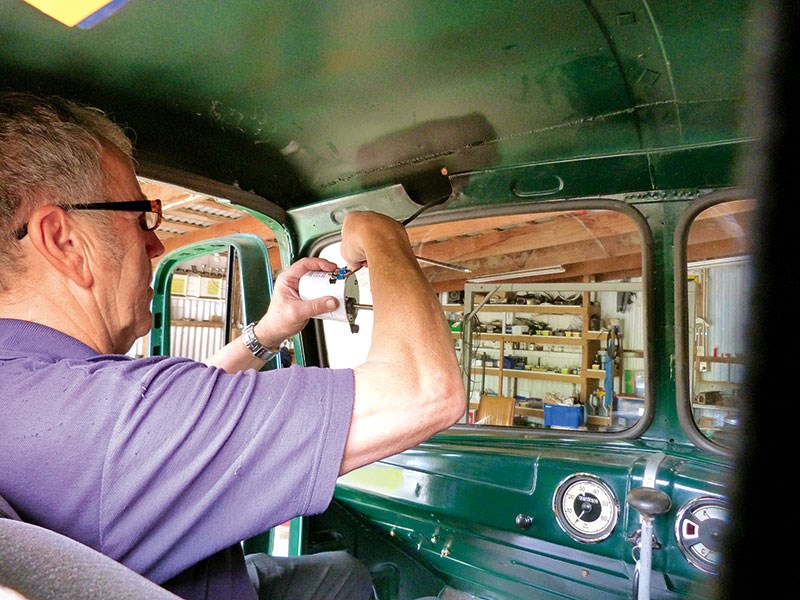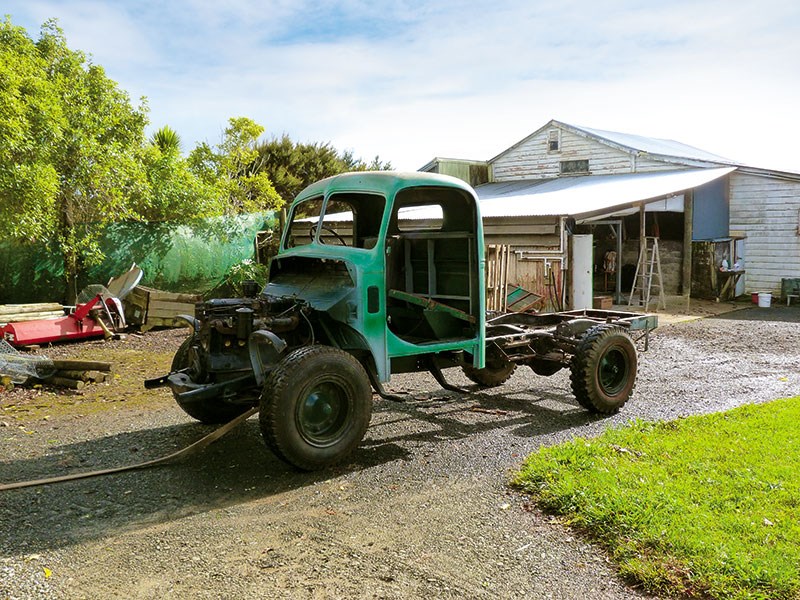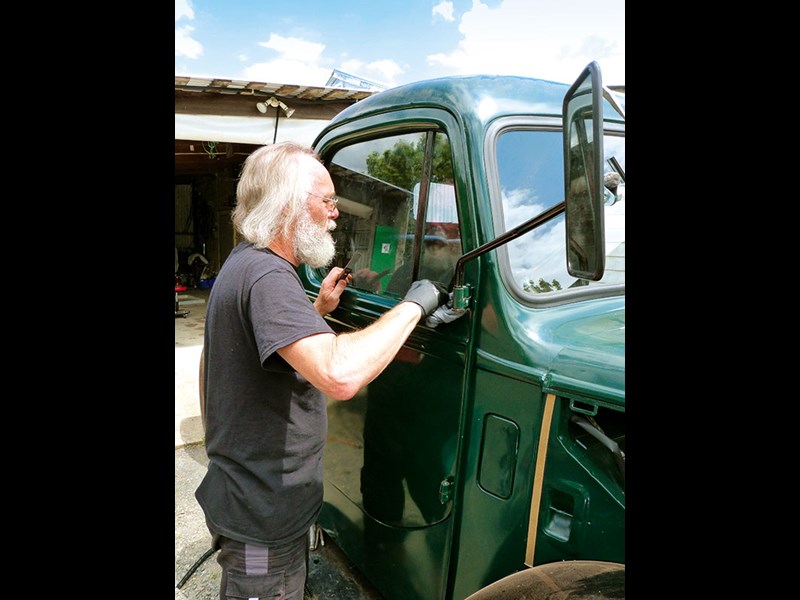 Jeremy from Bespoke Auto Glass fits the door glass.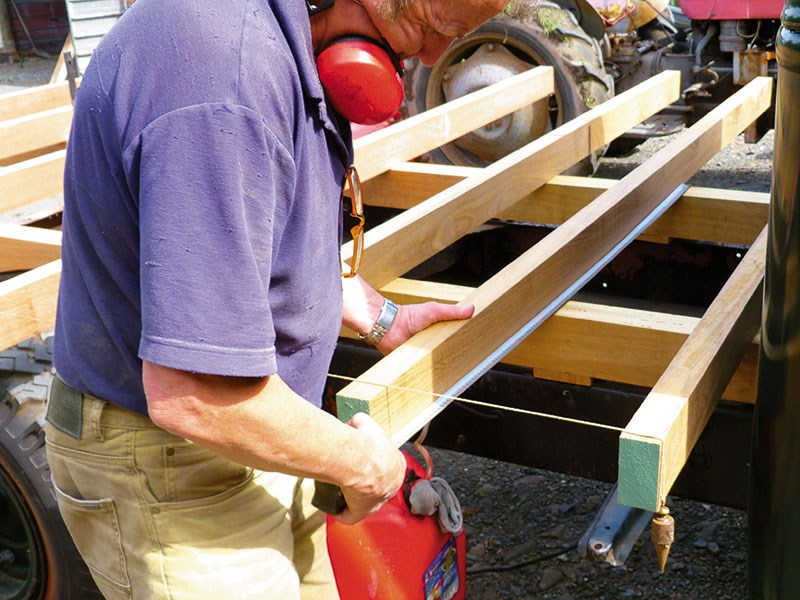 It's hard to believe that this time last year the old K Bedford was sitting in the corner of my mate Dean's workshop waiting for me to get my act together and take steps to getting it back on the road again.
In fact it more or less stayed in the shape it was in back in January 2014 until 9 April when Murray Firth coerced me into making a start on getting the brakes working as the first measure towards completing the restoration.
Perhaps it will be helpful to anyone who has been following my monthly contributions if I take some time to provide an overview of the events of last year.
The project thus far…
I had moved the truck and its component parts on a transporter into Dean's workshop late in 2013 and had dry-fitted the mudguards and doors, which had been through the baths at Kwik Strip in Avondale but still needed to have rust repaired and panel beating.
However, by the time Murray got to see the old girl for the first time, these had been unbolted again, the radiator and grille which had been repaired in the 1990s and had been attached to the truck ever since, had also been removed and the truck was sitting on axle stands.
It is a great credit to Murray's foresight on his first sighting of the vehicle that he could see past what it was at the time and what it could be with a little bit of time and effort.
When we sat down for our first planning meeting in Dean's shed it was agreed that the very first course of action was to get the brakes working again.
The engine had been partially reconditioned in about 1995 and had been run occasionally but as the brakes didn't work and I had lost the brackets and rod that the clutch and brake pedals fitted on. Any engine running was limited to it being a stationary affair.
Also, the fuel pump had stopped working from years of sitting around, so engine hours, or should I say minutes, were determined by the half a cup of petrol that I could fit in the float bowl.
Therefore it wasn't until a month or so ago that we knew for sure that the power plant was capable of sustaining any sort of long-term running.
Back in April last year the plan was to get the brakes operating, refit a tie rod that I thought I'd long-since lost but Dean had found again in a lockup that he once occupied and tow the truck to Murray's to carry out the rest of the restoration.
So every Wednesday for about three months, Murray and I worked our way through a list of items in order to get the old K roadworthy enough to be towed a distance of about four kilometres.
At first, aside from the regular Wednesdays, we (well Murray actually) spent quite a bit of time wire-brushing and cleaning components in order to keep the ball rolling.
Here is a rough account of how the programme progressed:
April
Two front-wheel cylinders, two rear bisector cylinders and master cylinder removed, cleaned and sent off for reconditioning.
Grille stripped of chrome parts, sanded, etch primed and undercoated.
Bonnet and side covers stripped, new centre stainless steel rod sourced (not as easy as it sounds) repaired and primed.
Amidst much ado we sourced the correct brake and clutch pedal cluster from Horopito Motors (thanks to the guys and gals at 'Smash Palace' for all the trouble they went to in getting the correct bits).
May
All four brake drums sanded, cleaned and wheel bearings repacked with grease.
Reconditioned brake parts arrive back (perhaps the most expensive single component of the entire job) and fitted.
We fail to follow the workshop manual and wind up doing the bisector cylinder part of the job twice
Truck sitting on four wheels and almost ready for towing to Murrays.
The nasty little clutch/brake cluster is finally installed.
June
Tie rod fitted and brakes adjusted, ready for towing.
Steering wheel fitted, also easier said than done.
Truck towed to Murray's, this is the first time the truck has travelled on any road for about 30 years (even if it wasn't by its own power). Two policemen in a car at the side of the road don't appear to be perturbed by the sight of the 'Beverly Hillbillies' driving by.
A by-product of the trip is that I get to free the clutch en route.
Grille and guards on and off more times than we care to remember.
Final dry-fitting of aforesaid guards.
July
Wiring loom ordered from Bygone Bedford Bits in England.
Guards repaired and undersealed, topside sanded and etched.
Cab sanded and prepared for painting.
Guards and other components finished in black.
August
Replacing woodwork of cab interior.
Guards now finish-coated and finally fitted to truck.
September
The writer is away on holiday but his good friends Murray and Dean carry on regardless with repairing the doors which will eventually prove to be the most time consuming and frustrating part of the exercise.
Cab painted.
Headlight reflectors away being re-silvered.
October
Wiring loom arrives from England.
It's Murray's turn to have a holiday.
Truck starting from floor-mounted switch, an original feature that the truck hasn't had previously in my 35 year ownership of the vehicle.
Partial fit-up of loom.
Jeremy from Bespoke Auto Glass measures up for both windscreens and doors.
Wooden running boards manufactured in house and fitted.
Both fuel tanks found to be knackered and a new one needs to be manufactured.
November
A momentous occasion when I drove my old truck for the first time in 30 years – quite emotional really.
Seats reupholstered and fitted.
Windscreen glass fitted.
Left-hand door fitted but right-hand door still causing problems.
December
Two new windscreen wipers purchased, fitted and wired in.
Head and side lights fitted up and working.
Instruments return from Robinsons looking better than new.
Instruments fitted and working.
Right-hand door finally fitted – glad to see the end of that job.
Hardwood for chassis runners and cross-members cut.
Chassis sanded and etch primed.
Door glass fitted.
New fuel tank manufactured.
January 2015
When I look back to the state the truck was in less than a year ago, it's all a bit much for me to take in that the old K Bedford will be back on the road in the very near future.
There are just a few more nuts and bolts to tighten, a deck to complete and a COF to pass. I can't wait for the day that I'm on the phone to the sign writer to have his brushes at the ready.
Which brings me to the restoration tip of the month: be persistent – stick to the programme!
For the latest news, reviews and features, subscribe to Deals On Wheels magazine here.
Keep up to date in the industry by signing up to Deals on Wheels' free newsletter or liking us on Facebook.