Hard act to follow: Scania P360
---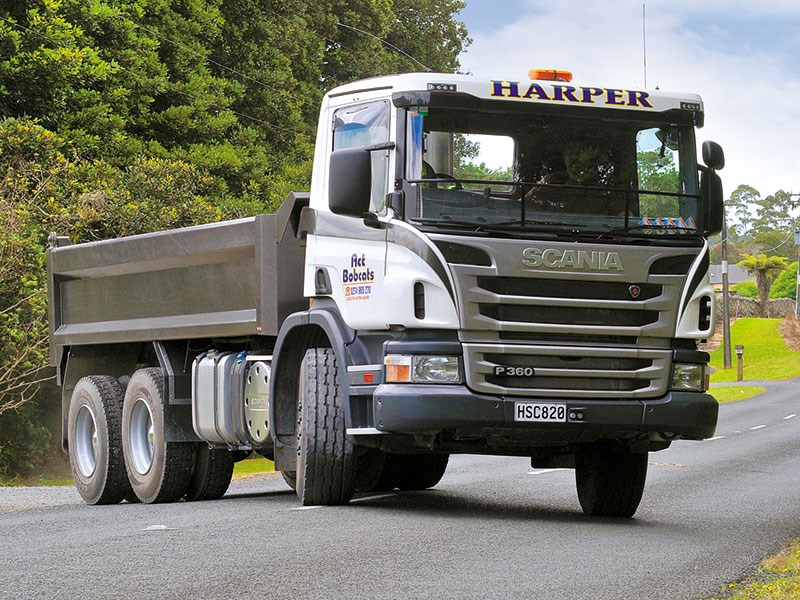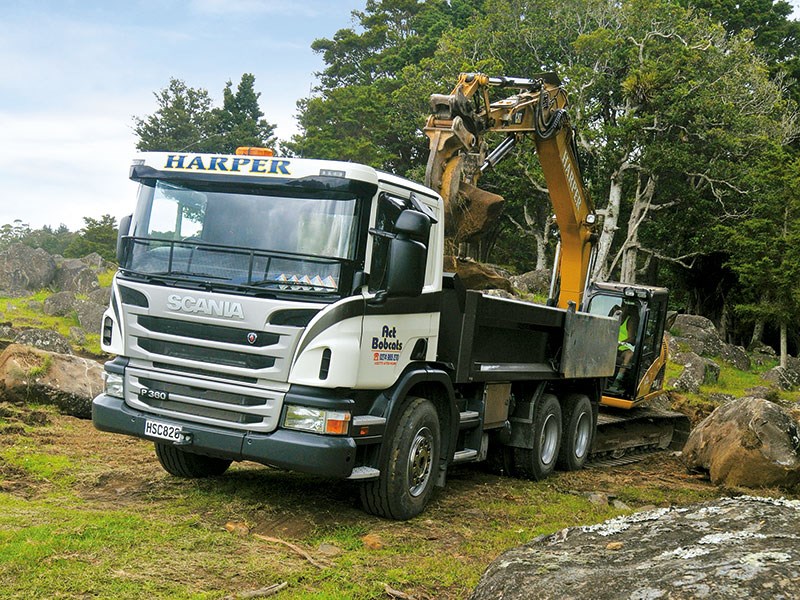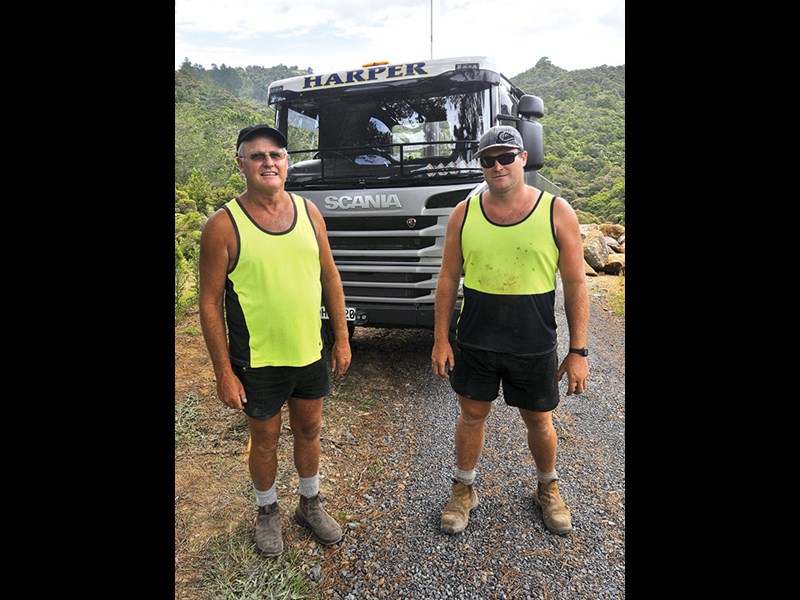 Grant and Bevan Harper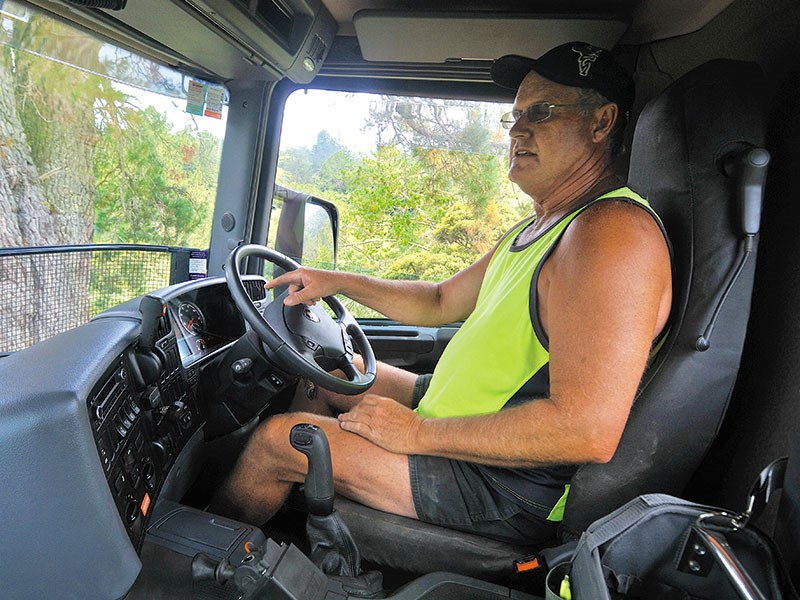 Grant and Margaret Harper have put their first Scania truck on the road, which prompted the Ed to make a trip to Whangarei for a close inspection.
When you've been in business for over 25 years, loyalties to brands are usually long established, so when I heard that husband and wife team, Grant and Margaret Harper had moved across to Scania, my attention was immediately grabbed.
"It actually took us around 18 months to make a final decision on the whole thing, but after looking at a number of different brands, we kept coming back to Scania," says Grant.
He's talking about the Scania P360CB6x4MHZ six-wheeler tipper that was put on the road in early November 2014, and is run under the Act Bobcats business name.
In just over eight weeks since it was delivered with only 37 kilometres on the clock, the truck has now covered over 5000 kilometres, which is an impressive little feat in itself considering most of the work consists of short hauls around the Whangarei region.
Description
The 6x4 truck is fitted with a 360hp engine, CP14 day cab, super single tyres, factory-fitted PTO, 14-speed manual transmission, diff and cross locks, six-rod suspension, and finished off nicely with a Ten4 engineering bathtub body.
These specifications make the truck particularly useful on the varied urban and rural work that Act Bobcats can be found undertaking in any one week. Grant says the lower cab height is advantageous, especially when climbing in and out of the truck sometimes up to 30 times a day.
"Some trucks we looked at were over 600mm higher. If you're jumping in and out all day, like we are, then that is a lot of extra climbing," he says.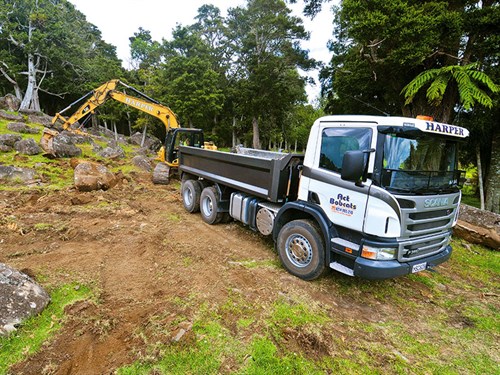 Sales support
One of the main reasons that the Harpers chose Scania was the sales support they received from Mark Nurse of CablePrice, with Grant saying that Nurse is an encyclopaedia of knowledge.
"What he doesn't know about Scania is not worth knowing, and his level of service shows a lot of others up," says Grant. [Mark Nurse has been recently promoted to national product manager – commercial and is now based in Wellington – Ed]
Another important factor was the cab and chassis unit that the Harpers were able to test out on some of the varying terrain that they work.
"Trying a unit out on our own sites was a lot different to just driving a demonstrator along a highway and gave us a clear appreciation of the truck's benefits," says Grant.
Climbing aboard
Of course, everything is only talk until a truck actually proves it worth, so with that in mind, we climb aboard for a run 'up the road' to collect rock for a job that Grant and his son Bevan are working on. Both generations of Harper run their own independent businesses, but team up when extra resources are required.
In our case, the drive 'up the road' was actually a haul of about 20 minutes along some of the best 'truck test' roads we have seen in a long time. Consisting of tight winding pieces, long straights, a few short steep hills, not to mention some off-road tracking through some paddocks, virtually everything needed to form an informed opinion about a truck was laid out before us.
The first noticeable thing is the very low in-cab noise, which affords a normal level of conversation. Coupled with the low-revving engine, and the lack of rattles anywhere, combines to provide a positive experience.
It doesn't take long before the conversation moves onto driveability and Grant is quick to point out that the truck sits on the road exactly where it is pointed.
"It doesn't wander or wallow, but stays exactly where it's meant to be," he says, as we come out of a curve onto a straight piece of road.
He puts this down to the good road feel that comes through the steering and then we discuss the benefits of the six-rod suspension, which we both agree is more suited to tip trucks that sometimes find themselves, being used off-road. Perhaps, it is a personal preference, but our opinion is that by the time air suspension adjusts itself, a truck doing this type of work has already moved onto the next bump or winding corner.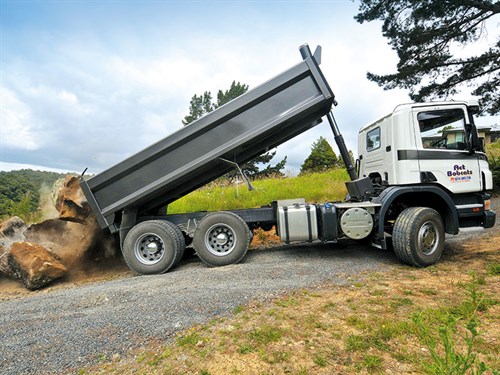 Loading up
The run passes all too quickly, and we soon find ourselves negotiating our way along a dusty unsealed road and across some paddocks before arriving at the loading site.
In quick order, Grant exits the cab, swings open the tailgate to give a better view for loading, climbs aboard an excavator and begins to load the truck with rock.
He had earlier said that the bathtub bin was constructed by Ten4 Transport Engineering in Whangarei and the company provided a high level of service. His previous truck of eleven years had a Biz-Alloy bin, which still shows very little sign of wear and tear. Grant is hoping that the new Hardox bin on the Scania will have the same excellent results. Only time will tell.
Listening to the sound being made as some of the rock is loaded, it is noticeable that he works carefully and fast, but trusts the durability of the gear he works with.
Loaded up
As we head out onto the main road with some reasonable-sized paddock stone on board, the well-placed gear ratios become obvious, there being no gaps to allow any engine power to seep out unnecessarily.
It is also here fully loaded that the torque of the 360-horsepower engine gets demonstrated well, seeing the revs drop down to around 600rpm as the Scania slows for a tight corner. To prove a point, Grant accelerates away without dropping down through the gears.
"See what I mean?" he says.
About 30 minutes later we find ourselves, travelling up through what must have been goat country once upon a time. Now converted to lifestyle blocks for the rich and famous, the true benefits of the Harpers eighteen months of searching for their new truck becomes obvious and the tight, steep roadways eventually deliver us to the drop-off point.
When Grant is asked to provide some negatives he has found with the Scania, the question is pondered for a while, before he shakes his head and fails to come up with an answer.
Well played Mr and Mrs Harper. Well played.
For more information contact Act Bobcats 027 496 5270 or (09) 438 3775.
For the latest news and reviews, subscribe to Deals On Wheels magazine here. 
Keep up to date in the industry by signing up to Deals on Wheels' free newsletter or liking us on Facebook.