Road trip: picking up vintage trucks in Canterbury
---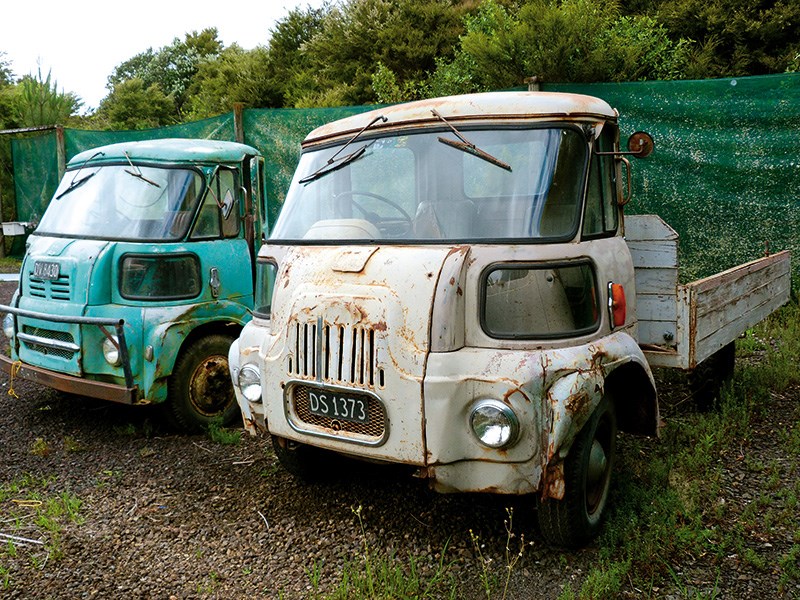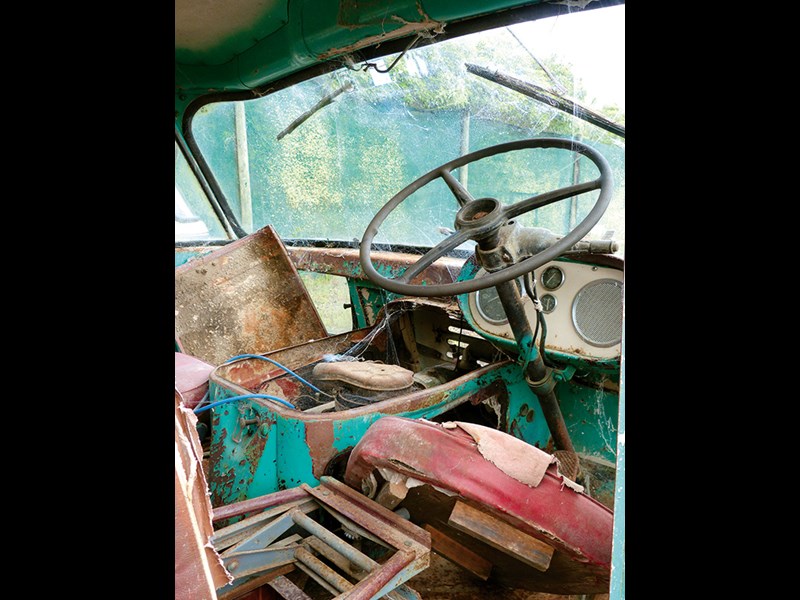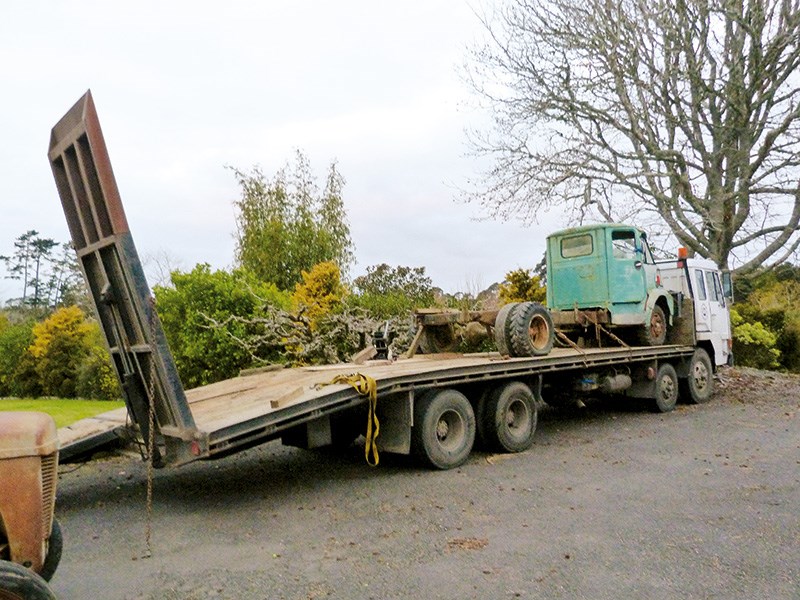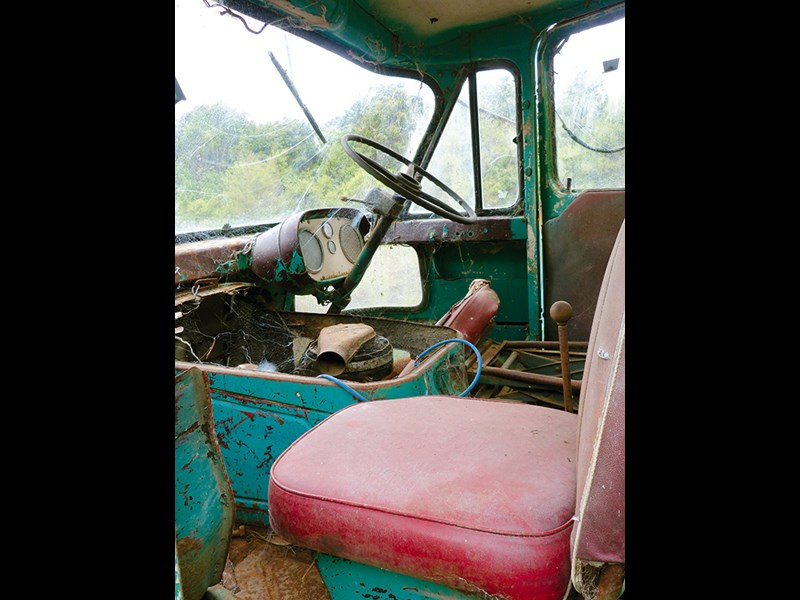 I don't watch a lot of television, but one programme I quite like is Heartbeat. It's set in the 1960s in northern England, so naturally it has loads of old cars and trucks, just like we had in New Zealand back around that time.
In the programme, local garage proprietor Bernie Scripps has an Austin FGK 550 tow wagon and after Deals on Wheels featured a similar Morris FGK30 in August 2012 (DOW 225), I developed a bit of a soft spot for them.
With what became a bit more than a passing interest, I found myself trawling the internet to see if I could find one of these masterpieces of British engineering, and sure enough there was not just one, but two for the price of one.
The only problem was that they were in Albury, an hour and a half past Ashburton and some 1300km from my home base.
Seeking the wisdom of Colin Dunn from Rainbow Haulage (Trucks cover story DOW 250), his suggestion was to pursue the South Island trucks, and kindly offered to lend me an eight-wheeler transporter for a week so I could collect them. As if that offer wasn't generous enough, he said he would throw in the fuel for good measure.
Well, you don't get an offer like that every day, so, in short, I ended up owning both Austin trucks for $705. Unsure if they would fit on the transporter, I did some rough calculations and figured that they would, with a squeeze.
The schedule I prepared was going to be reasonably tight as by now it was the sixth of the month and I also needed to be back in Auckland by the 24th, at the latest. To cap it all off, the owner of the trucks had sold his property and they needed to be gone by no later than the 12th. To make matters even worse for myself, I'd promised to do an article in Palmerston North, on the 15th.
On top of this, I had been experiencing a stomach bug for several days. I really should have called the whole thing off, but had promised to make the deadlines and Colin Dunn had gone to a lot of effort to prepare the transporter for its 2600km return journey.
So this was the plan:
The very first thing I did was book a two-way passage with Strait Shipping (Bluebridge). I booked the southbound crossing for an 8am sailing on Monday.
Day 1
I left Auckland not feeling too well, but by the time I rolled into Matamata, I felt much better. The original plan was to drive to somewhere just north of Wellington, stay the night and get up early to be at the terminal by 7am, but a quick phone call to the friendly people at Bluebridge gained me permission to park on the wharf overnight – sweet!
Dunn had fitted an overdrive to the transporter which gave it seven gears, so it happily cruised along at the legal speed limit exceptionally quiet. The stereo that would be the envy of any 18-year-old faded once I left the city limits and as I'd forgotten to bring any CDs along, I had to be content with my own company.
The irony was that while the truck was fitted with a stereo that I'd have liked to have had in my own car, the heater for some reason wasn't working. I guess the owners figured most of the time you could do without a heater on short hauls in Auckland's balmy climate.
The trip to Wellington was effortless, as I wasn't in a hurry. Having the mandatory breaks along the way there was only one forced pull-in at the weighbridge at Ohakea, but being empty, was waved through. An hour-long break for dinner in Otaki refreshed me for the final leg into Wellington.
When I tallied up my log book, it showed that I'd been on the road for 9.5 hours (excluding breaks) but it felt like more, most likely from not feeling great when I set out and because of the heavy rain for the final three hours of the trip, all in a truck that I was still getting used to.
I can tell you I was pretty pleased when I finally turned the engine off at the Bluebridge ferry terminal.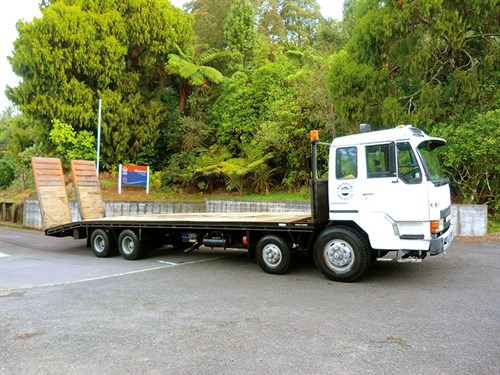 Day 2
With a good night's sleep under my belt, I was ready for the day ahead, and by this time had completely recovered from my illness.
At 64-years-old, I'm a bit ashamed to say that I've never crossed Cook Strait on a ferry. I've been to the South Island quite a few times before, but have always gotten there by plane, so for this part of the trip I would be dealing with an unfamiliar situation.
I would've preferred to have had a practice run in a car but here I was doing it in a nigh on 12-metre-long truck that I'd only driven on the open road for one day. Fortunately I was pleasantly surprised to see how these huge ferries swallow up truck and trailer units like they're matchbox toys, so it wasn't any time at all before I was safely parked up.
A complimentary meal courtesy of the shipping company was followed by a sleep in my cabin for the rest of the trip to Picton, as the weather was too dismal for anything else.
Getting off the ship was just as easy as it was getting on, and it wasn't long before I was heading up and over the hill towards Blenheim.
At this point in time Google Maps was suggesting that I head through the outskirts of Christchurch and down to somewhere near Ashburton, where I could stop for the night. Theoretically that would set me up for a leisurely one- or two-hour drive to where the two trucks were located.
The alternative was to take the scenic route through to Methven where I could catch up with my old friends Gary and Linda Baker who own a motel there.
One of my briefs from The Ed for the road trip was to stop in and say hi at Riverlands Roadhouse, who were entered the last DOW Best Eatery on the Road competition. The stop-off was brief, however, as I really needed to be in Albury the next day.
During my break, I received a phone call from my old mate Ian Hambly who was checking in on progress. He suggested I take the scenic route and go through Methven, as I'd get the chance to catch up with my friends and still have plenty of time to meet my collection deadline.
So taking Hambly's advice, my fate was sealed as I set out from Blenheim towards Methven at 12.30pm. The trip down to Kaikoura went well enough but driving out to the other side of the town, the weather took a turn for the worse. First it started drizzling and then the wind started to cut up and before too long it became diabolical.
My so-called friend had assured me that the trip on State Highway 72 through Oxford, Darfield and on to Methven was "a really nice road" and was much shorter than taking the SH1 route through to Ashburton. What I hadn't taken into account, however, was that he was talking in terms of riding a motorcycle and not an eight-wheel transporter.
So, by now, it's about 5.30pm (remember it's still winter) but it's so dark it seems like 10pm. The blowing gale is catching the ramps at the back of the truck, which are acting like two giant sails and it's getting bloody cold.
While I still have plenty of time on my log book as far as total hours for the day are concerned, to stay legal I'll shortly need to take a half-hour break. At this stage all I want to do is get to Methven, but it seems like I'd taken a wrong turn somewhere along the way and curse Hambly for the hundredth time, as I line the transporter up to negotiate a very narrow bridge.
Things begins to turn dire as the batteries (which haven't been charged since Wellington) fade on both my iPhone's map app and the Bluetooth device that I've been using to get directions from my mate Gary at the Methven Motel. Despite all the pre-planning I'd left the bloody in-car charger at home.
The weather was so bad that I could hardly see my nose before me and the road was littered with broken tree branches.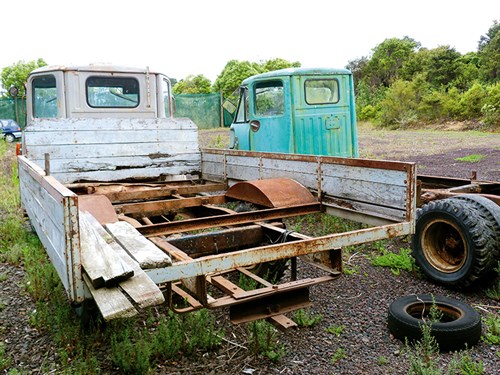 I'm still not entirely certain what was happening during this episode but at one point in time the truck lost about10 km/h in speed in an instant. It happened so quickly that for one fearful moment, I thought I'd blown the engine. Pulling to the side of the road, I noticed that the engine was still running as there were revs on the tachometer. A 360-degree walk-around check by torchlight reveals nothing untoward.
It would have been better if I could have talked a mate into coming along for the ride, as here I was, in a strange place in freezing cold conditions, and even though I'd only been on the road for seven or eight hours, the last couple of them seem like eternity.
With my electronic communication with the outside world on its last legs, I somehow manage to connect with Gary. The cellphone reception is so bad that it is difficult to hear much before my phone splutters and dies. I hope the limited information is enough to get me to Methven, which I estimate to be an hour away.
By now my imagination is starting to play tricks on me. The truck seems to have a slipping clutch, as the rev counter needle often will rise but my ground speed appears to remain the same. I later find out from Colin that the clutch had been replaced a few weeks before my trip and I could only conclude that my problems were being caused by the slippery conditions, the inordinately high winds, a hyperactive imagination – or a combination of all three.
At one stage I arrived at the base of a particularly steep hill and thinking that the transporter wasn't going to make it to the top, more or less resigned myself to the fact that I'd be spending a freezing cold night in the truck. As it turned out, the truck struggled up the hill to a junction that looked strangely familiar.
Recognising this as a road I had travelled during a trip last year, I undertake a 20-point turn on the narrow country road, and head the final 10 or so kilometres into Methven, happy in the knowledge that a warm bed shortly awaits.
It was only 6.30pm when I finally backed the truck into Methven Motel's yard, yet it felt more like midnight.
As sleep sweeps over me I have a nagging feeling that the clutch on the transporter could be slipping…
Coming up in the next issue
Will the trucks fit on in one load?
A far smoother route on SH 1
An unusual roadhouse
A ruptured fuel tank
An extremely helpful truck workshop
A very accommodating shipping company
Rough Cook Strait crossing that almost didn't happen
A unique place to park a truck
Will the Desert Road be open in time?
Oh no, that cop's not chasing me, is he?
Don't miss the next chapter, subscribe to Deals On Wheels magazine here.
Keep up to date in the industry by signing up to Deals on Wheels' free newsletter or liking us on Facebook.