Restored truck: ST 1921 International truck
---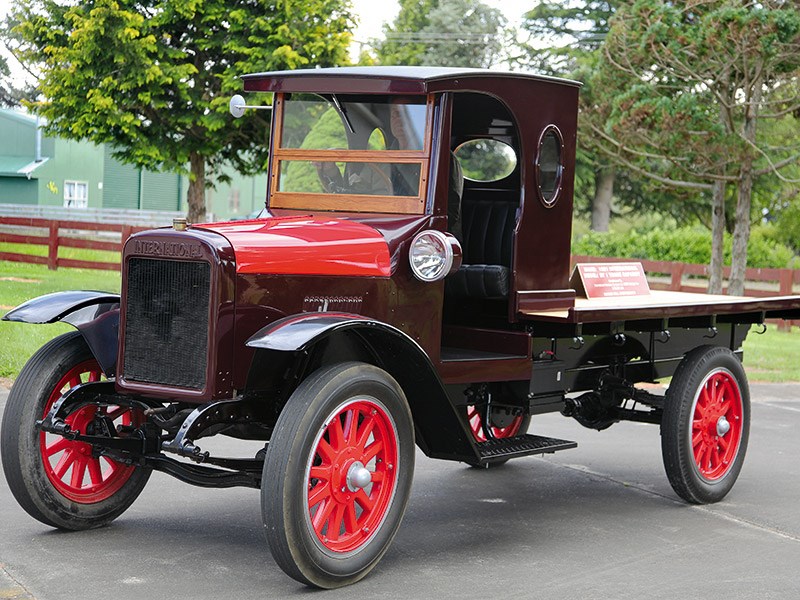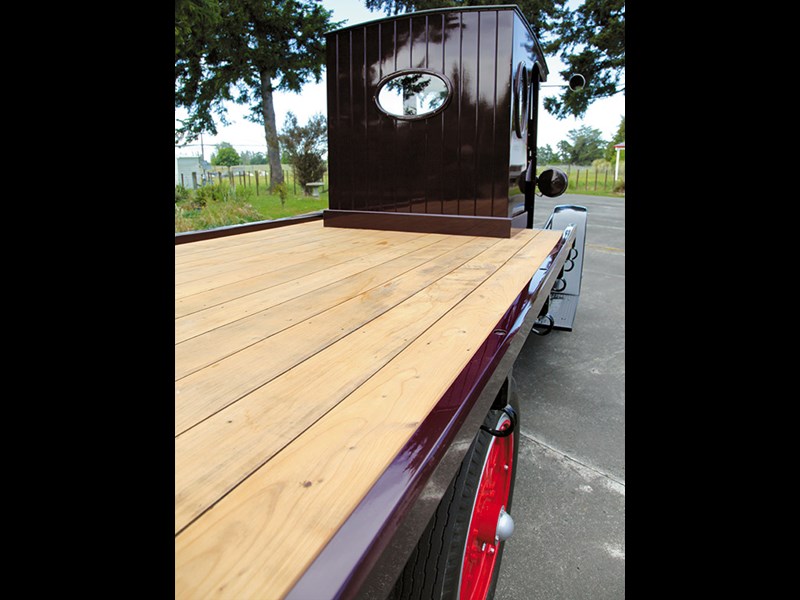 The deck is built from tongue and groove macrocarpa.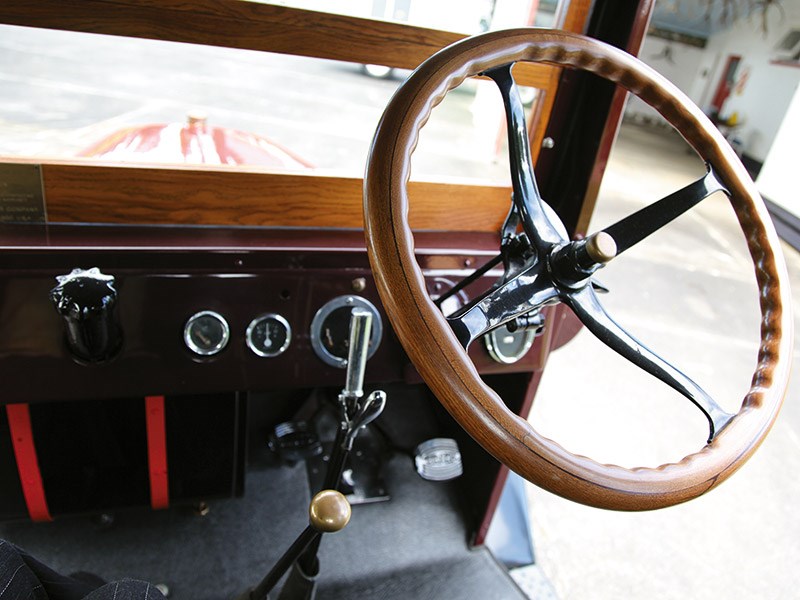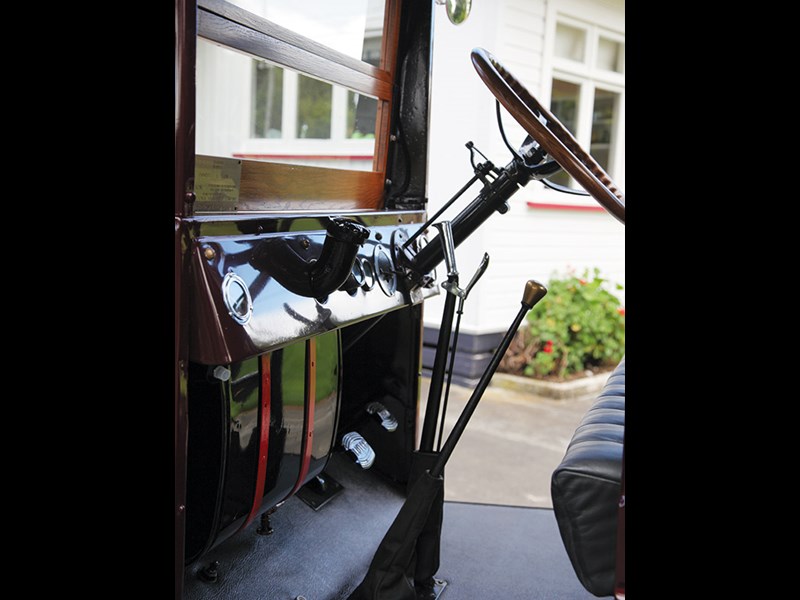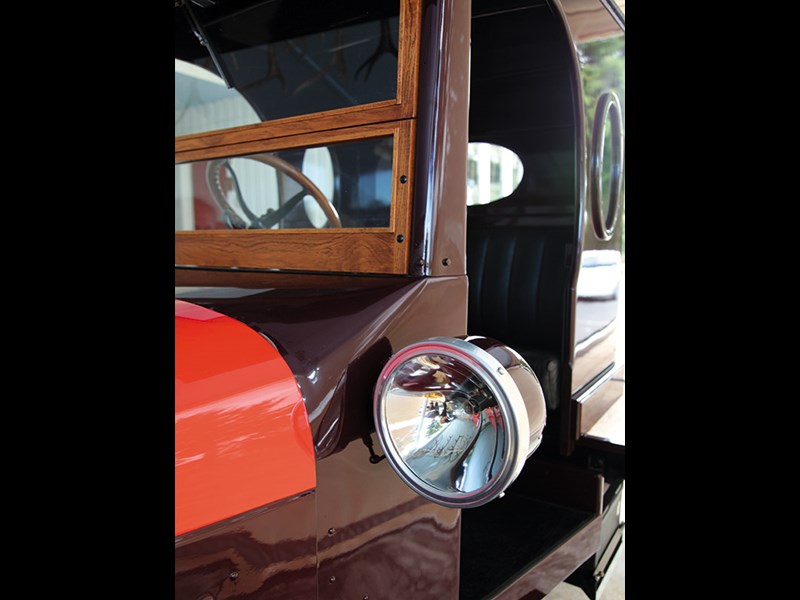 The six volt headlights are original.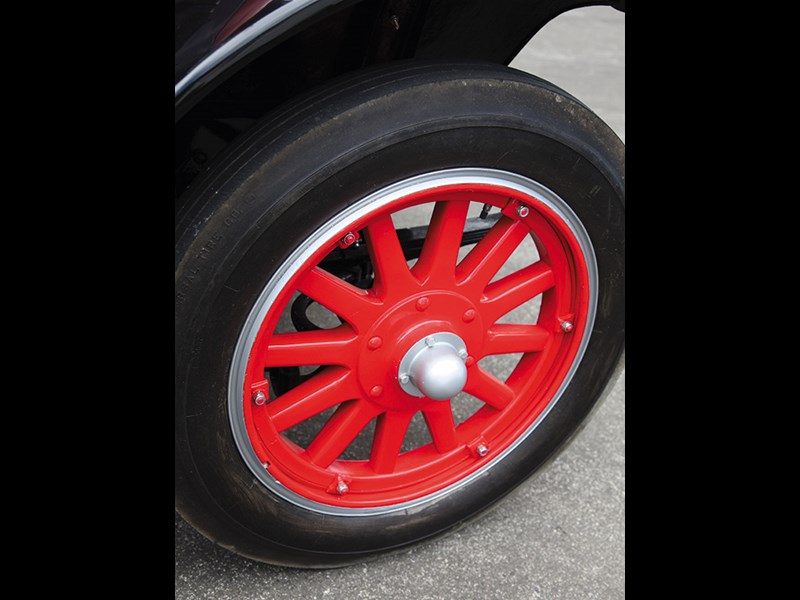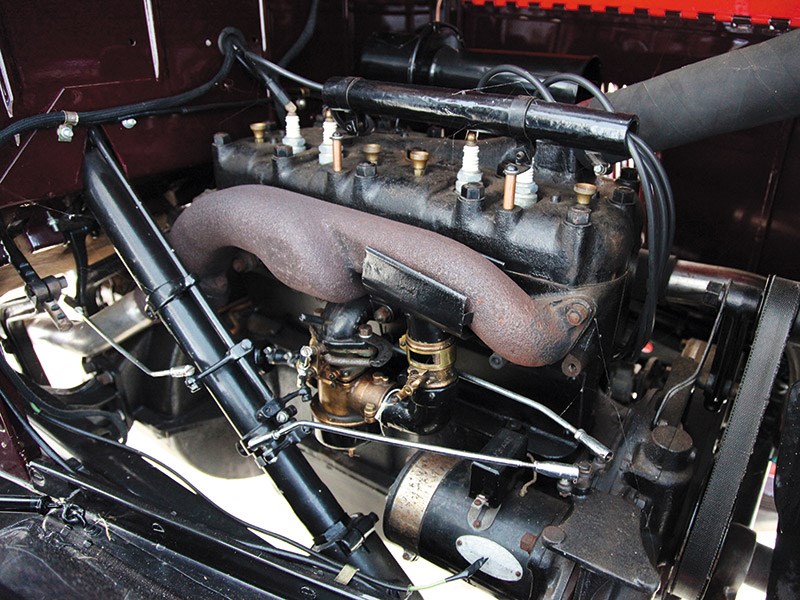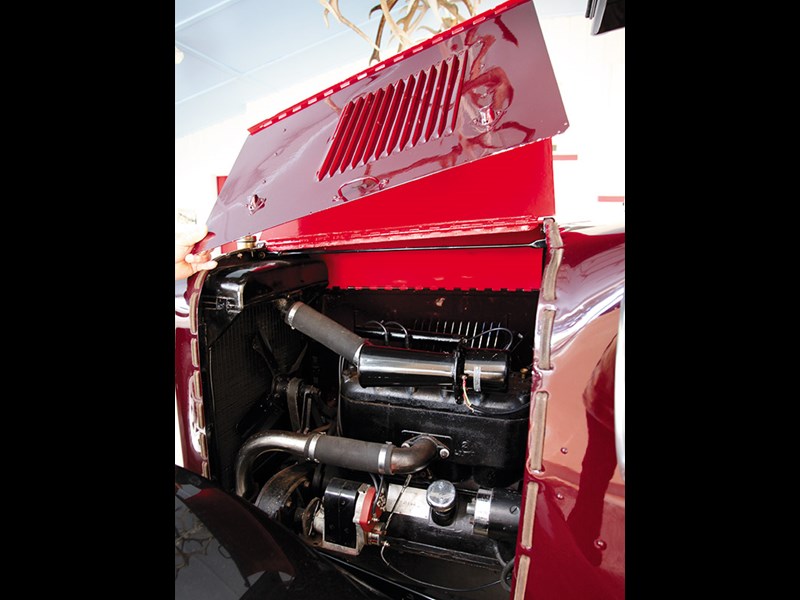 Lycoming four-cylinder engine.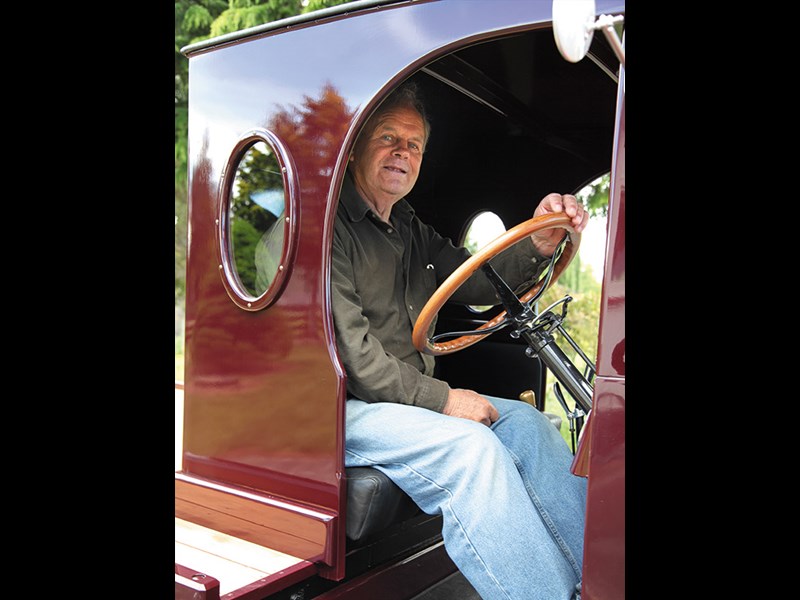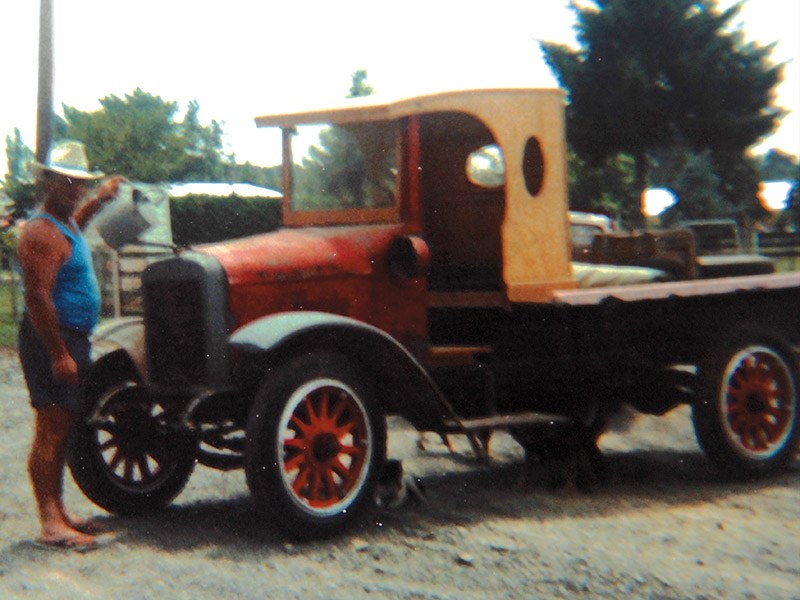 The truck 25 years ago when Stephenson bought it.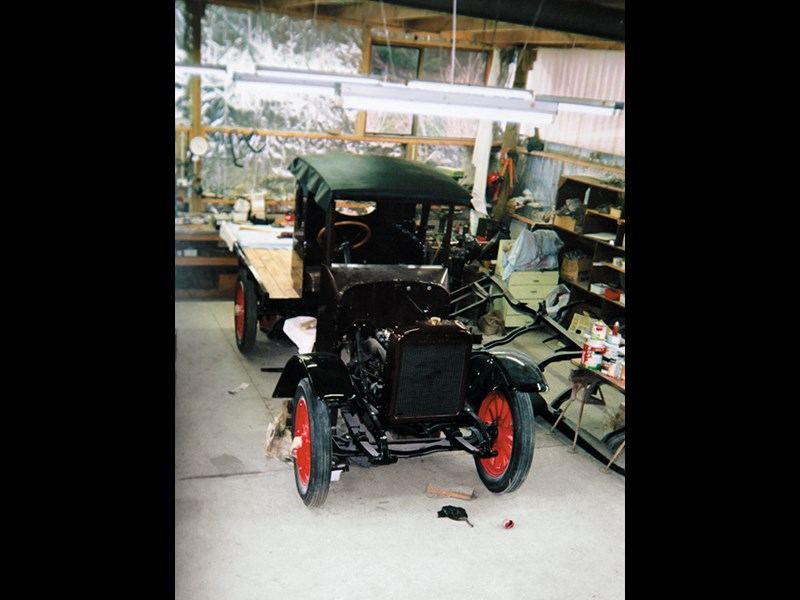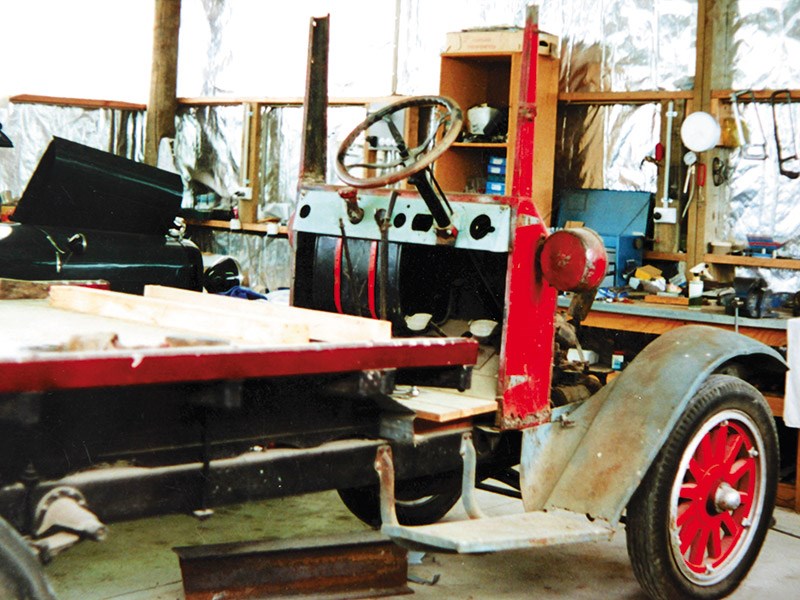 Bill Stephenson's eyes light up when he starts his model ST 1921 International truck and it sparks into life with a throaty, smoky roar.
Stephenson says he discovered the truck some years ago in Waipukurau but he's not exactly sure of its original owners. "I think it used to belong to the power board. Then a local upholstery business owned it for a long time. It was used to drive a stationery saw bench from the back wheel."
Therefore, the truck was in reasonable condition. Stephenson decided to buy it with the idea of having it restored. In spite of its age, it could still be driven, though not very far as the tyres were in bad shape.
That was 25 years ago. It's been a long journey with some set backs along the way. A local builder restored the cab, but Stephenson wasn't happy with the quality of workmanship so he stored it in his shed for another three years while he contemplated what to do next.
But after a while he thought, "This thing is going to beat me to the grave if I don't do something, so I got hold of a professional restorer, Bruce McChechnie of Puketapu. It took him five years off and on to complete the job."
Restoration
Stephenson says he had a definite vision for the finished vehicle. "I am a pretty fussy fellow. It's a big task to restore these things and very costly. At one stage I got a quote for $16,000. Down the track it's probably about five times that."
And the light duty truck that originally rolled off the assembly line in Chicago in 1921 is a little beauty. Polished to the hilt, it sports a smart colour combination of maroon, red and black with a meticulously crafted woodwork finish for deck, windows and steering wheel. Brass screws add a nice detail around the oval windows.
Stephenson's father started Stephenson Transport Ltd in 1936 in Central Hawke's Bay. Stephenson worked for this company until eight years ago.
It was partly with his father in mind that Stephenson took on the restoration project. "When I look at this truck I imagine Stevie (as he was known) sitting in the driver's seat. Dad used to tell us about how he would lift wool bales off the ground with no mechanical equipment to help load. It brings back memories."
It's no surprise then that the restored truck has been painted in Stephenson Transport's colours.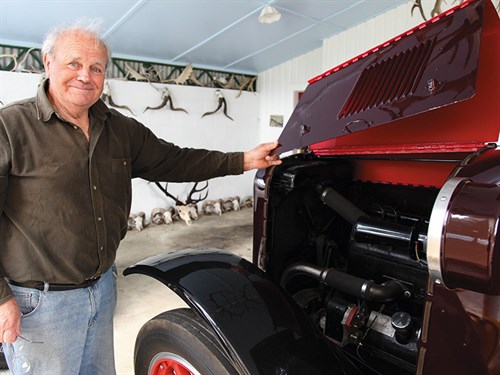 Stephenson spent 20 years as a driver and says trucks are his lifeblood. In the quiet town of Tikokino where he lives, he says if he hears a truck go past he listens and can pretty much pick what make it is.
The mechanics of the International are very basic with only three forward gears and one reverse he says. It has a Lycoming four-cylinder petrol engine, standard International differential and gearbox, all of which have been reconditioned. The motor was stripped down and new bearings put in and that's all it needed. Brake linings were renewed. In fact, everything has been restored to original condition as much as possible. The task was made easier because the truck had no foreign parts in it and it hadn't been tampered with at all.
The most difficult job was finding the pneumatic Dunlop tube tyres; these were eventually found in USA.
Gathering information about the truck was not difficult – Bruce McChechnie helped with this but they also relied on data provided by McCormick – International Harvester online archives in America. "It was just a matter of getting on the computer and tapping into it," says Stephenson.
He checked progress on the truck every few months; watching as the chassis was stripped down and repainted. "Sometimes I'd go and it seemed hardly anything had been done but then Bruce had to outsource a few jobs such as the fan on the motor which was cracked – it had been poorly welded and had to be re-machined. All up it was a time consuming process."
The only rust found was on the mudguard and that was cut out.
An interesting specimen
Having a closer inspection one marvels at the quirky details on this vehicle. Here are a few of them:
The driver has to enter the left hand door because unless you're built like a twig you won't be able to squeeze past the steering wheel.
Brake and clutch are clearly marked on each pedal; in case you're in any doubt which to action.
A compressor to inflate tyres is located on the left side on the chassis below the running board at the front. The petrol tank is recessed in the cab, front left.
It has a crank handle as well as a self-starter – that was advanced for those days.
The truck has a magneto similar to the Model T Ford with advance and retard on it. Operated by a lever on the steering column: up retards, down advances the spark to fine-tune the engine. This also helps to start it. "It's a very old method; distributors come in after that," says Stephenson.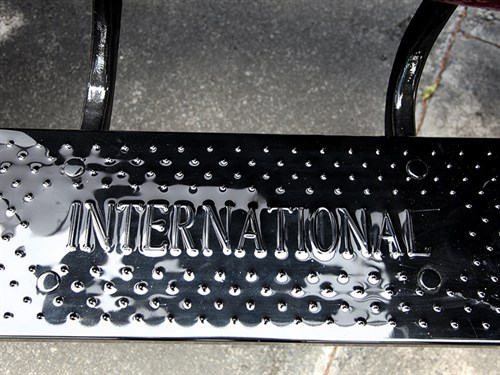 In winter, Stephenson uses this method to start the motor: "On the top of the cylinder head on the motor, there are four small brass cups and you screw them out and put in petrol. I use an old syringe to squirt in about half a teaspoon to each one, then re-screw it and fire the engine up. It goes first pop."
The old girl doesn't go far and is really more of a museum piece. Stephenson treats her with the highest of respect, making sure she's kept in a shed at all times. If he takes her to a show she goes by trailer. "Imagine if you went on road you'd hold up traffic; it has a top speed of 30mph. People would be shaking their fists at me!"
But that aside, people are generally gob smacked when they see his truck, especially the old timers," says Stephenson. They don't make them like this anymore.
History
The International Harvester Company was formed in 1902.
Their products included tractors and other agricultural machinery, a range of heavy-light trucks and suburban vehicles.
Light duty trucks were manufactured from 1907-1975.
International Harvester sold off its agricultural division in 1985 and renamed itself Navistar International Corporation in 1986.
When IH sold the agricultural products division to Tenneco in 1985, the International Harvester name and logo went with it.
For the latest news, reviews and features, subscribe to Deals On Wheels magazine here.
Keep up to date in the industry by signing up to Deals on Wheels' free newsletter or liking us on Facebook.